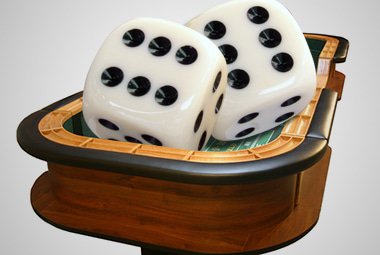 Pretty soon, we will be taking a look at a few individual promotions to see if there is any positive value to be found, but for now, we will discuss online Craps advantages in general terms. I do want to preface this by saying that there is no casino experience quite like a live Craps Table if you are a social person, and I think everyone should try that out at least once. Besides, you get to shoot the dice! That being said, there are some advantages with online Craps that do not exist in physical casinos.
1.) Reduced Minimums
There are very few casinos in the United States that have a Craps Table upon which the minimum bet is less than $5. In many casinos, including Strip casinos and busy casinos in more isolated markets, a Craps game may have a minimum of anywhere from $15-$25. On weekends, most casinos that would usually have a $5 minimum bump it to $10 and those casinos that would usually be $10 often go up to $15.
In Vegas, the Fremont is known as one casino (as well as El Cortez) as offering a somewhat rare $3 minimum Craps Game. Rarer still is Railroad Pass, which offers a $1 Craps Game.
The minimum for an electronic Craps Game online is typically one dollar, so that is going to extend your play time even if you are playing with a small deposit.
These minimums bets do not just apply to the Pass Line, they apply to other bets, as well. For one thing, if you want to make a Place Six or Place Eight bet, you usually need to bet $6 with the goal of winning $7. That is because casinos generally do not deal in chips worth less than $1 on the Craps Table. Online, these sorts of bets (and others) will get often get rounded to the penny. Thus, if you want to bet a $1 Place Six, you can. This is often true of electronic Craps games (E-Craps, Bubble Craps) in land casinos, as well. Those minimums are usually anywhere from $2-$5, though.
The ability to bet whatever you want also applies to Odds bets. Rather than having to bet a certain minimum amount to avoid being short-changed, these bets will also round off to the penny at most online casinos.
2.) Good Way to Learn
While it may be social, a Craps game in a land-based casino can be intimidating to someone who has not really played much before. It's loud, there's a lot going on, and it can often be confusing because chips are flying all over the place and the crew and players are often relatively experienced and can get things done quickly. If you approach a table not even knowing how you are supposed to place your bets, other players will often be a little bit annoyed with you for slowing the game down.
One thing that is true about the online game is that the bets you want to make go in the same places as they would with a land-based casino, so you can understand how all of that gets done. You could even think of it like a, 'Training,' of sorts so that you know what bet does what when you do go to a physical casino.
The one thing that I will point out is that all bets are (obviously) player-service online, which means you put your bet where you want it. That is not true of physical Craps. If you want a,"Center Action," bet (One Roll Proposition Bets Other Than Field) you toss your money towards the stickman/stickwoman and ask for what you want to bet it on. If you want a Place/Buy/Come/Don't Come bet, then you would toss your chips toward the dealer on your side of the table and tell him/her what you wish to bet.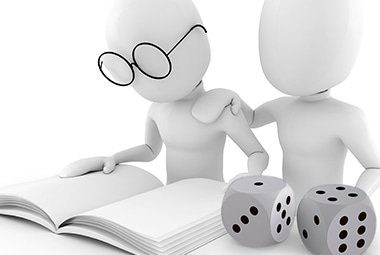 The only bets that are player-service in a physical casino are the Line Bets (Pass/Don't Pass) Line Bet Odds and the Field. You may not touch any bets anywhere else and may only touch your winnings. If you no longer wish to bet something you have chips on (such as a Place Bet) you must ask for the bet to be taken down. You may not remove a Pass Line bet (because it is at a disadvantage after the Come Out), but you may remove a Don't Pass bet even though you absolutely shouldn't. You may reduce or add to your Line Odds at anytime, if you want to reduce or add to Come Outs on a Come/Don't Come bet that has travelled, you must toss in the chips and ask the dealer to do that for you.
Again, it's pretty confusing, so best to get your bearings online. If you don't want to risk actual cash, the majority of online casinos have play-for-fun versions of their games.
3.) Play When you Want
This is true of all online gambling, you can play whenever you want and for as long or short a time period as you like. There is no getting up and dressed and going to the casino, no lines to wait in, none of that.
4.) Promotions
Online casinos will sometimes offer promotions such that the player has a positive expected value, in fact, let's see if there are any now.
Analyzing Online Promotions
The next thing that we are going to do is take a look at a few online casinos that offer a Craps bonus which are highlighted here and on the Wizard of Odds Craps page to see if any of the promotions are beatable.
Even for ones that are not, the math that I will utilize will give you a general idea of how to calculate your expectation on any given promotion. I will also help you to understand how the Terms & Conditions, as well as Bonus Terms, may affect your ability to play a promotion profitably.
Lincoln Casino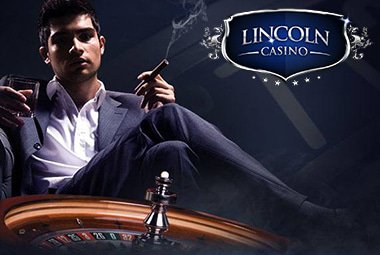 Lincoln Casino scores a strong 4.1/5 average across our family of sites as well as a User Score of 4.4/5 on this site. Users compliment the strong bonuses, promotions and cash out times but complain about limited deposit methods. Lincoln has gained some compliments as to graphics and game offerings, and people also enjoy the fact that they are also a Bitcoin casino.The first thing that we should say is that Lincoln Casino is a Wizard of Odds APPROVED casino. What that means is that, if you go to the Wizard of Odds site and sign up for that casino through there and experience any problems that you cannot resolve, the Wizard will step in and mediate between yourself and the casino in an effort to achieve a resolution satisfactory to both parties. The only thing that Wizard asks is that you first attempt to resolve any disputes yourself before invoking the advertising guarantee.
While this site does offer a decent $5,000/weekly maximum cashout limit, I do have a problem with the fact that they require a minimum of $150 in order to allow a player to withdraw. I personally feel like this is unfair because I think $100 is a reasonable amount to deposit, and that being the case, more than a reasonable amount to be able to withdraw. I understand that online casinos do not want the hassle over just a few bucks, but I think a minimum such as $50 would be a lot more reasonable. It's almost like Lincoln Casino is saying they don't want ultra low-rollers...they should want anyone willing to play there.
The Wizard of Odds compliments the WGS software that powers Lincoln Casino as well as their tournament and bonus systems.
Unless you are using an E-Wallet (bonus limit $100) Lincoln Casino is offering a 100% deposit match bonus of up to $1,000 on your first five deposits. On a per deposit basis, that means you will deposit $1,000, receive $1,000 in bonus funds for a total bankroll of $2,000. If you were playing slots, the playthrough requirement would be 20x, but Craps only has a 10% playthrough contribution, effectively making the playthrough requirement 200x.
If you wish to deposit the full $1,000, your playthrough requirement will be $400,000.
This casino allows the player to bet only 1x Odds on Craps, which means that your Odds bet may only match your Pass Line bet.
Here is something strange, despite the fact that there is a listed playthrough for Craps, the Bonus Terms specifically say that Bonuses of 100%, or more, may only be used for slots:
Bonus offers of 100%, or more, may only be used for wagers on slot games. Players found to be using bonuses in excess of 100% for wagers on any game types other than slots will, at the casino management's discretion, be denied any winnings and be denied future bonuses in their accounts.
For the time being, I must assume that Craps cannot be played with this Bonus because that is what it says as it is a 100% (or more) bonus. If I find out otherwise, this page will be corrected.
Liberty Slots Casino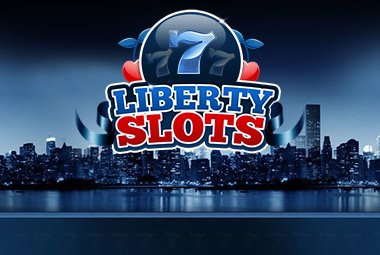 It is complimented by users citing frequent bonuses, a smooth interface on both computer and mobile versions and a decent selection of games. The only common complaint is high playthrough requirements on bonuses.We will now take a look at Liberty Slots Casino which is another Wizard of Odds APPROVED casino. This casino scores an average of 4.2/5 across users of our family of sites as well as an almost unbelievable 4.4/5 score on this site.
The Wizard of Odds cites that this casino is powered by WGS software, has a strong selection of games and very good customer service. The $5,000 weekly maximum withdrawal with a minimum of $150 is the same as Lincoln Casino.
The good news here is that Liberty Slots has a similar Bonus Term as Lincoln, but the verbiage is such that it is only if the Deposit Match is more than 100%:
Bonuses equal to, or in excess of, 50% of associated deposit are not available to players using NETeller or SKRILL (Moneybookers) as the funding method. Additionally, bonus offers in excess of 100% may only be used for wagers on slot games. Players found to be using bonuses in excess of 100% for wagers on any game types other than slots will, at the casino management's discretion, be denied any winnings and be denied future bonuses in their accounts.
The current bonus being offered is the $777 bonus, which is a 100% deposit match on up to three deposits of up to $259 each for new players. That means that a player will deposit $259, have a match of $259 for a total bankroll of $518. Liberty Slots allows Craps to contribute 10% to the 20x Wagering Requirement effectively making the Wagering Requirement 200x. Thus, a player would have to playthrough $103,600 to complete a full bonus.
Here is a term that is kind of ambiguous:
Please note that you are not able to accumulate bonuses: Each bonus must be used in its entirety before any additional bonuses can be issued. Players attempting to claim multiple bonuses will forfeit any winnings from their account.
I don't know if that means you must complete the Wagering Requirements in their entirety even if you lose your deposit + bonus, or if it just means you cannot claim a bonus while still on a Bonus. If you wish to consider making a second deposit, (if you did not complete the playthrough requirements on the first prior to losing everything) then I would recommend that you conduct a Live Chat, ask the question, and have a transcript of the answer E-Mailed to you.
Finally, the maximum permitted wager (unfortunately) is $10 while playing a Bonus. That basically takes playing the Variance game out of the equation and prevents us from betting a huge portion of our bankroll on a long-shot and then grinding through the playthrough requirements, which I'm sure is what that term is designed to prevent.
When it comes to Craps, WGS has a limit of 1x Odds for a player to take, anything that does not come out right will be rounded down to the next penny, so you want to make sure that your Line bet corresponds to an Odds bet that does not result in you getting short-changed.
The only real way to beat this bonus is straight up, if possible, so let's take a look at our average (total) wager with a Pass Line bet and 1x Odds and average number of wagers to complete the bonus:
The first thing that we need to know is that we will lose $0.141 for every $10 Pass Line bet that we make, that being the case, let's determine what our average bet is for every Pass Line bet. 12/36 of the time it will be resolved immediately and we will have only bet $10 while 24/36 of the time we will have had an opportunity to make an Odds bet and will have bet $20.
(12/36 * 10) + (24/36 * 20) = 16.6666666667
That means we can be expected to bet a total of $16.66667 every time we make an initial Pass Line bet. Given the playthrough requirements of $103,600, we are expected to make a total of 103600/16.66667 = 6215.99875 or 6,216 Pass LIne bets.
The expected loss of the $62,160 in action these Pass LIne bets represent is 62160 * .0141 = $$876.46, which means that we expect to lose everything if we attempt to play the bonus this way, deposit included.
We also know that the average House Edge v. money exposed per Pass Line bet is 0.141/16.6667 = 0.846%, therefore, it would take a game with an even lower House Edge to complete this bonus successfully.
We can actually determine how low such a house edge would have to be in order for us to break even, at least, based on this wagering requirement. First we have to see how much our total coin in (playthrough) multiplied by the house edge would have to be to result in a total loss of $259, which is the bonus funds only.
103600 * x = 259
X = .0025 or 0.25%.
There is no game with a house edge that low, thus, the bonus cannot be beaten.
Vegas Crest Casino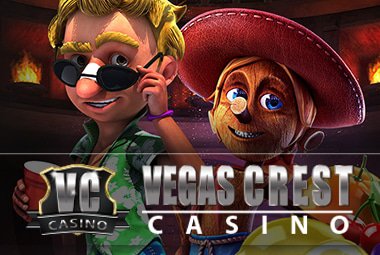 The casino receives a fairly low 3.8/5 across our family of sites, but it does receive a score of 4.1/5 on this site. Players compliment the strong customer service, strong game selection and frequent bonuses. There has been at least one reported problem with a payout and players also complain of high bonus playthrough requirements. They will allow withdrawals of up to $3,000 with anything more being, somewhat cryptically, "Paid in installments." The minimum withdrawal is $100.Despite its youth, Vegas Crest Casino (owned by Vista Gaming) is a Wizard of Odds APPROVED casino. The Wizard cites a strong games category, quick payout times and excellent customer support in favor of the casino.
The Craps game is powered by Betsoft.
I have already analyzed this promotion using Roulette as the target game, and it is definitely a superior game to Craps for these purposes, so I suggest you read all about that first, here.
We are supposed to be analyzing this promotion for Craps play, though, so the first thing we need to do is see if all of the Terms and Conditions are the same.
The first term that we need to notice is as follows:
Play-through requirements will be carried over from a bonus if a later bonus is redeemed before the wagering requirement of the first bonus is met and the player has funds tied to the rollover requirement in his balance.
What that means is that we are only going to take one shot at this thing because we would have to complete playthrough requirements that we failed to complete the first time around if we fail. That being the case, we've essentially only got one chance.
The playthrough requirements are 30x on Slots and Craps contributes 10%, effectively making the playthrough requirements 300x on Craps. Unfortunately, there is one other term that gives me pause:
All Bonuses and Free Spin Offers are awarded for entertainment only and are intended for recreational players. Vegas Crest Casino reserves the right to revoke bonuses and Free Spins, withhold any withdrawals and/or void any unfair winnings of players deemed in our sole discretion to be abusing or exploiting our bonus and Free Spin offers or who take part in any fraudulent behaviour.
None of that is even going to matter, either, because of this term:
A maximum of $5.00 or 10% (whichever is lower) of any bonus type or any winnings derived from bonuses or free spins may be wagered at a time, per game round, spin or hand. Any breach of this or any other Bonus Terms may lead to bonus and winnings being voided, bonus privileges revoked and/or account closure.
Now, you would think that they would put something like that in Bonus Terms, but instead, I found it in the general Terms & Conditions. Unfortunately, I suspect that this development makes the bonus completely unbeatable, ESPECIALLY on Craps.
The first Bonus is a 200% up to $1,000 with an effective 300x playthrough requirement on Craps. You would deposit $500 and have a bankroll of $1,500. You would have to playthrough $450,000 ($5 at a time, no less) which would have an expected loss of $6,345 on Pass Line bets. You will come nowhere close to completing the Wagering Requirements.
The highest house edge you could face with those wagering requirements, and break even is:
450000 * x = 1000
X = .0022222 or 0.222%
There are no games offered with a house edge that low, thus, the bonus cannot be beaten.
Fone Casino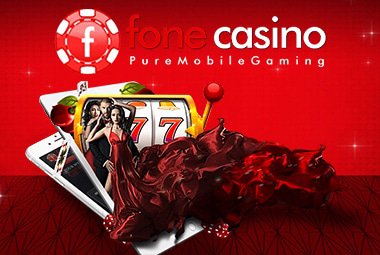 This casino started in 2013 as mobile-only, but soon expanded to desktop play. It is not a Wizard of Odds approved casino, but is known for excellent customer service.
The average User Score for this casino is 3.8/5 across our family of sites and an average of 4/5 on this site. Sometimes the casino is written with a space and sometimes without, but one positive is the liberal withdrawal maximum of $10,000/weekly with a $100 minimum.
Players compliment the games as well as excellent customer service. The only consistent problem that some player seem to have is with the No-Deposit bonus, which we don't care about for the purposes of this page anyway. FoneCasino is powered by Saucify.
FoneCasino is currently offering a one-time sign-up bonus with a 100% deposit match up to $1,000 with a 40x playthrough on slots. Craps contributes 20% to the playthrough requirements, so the Craps playthrough on the bonus is effectively 200x.
If there is a section with Bonus Terms, I can't find it. The Bonus page just goes to General Terms and Conditions.
The site actually advertises a Craps Bonus on their affiliate sites and has a playthrough requirement for Craps...but no Craps Game! That should be fixed soon.
Cafe Casino
The only common threads are both bonus-related, players compliment the wide range of bonuses by lament the high playthrough requirements.Cafe Casino is not a Wizard of Odds approved casino, mostly owing to the fact that it just opened last year. With that being said, it is operated by Betting Partners who also operate Bovada and Slots.lv, two highly reputable sites. Wizard notes that Cafe Casino has excellent software and a wide range of banking options, which helps it earn a 4/5 user score across our family of sites. It has an average score of 4.1/5 here.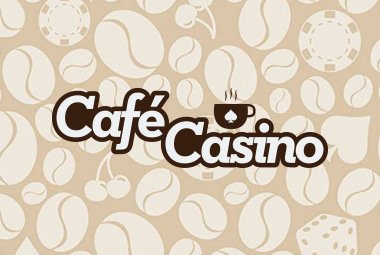 The Craps game is powered by RealTime Gaming. Other than Line + Odds (which seem to be 2x) the best bet on the table is the Lay Four or Lay 10 which charges a commission of 2.5% on a win which is a 39:80 payoff for a 0.83% House Edge. Again, Line + Odds is still a lower percentage exposure relative to your total bet, but that is a nice Lay Bet.
The first thing that we have to do is take a look at the various new sign-up promotions being offered by Cafe Casino:
The first bonus that we will look at is a 100% Deposit Match bonus on a first deposit up to $1,000 with a playthrough of 25x, except Craps only accounts for 20%, which effectively makes the playthrough $125,000. This bonus has no maximum cashout limit.
Even though the Lay Bets have a low House Edge, the combined House Edge of Pass Line + Odds is still going to be less than the Lay Bets. This Craps game is powered by RealTime Gaming and offers 2x Odds. Assuming we will play the Pass Line, here is our average bet with a $5 base bet:
(5 * 12/36) + (15 * 24/36) = $11.6667
What that means is that, given the average, we expect to make 125000/11.6667 = about 10,715 Pass Line Bets which will reflect $53,575 in action with a 1.41% House Edge and expected loss of 53575 * .0141 = $755.41. In short, we expect to complete the playthrough requirements with a bankroll of $1,244.59 for a profit of $244.59. Because the deposit is $1,000, if we take maximum bonus, our expected return is a 24.459% PROFIT.
Again, that interesting Lay 4/10 has a House Edge of 0.83%, but when we look at our combined house edge of Pass + Odds based on expected loss as compared to amount bet:
755.41/150000 = 0.00503606666
Which represents a combined House Edge of 0.50361%, which is better than the very good Lay Bet. Some players might consider offsetting the Pass + Odds on the 4/10 with the Lay Bet to reduce variance, but I do not advise it, as it would cut into your expected profits.
MAKE SURE IN THE LIVE CHAT THAT CRAPS ODDS COUNTS TOWARDS WAGERING REQUIREMENTS OR THIS WILL NOT WORK!!!
Another bonus being offered is a 500% sign-up bonus up to $5,000 with a $1,000 deposit. This bonus will have 35x wagering requirements, so $175,000 wagering on slots and $875,000 wagering on Craps. There is a win limit of 10x deposit, or $10,000.
We already know our average bet will be $11.6667 based on a $5 base bet, so we will make a total of 875000/11.6667 = 75,000 Pass Line bets. The total in Pass Line bets shall be $375,000 which has an expected loss of $5,287.50, which means you expect to lose $287.50 of your deposit and this bonus is not playable.
The final bonus is a 150% Bitcoin deposit bonus on deposits of $1,000 for a bonus of $1500 and a total bankroll of $2,500. The wagering requirement is 25x on slots, so $62,500 in total on slots which will be $312,500 on Craps.
We know our average total bet will be $11.6667 on a $5 base Pass Line bet, so we will make a total of 312500/11.6667 = 26,786 Line bets for a total of $133,930 in bets. We are expected to lose $1,888.41 on those, which means we expect to lose $388.41 of our deposit. This bonus is not playable.
Slots.lv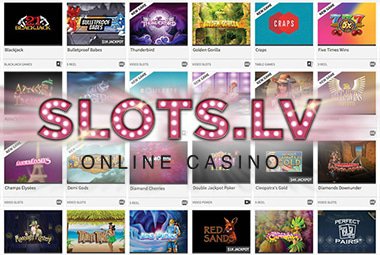 Slots.lv
is a Wizard of Odds
APPROVED
casino owned by Lynton Limited, it has an average User Score of 4.1 out of 5 across our family of sites as well as a 4.4 out of 5 here.
Recent LCB Users have sang this casino's praises from the rooftops for the category of games, great bonuses, quick payouts, excellent customer service, acceptance of BitCoin and the quality of the Instant Play version of the casino. Four different software providers power this casino, the Wizard of Odds notes, with the two main ones being Rival and Makitone Gaming.
The only complaint that can be made is the somewhat low Weekly withdrawal limit of $2,000.
The player may make Odds bets of 3x-4x-5x which is low by brick-and-mortar casinos who usually offer 10x Odds, but high by the standard of online casinos. The Craps game is powered by Rival.
The New Player promotion is essentially a nine part promotion. The first part is a 200% Deposit Bonus up to $1,000 ($500 Deposit) for a total bankroll of $1,500 and a 35x playthrough on slots. The result is playthrough requirements of $52,500 on slots. Craps counts for 20% of playthrough requirements, so $262,500 would need to be played through on Craps.
If the Point is 4/10, the player betting $5 may make a $15 Odds bet, 5/9 is $20 and 6/8 is a $25 Odds bet. The total bets are $20, $25 and $30 respectively, so let's determine our average bet:
(5 * 12/36) + (20 * 6/36) + (25 * 8/36) + (30 * 10/36) = $18.8889
With that, we expect to make 262500/18.8889 = 13898 initial bets of $5, which total $69,490.
The expected result of the Pass Line bets is that we will lose 69490 * .0141 = $979.81, thereby leaving us with a bankroll of $520.19 for a profit of $20.19 or 4.038% of our initial deposit.
AGAIN, MAKE SURE TO CONTACT LIVE CHAT AND MAKE SURE THAT THE ODDS BETS COUNT TOWARDS PLAYTHROUGH, OR THIS WILL NOT WORK!!!
Actually, a new development is that Craps no longer contribute to the wagering requirements, so this will no longer work.
That just goes to show you how quickly things can change and why it is always important to check those Terms & Conditions!!!
Craps Promotions Conclusion
Just with the few casinos we checked, we found:
A casino that used to have Craps and got rid of the game completely.
A casino that used to have Craps contribute 20% to the Wagering Requirement whereas it now contributes nothing.
A bunch of casinos with a Craps Promotion that has an expected result of the player losing some or all of his deposit.
One casino (Cafe Casino) that offers one promotion with a $244.59 profit expectation on a $1,000 deposit with the bonus. Get it if it's still there, because that probably won't last long.
The point is that things are constantly changing, so even if you think you know the Bonus T&C's or General T&C's you want to read them again thoroughly before putting your money out there. If you think you have an advantage, but are unsure about anything (whether or not Odds count towards playthrough) then you need to contact Live Chat and get a transcript if the answer is to your favor. This will back you up if they make a mistake and later say that the Odds Bets do not contribute, you have someone on record saying they do.
Craps Promotion Checklist
Here is a handy checklist if you are trying to take advantage of a Craps Promotion:
1.) Is Craps the best game to play?
2.) What is my average bet going to be?
3.) How many Pass Line Bets must I make to complete the Wagering Requirements?
4.) What is my combined House Edge on a Pass Line Bet + Odds?
5.) Do playthrough requirements carry over?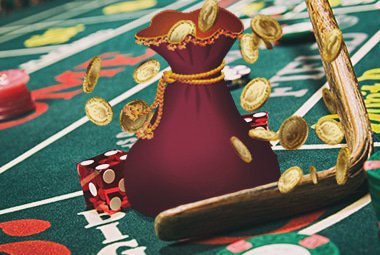 The fourth question is the one you will answer first. As you have hopefully learned above, the way to do that is simply base it on a $5 bet (or any amount you want) and determine what your average bet will be based on the amount that you are allowed to bet in Odds and how frequently you will be betting each Odds amount.
For example, 2x Odds is simple. You will bet $5 total on the 12/36 rolls that resolve on the Come Out and a total of $15 ($5 Line, $10 Odds) on the 24/36 Come Out rolls that result in a point being established, ergo:
(12/36 * 5) + (24/36 * 15) = $11.6667 is your average total bet.
Determining your average number of total Pass Line bets is a simple affair. After determining how much must be wagered to complete the playthrough requirements, you will simply divide that amount by the average total bet to get the number of Pass Line bets you will be making. For instance, if I must meet $500,000 in playthrough, then at an average total bet of $11.6667 ($5 base bet) you will make 500000/11.6667 = 42,858 initial bets. Those bets will total $214,920 in Pass Line bets.
Now, you will determine your expected loss on those Pass Line bets, the Pass Line House Edge is 1.41% and will not change, so take your total in Pass Line bets and multiply it by the House Edge expressed as a decimal:
214920 * .0141 = $3,021.489 or $3,021.49
Therefore, in that instance, we would finish with our starting bankroll less $3,021.49.
We also want to determine the total House Edge, which is another simple affair. All we have to do is determine our Expected Loss on the $5 base bet, and then divide that amount by our expected total bet, as such:
5 * .0141 = .0705
.0705/11.6667 = 0.00604283987
Therefore, our combined House Edge is 0.604283987%.
That represents an RTP of about 99.39572%.
When we go to identify whether or not Craps is the best game for a promotion, we must look at the house edge of all other available games and multiply it by the total amount we need to bet to complete the playthrough requirements in order to arrive at an expected loss.
Now, if we have the same playthrough requirements on a different game as we do on Craps, the process is even easier. All we have to do is determine the combined House Edge of our Pass Line + Odds bet and simply look up the House Edge of the other games available with the same playthrough to see if any of those are lower. For example, many Video Poker and Blackjack games have a lower house edge than Pass + Odds combined with 2x Odds. Whether the result is an expected profit or not, it would be better to play those games if they have the same wagering requirements. At least, from an expected profit/loss standpoint.
There are a few online casinos that have playthrough requirements carry over to future Deposit Bonuses if you do not complete them on the first Deposit Bonus that you take. You would have to determine whether the second bonus could still be played profitably with the additional playthrough requirements, but often they can not, so you would not play them.
Do Not Abuse Bonuses
There is a difference between beating an online bonus that a casino offers in the way it is meant to be played pursuant to the Terms & Conditions. If you flat bet Craps with 2x Odds, for example, what could they possibly say to you?
However, one of the reasons that Craps has such high playthrough requirements is that many players were doing more than just mathematically identifying beatable bonuses. They were also betting in a fashion that reduced their Variance to almost nothing with Doey-Dont's. This sort of betting is actually greedy on the part of the players because you have a casino who is rolling out a lucrative promotion to you, and yet, you are betting in a way that all but guarantees a profit. You're not gambling, you're not playing, you're just hitting buttons.
The result is that playthrough requirements are higher and betting that way, if the casino even permits you, will almost always be considered Bonus Abuse.
Was this article helpful?
1

/

1

found this helpful
Back to articles