Overview
Caribbean Poker is a fun casino game, but despite its name, most players don't consider it a poker game. Unlike many poker games, Caribbean Poker is a game which players play against the house. Many online casinos offer a progressive jackpot for Caribbean Poker, making it more like a slots game than a table game. In addition, there is no bluffing.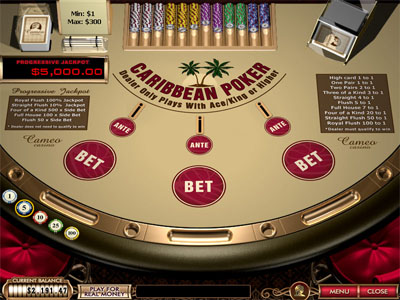 Goal
To have a better poker hand than the dealer if the dealer has a qualifying hand.
How to Play
First, each player places an ante bet. This is required in order to play the hand. Next the dealer gives each player five cards, face down. The dealer receives four cards face down, and one card face up. Players look at their cards and decide whether to fold or to stay in. To stay in, the players need to make a call bet. The call bet is an additional amount of money equal to twice the ante bet. In online casinos, generally the game is played one-on-one against a virtual dealer. In a land-based casino, though, several players may play at the same table. Despite this, the hands are only judged against the dealer's hand.
Qualifying Dealer's Hand
A dealer's hand is judged invalid if the dealer doesn't have a hand of Ace-King or higher. If the dealer's hand is invalid, the call bets do not count and are returned to the players. The ante bets are doubled, but since the ante is generally low, this is not considered a great win. Note that this is true even if the dealer has a better hand than players. Call bets are only in play if the dealer's hand qualifies.
Payouts
In addition to doubling the wager for the hand if the player's hand beats that of the dealer, players win additional money for higher-valued hands. While the schedule can vary slightly from casino to casino, this sample payout schedule is fairly standard.
| Hand | Payout |
| --- | --- |
| Pair (or less) | 1:1 |
| Two Pair | 2:1 |
| Three of a Kind | 3:1 |
| Straight | 4:1 |
| Full House | 7:1 |
| Four of a Kind | 20:1 |
| Straight Flush | 50:1 |
| Royal Flush | 100:1 |
Progressive Jackpot
In addition to the rules mentioned here, many casinos, both online and land-based, offer a progressive jackpot for Caribbean Stud Poker. Usually the price for participating in the progressive jackpot is an additional dollar per hand. Only hands which are played through qualify for the progressive jackpot, but the wager for the progressive jackpot must be made with the ante bet, before the hand is dealt.
Players who participate in the progressive jackpot, though, are at a big advantage. Players who get a flush or better get a bonus from the jackpot, in addition to the winnings for the regular game. If a player gets a royal flush - the best hand - they win the jackpot. This is often one of the best jackpots available in a casino. There is a payout schedule which may vary slightly at each casino. This applies to American casinos. British, Hong Kong, and Macau casinos use a different payout schedule, partially due to using a different currency.
A sample payout schedule:
| Hand | Payout |
| --- | --- |
| Flush | $50 |
| Full House | $100 |
| Four of a Kind | $500 |
| Straight Flush | 10% of the progressive jackpot |
| Royal Flush | The whole progressive jackpot |
These additional winnings can be quite lucrative, although many experts recommend only betting on the progressive jackpot if the jackpot is already at $30K or more.
House Edge
The house edge for standard play with reasonable strategy is about 5.3%. With optimal strategy, it is possible to decrease the house edge slightly. Knowing what all other players hold could decrease the house edge to 2.3%, but this is both against game rules and extremely impractical. At an online casino, it is not only against the rules; it is generally impossible.