Overview
Draw Poker, also called 5-Card Draw, is the classic poker game, but in recent years, poker players have generally moved towards more complex poker games like Texas Hold'em, Omaha, and 7-Card Stud. As a result of the simpler rules, many casinos have taken Draw Poker out of the poker rooms, and have moved 5-Card Draw to the video poker machines.
The rules are essentially the same for Video Poker and 5-Card Draw, except that in Video Poker, there is no opposing hand. Your hand is judged purely on its own merits.
How it's Played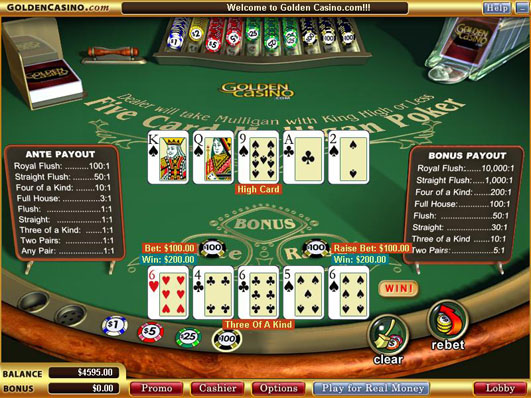 In the table version of 5-Card Draw, each player places an ante, or an initial bet. Then each player is dealt five cards, face down. Starting at the dealer's left, and moving left back towards the dealer, each player chooses whether to call the bet – match it with their own bet, raise the bet to a higher bet, or fold – opt out of this round, losing any money already wagered. Depending on the casino rules, betting may be limited or unlimited in amount. Usually casinos allow three raises in a single betting round.
After completing the betting round, each player chooses how many cards to return to the dealer in exchange for new cards. Players may return up to three cards, but are not required to return any. If a player holds an ace, they may return all four of the other cards, but are generally required to show the ace.
After the cards are returned and the player draws new cards to replace the returned ones, there is another round of betting. When all bets have been made, there is a showdown. In the showdown, the player holding the best hand wins the wagers that have been made throughout the game, minus the rake. The rake is the percentage that the casino or poker room takes from the pot as a fee for allowing players to use their facilities.