iGaming is a difficult field to work and be successful in - there is always this constant need to update, update, update! Not only is it ferociously competitive, but it is also very technologically needy, a trait cultivated by the ever-growing demands to provide faster, better-looking, more powerful games. With the rise of HTML5 technologies, such a product became a definite possibility, and the industry's most prominent developers jumped at the opportunity to attract international audiences.
It wouldn't be fair to say that Flash platforms are near obsolete, or that they are bad.
In fact - there are many flash-based casinos still alive and kickin' it as we speak, but the way things are going on in the online gambling scene right now, Flash technology is slowly, yet undoubtedly, sinking into oblivion.
Anybody who is somebody in this business is rushing to develop future HTML5 favorites, even going as far as vigorously refurbishing massive portfolios to welcome the mobile and social gaming era to their workshops!
In the Contemporary Gambling Industry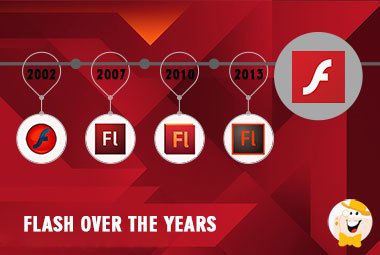 Dropping Flash in favor of HTML5 is no longer an option - it is a must - though it may have been back in 2012, when HTML5 casino games were first hinted at, and when mobile-friendly games, live dealer casinos and social network gaming were not as popular, or widely available, as they are today. Up until then, Flash media was the solution to turn to and meet the specific needs of cyber gaming and its growing fan base...
...to experience life-like, tangible casino floors and their inviting atmosphere in the comfort of our own homes, at any time we choose.
Pushing Boundaries
Adobe Flash is undoubtedly among the most important technological breakthroughs for iGaming, and one of the biggest milestones in the history of online casinos. As a multimedia software platform that enables lavish videos, animations, video games and other applications, it was a perfect solution to introduce for the transition into browser-based gameplay. It transformed the industry allowing players instant access to venues offering the latest 3D games.
Suddenly we were witnessing something we've never seen before...
...websites became brightly-colored, animated virtual hubs with seamless layouts and user-friendly navigation.
Such an improvement compared to what we previously had: listless installed clients with poor graphics and uninspiring visuals. Flash-based casinos pushed the boundaries by giving us a way to quickly and easily move from the registration pages, across the software library and its numerous categories, to the promotional and bonus content. Beyond ecstatic, we marveled at the wonders of instant play, and could not have imagined there are better things yet to come.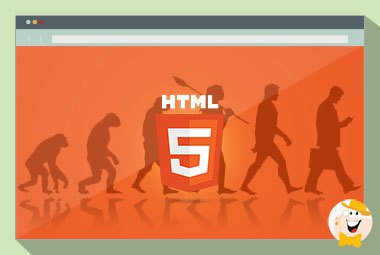 Evolving
What in the world is this HTML5 that keeps popping up everywhere? Obviously, we are all using it, but most of us have no clue what it actually is! If you are using the Interweb, you could have NOT heard of it! Not to mention budding iGaming developers, who make it a point to emphasize their games are developed in HTML5 and are nothing short of amazing.
Short for Hypertext Markup Language revision 5, HTML5 is a broad term encompassing applications and common practices used in web development. In addition to HTML, it describes two more codes - CSS and JavaScript, which together deliver most of the browser-based stuff we see and use online these days.
Flash vs. HTML5
So, what's the deal with all the comparisons between the two? Both have advantages and disadvantages, but HTML5 wins for a few simple reasons. For one...
This is the age of mobile gaming, however, most smartphones do not support Flash. Brands opting for this would effectively cut off a huge percentage of their website's traffic, and prevent many mobile players from wagering on their games.
Furthermore:
Flash requires additional applications to work: you have to install plug-ins to be able to use any content that is based on this tech. HTML5, on the other hand, readily performs in almost any browser.
Processing Flash files is slow and time-consuming. Consequently, the software will drain the life of your battery quickly. This is also the reason why the loading is much slower, particularly when complex graphics are concerned.
There is no deep-linking support either...
...which is a big 'no-no' for most gaming networks and portals that might have partnered with the operator who us using the software.
In terms of convenience and technicalities, HTML5 seems to have solved many of the issues players, developers and operators themselves have had with Flash in the past:
Cross-device and cross-browser compatibility, responsiveness, speed (both performance wise and game development wise), and the fact that it is a simple to learn, open source technology just about anyone can improve and modify, are reasons enough to make the switch without afterthought.
Flash has Been Around as the Main Tech Longer
Mainly for practical purposes, it may be slightly more dear to developers who are used to its familiar, almost standardized and consistent use and features. It is, nevertheless, a losing battle against SEO-friendly, far simpler and faster web creation tool.
Net Entertainment was among the first to jump ships when it became obvious that an increasing number of players prefers smartphone gaming. For the software giant and recognized slot virtuoso, this was the right thing to do. Wasting no time, the premium brand publicly announced in December 2017, that they will no longer support Flash. Having already created their first HTML5 products, they decided all future installments will use this modern technology.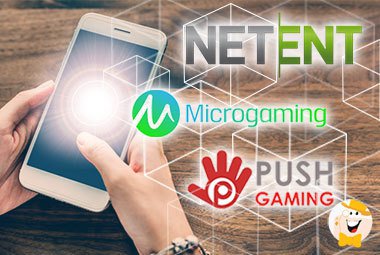 Not Only That!
Nearly all games from the portfolio - over 70 top favorites and best-performing titles - were re-developed to enable mobile play of superior quality.
Commenting on the change, Henrik Fagerlund, Chief Product Officer of NetEnt, said:
''The move to HTML5 ensures a better player experience as it delivers better graphics, sounds and animations. Mobile versions of all the upgraded desktop games have also been developed, enabling players to enjoy their favourite games in superior quality whether they are at home or on the go.''
"Given the growth of mobile gaming, we have to continue establishing ourselves as an industry leader by making these advancements and moving with the times."
Microgaming
Another famous provider of online gambling solutions - Microgaming - embraced HTML5 even earlier, in 2012, when in April of the same year, they introduced several refurbished slot hits in a teaser during mGaming Summit. HTML5-compatible mobile client with over 14 new games followed in 2014: Tiger's Eye, The Dark Knight Rises and Mayan Princess.
Several popular products like Dolphin's Quest, Cool Buck, Shanghai Beauty and Tomb Raider, and several card variants made a very positive impact on players and fans, whose reaction encouraged the provider to continue in the same direction of development and creative choices.
Push Gaming
''We create premium HTML5 games, with stunning art to attract players and unique features to entertain and retain players. Our games are modern, fun and are designed for an optimised player experience on mobile devices''.
Before they could boast the above claim:
Push Gaming existed for three years bringing land-based games to the online realm. In 2013, the brand made a major change in direction, switching entirely to HTML5 platforms to enable new generation products for new audiences.
Initially, they developed several new games, acquiring prominent partner and clients in the process, who spread their products and the word of their high-quality, mobile compatibility across many popular casinos. Realizing this is the way to go, the company converted the portfolio, and now creates exclusively HTML5-based content.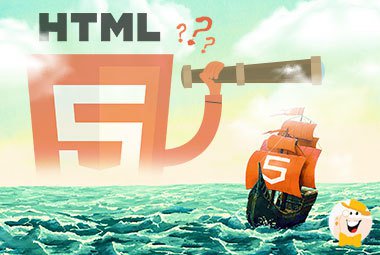 Who was HTML5-oriented from the beginning
Some companies like Wazdan started with the modern format pretty much from the very beginning of their slot-developing days. Though they only said ''Hello HTML5'' in 2015, five years after the inception as a server-based solutions provider, nowadays the popular brand's portfolio is a massive collection of over 100 instant play, high-tech editions, averaging 12 new releases a year.
Magnet Gaming rolled out their first products in May 2015, starting with Auction Day, with over 20 HTML5 slots that followed over the next several years. The aspiring brand never considered offering anything but premium, mobile-friendly games for forward-thinking casinos and players.
The Future
Several years ago, the html5 vs. Flash debate was the hottest subject among gaming developers and players alike. It was the industry-wide opinion that the former will surpass the latter in almost all respects. Now that the discussion is slowly dying out, we can confidently say that the future we had been hoping for has arrived - there is still work to be done, but outstanding graphics, superior performance, portability and accessibility of online gambling are already as good as they get.