Gambling at casinos has its risks.
The odds aren't always in your favor, and there's a real chance you might lose bigger than you can win. But what if there was a sure way to win? A bet you couldn't possibly lose, or a slot machine that was guaranteed to pay out? If you had superpowers and used them at the casino, your chances of winning might just go through the roof.
We polled 2,000 people to find out if they would be willing to use superpowers in a casino to win, even if it meant getting caught. How honest would they be? Read on to find out.
More than Luck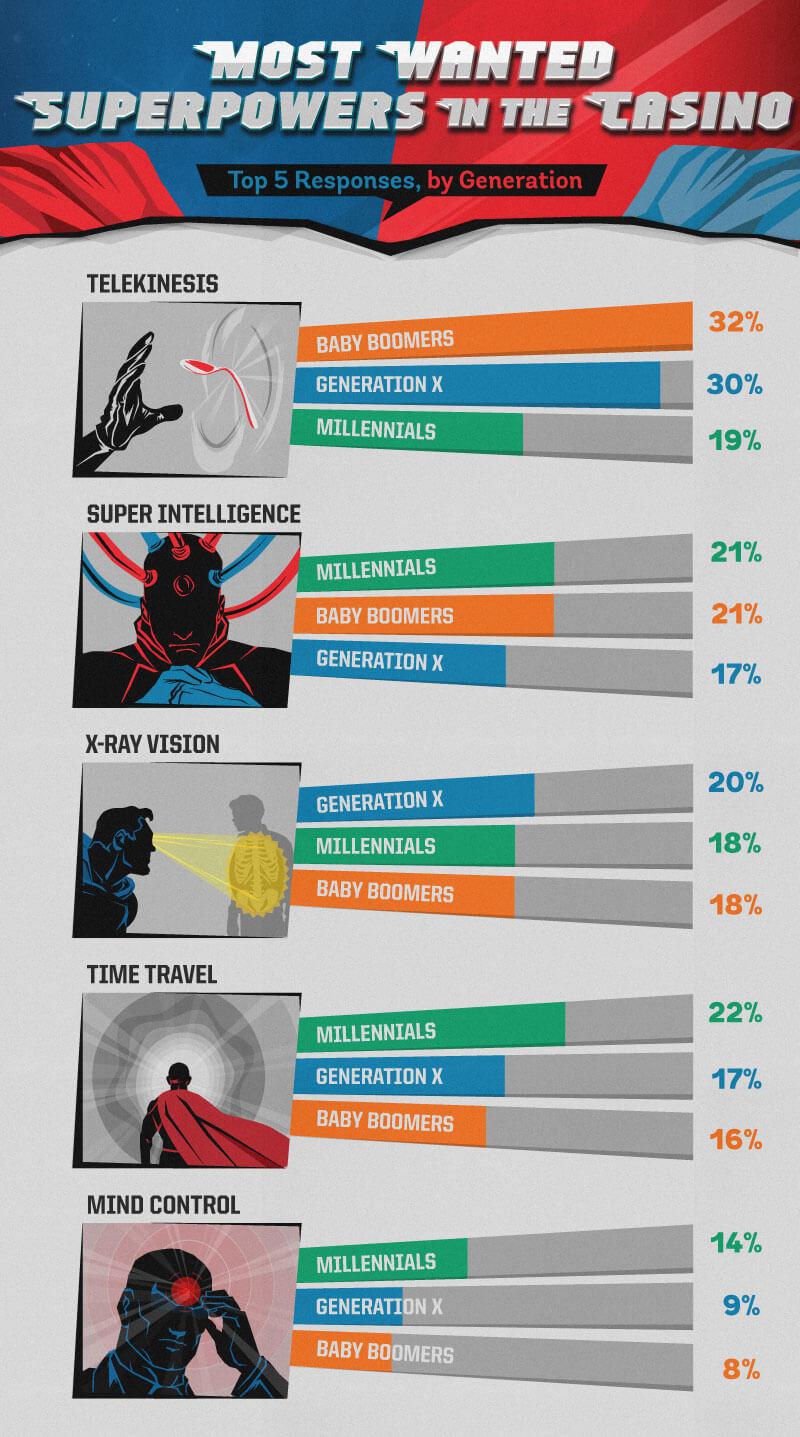 There's no denying that certain superpowers would give you a leg up in a casino.
According to our survey, baby boomers (32 percent) and Gen Xers (30 percent) would bring the power of telekinesis into the casino with them. Being able to move things with your mind would certainly come in handy at the roulette table or while playing craps. You could even play a hand across the room or pull multiple slot handles at the same time. More chances to play means more chances to win.
Baby boomers also said they'd use super intelligence while gambling (21 percent). Not all gambling is pure luck – being able to process the mathematical variables involved in playing the odds might mean fewer wins for the house and more money in your pocket.
Millennials had a different opinion, however. They were slightly more interested in the power of time travel to pick up some extra cash at the casino (22 percent). You'd never lose a round at table games or pick a bad slot machine if you always knew which ones were ready to pay out. Time travel might be more involved than just moving dice or cards with your mind, but millennials seem to be in it for the long game when it comes to tipping the odds in their favor.
Worth the Risk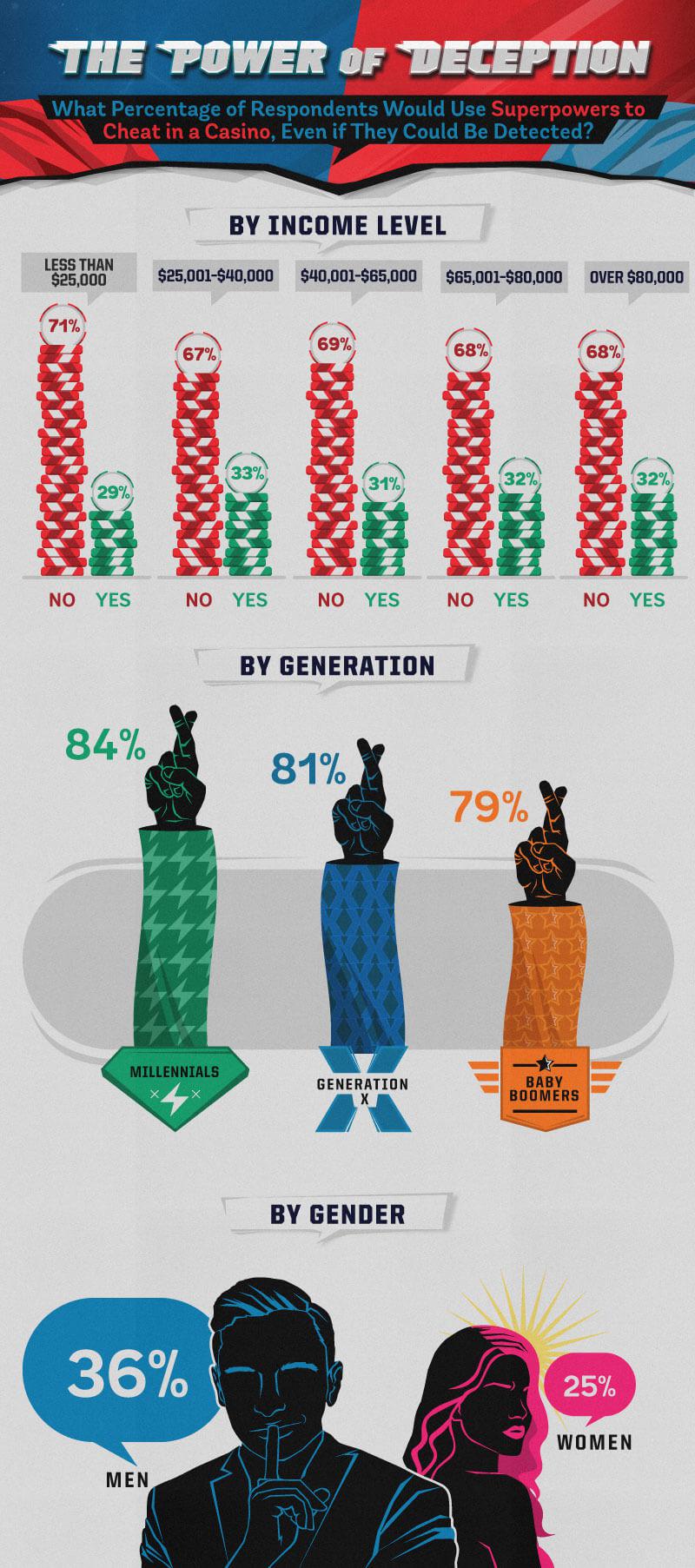 Using superpowers to cheat at the casino might just take the thrill out of winning your favorite games.
The likelihood to cheat – even at the risk of getting caught – varied based on income level. Those who made less than $25,000 a year were the most likely to cheat even if they knew the casino had a way of detecting their superpowers. In a world where X-ray vision can see through a deck of cards and telekinesis can stop the wheel on any color or number, it's hard to believe casinos wouldn't be on the lookout for these futuristic cheaters.
Millennials (84 percent) were also more willing to tip the odds in their favor than baby boomers (79 percent) and Gen Xers (81 percent) using superpowers. Most Americans already think millennials are entitled, and the casino is no exception. It seems they want to win, regardless of the consequences, more than anyone else.
Conclusion
If you want to be the hero, sometimes you have to take risks. Unfortunately, the odds of getting superpowers in the real world are pretty much nonexistent. The good news is that there are other ways to be a winner. Try your hand at a game of online poker or a round of digital roulette at LCB.org. You might not win the ability to fly, but with mega-million-dollar jackpots on the line, there's almost nothing you can't do with these super-powered winnings.
methodology
We surveyed more than 2,000 people to find out how they would use various superpowers at the casino given the opportunity. Only generations and income levels with at least 50 respondents were included.
fair use statement
Share the wealth. The content found on this page is available for reuse for noncommercial purposes only. Just link back to the authors of this page.