Online gamblers have been able to experience real money gambling on mobile devices with the use of no download mobile casinos but there are also several downloadable products available in the Apple App Store. The smartphone is your key to limitless mobile gambling; well, almost. Depending on your geographical location, your options will vary but in this day and age, the iPhone and its iOS platform is more powerful than ever before.
Online gambling first became available in the 1990's and since then many things have changed. Mobile phones were big and clunky. It was as if you were putting a brick to your ear to make a call and internet access wasn't a possibility. We've gone from the mobile bricks, to flip phones and now we can not only make calls with razor thin mobile devices but we can virtually do anything and everything from our phones. The technology of today virtually eliminates the need for a desktop or laptop computer and it most definitely eliminates the need to go to a brick and mortar casino to gamble.
You can visit a mobile gaming website but there are iPhone apps available in the App Store that allow players to download and access games with the touch of a button. You can place your bets on Slots, Video Poker, Blackjack, Craps, Roulette, Texas Hold'em, Sportsbetting, Virtual Sportsbetting, Horse Racing, Bingo and much more.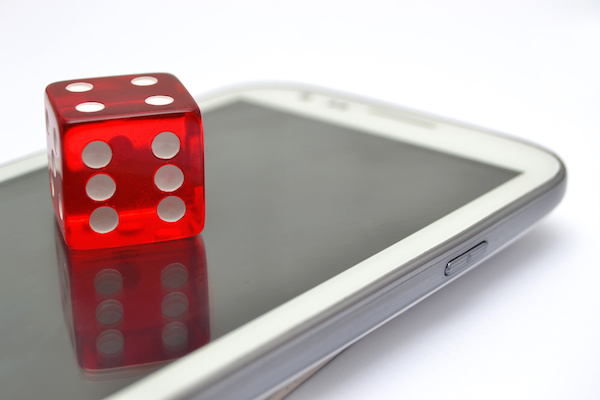 Apple Gambling App Guideline
Android devices are limited in terms of real money gambling apps via Google Play but Apple allows developers to create gambling related apps but not without a few guidelines. Section 20 of the Terms and Conditions for developers of Apps in the App Store is the part that pertains to gambling.
"20.5 Apps that offer real money gaming (e.g. sports betting, poker, casino games, horse racing) or lotteries must have necessary licensing and permissions in the locations where the App is used, must be restricted to those locations, and must be free on the App Store.''
"20.6 Apps that use IAP to purchase credit or currency to use in conjunction with real money gaming will be rejected."
As you search for real money gambling apps in iTunes, you will notice that all them are free to download. This is required by Apple as noted in 20.5. If the app is not free then it doesn't offer real money gambling.
The app may only be used if permissible by law in your region. Users may be able to download the app but they will be blocked either at registration or when attempting to deposit.
Europe will see a variety of app options while those in the USA, for example, will find a limited selection of gambling apps. In the US, legalized states have various apps from providers such as 888, Caesar's Interactive Entertainment, Harrah's, WSOP and others but the sky is the limit for many other countries.
Real money gambling apps have been permitted by Apple since 2012. The links to download are available directly from the casino's website or by searching the App Store.
Was this article helpful?
5

/

5

found this helpful
Back to articles