Ken Uston
Kenneth Senzo Usui became known as Ken Uston in the gambling world. He was born on January 12, 1935 in Long Island, New York. He grew up in New Haven, Connecticut. Uston raced through primary school and graduated from the University of Connecticut at the age of 20. He received an MBA from Harvard. Instead of entering the workforce after school, Uston enlisted in the U.S. Army Reserve for eight years.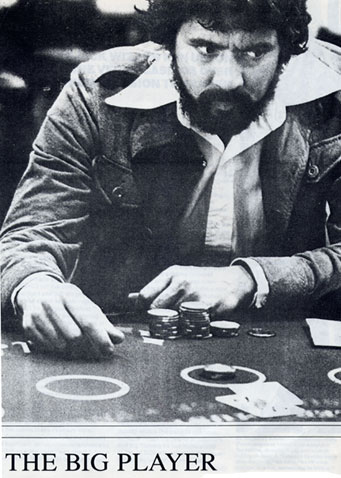 His first career outside of the military was working for the New England Telephone Company. He started out at an entry level position and worked his way up the ladder to Director of Operations Research. In 1969, he accepted a job with the Pacific Coast Stock Exchange.
Uston did not like life in the finance industry. He did not consider it fulfilling. He soon met Al Francesco, an expert blackjack player that introduced the game to Uston. Francesco taught Uston basic strategy and card counting. Uston practiced what he learned in his spare time and soon joined Francesco's blackjack team. He eventually took a shot in Las Vegas.
Uston's skills immediately made him a winner. He was living the highlife in Las Vegas suites. The casinos started discovering what the blackjack team was doing and banned all of the members.
This forced Uston to take his show on the road. Atlantic City casinos were in their infancy in 1978 when Uston hit the town. Resorts International was the first casino in Atlantic City. It was the scene of a dispute between Uston and casino management. He was backed off by Resorts International for counting cards, similar to what his team experienced in Las Vegas.
A legal team determined that Atlantic City casinos did not have the authority to restrict winning players from sitting at blackjack tables. It seemed impossible at the time, but Uston managed to win his legal battle against Resorts. The New Jersey Supreme Court ruled in his favor. The court decision handed down prevents Atlantic City casinos from refusing service to any player based on skill. The only individuals that may be kicked out of casinos are those causing a disturbance.
This rule still stands today. Atlantic City casinos have found a few ways to work around this. For example, casinos may deal as many decks as they wish to make card counting more difficult. Hitting a soft 17 is another rule that increases the house advantage. Houses may cut more of the deck out or not use a cut card at all, leaving the reshuffle point up to the dealer. This allows an observant casino employee the ability to dump the deck if the count becomes too ten-rich.
Some Atlantic City casinos use the '$5-$50' cards to prevent card counters from practicing their trade at their tables. This means the house reserves the right to restrict a player's bet range to $5-$50. Borgata is a casino that does not participate in this method of backing off card counters. It may explain some the company's success in the Atlantic City market.
Uston died on September 19, 1987 in Paris. He was last heard from three days before. He was 52 years of age. His legacy still lives on today, read more on wikipedia