Lucky 3+1: What Do You Need to Know? (Creedroomz Live Lottery Game)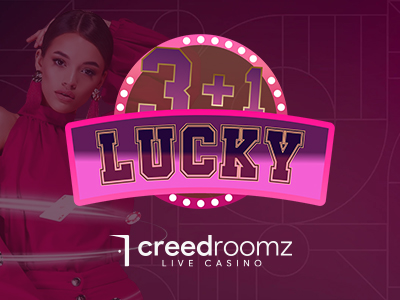 Two rising trends come together in Lucky 3+1.
First, there's a surge in popularity (and quality) of lottery game show-style live dealer games. These have never been without interest in the online gaming community, but there has been a marked bump in recent months and years. It seems that these titles are starting to enjoy a prominence they've never enjoyed before!
Then second, there's the upstart design firm Creedroomz. Here is a company almost no one had heard of only a year or so ago, somehow becoming one of the hottest names in the business.
The confluence of these factors yields a downright impressive result…
… what kind of keno-style lottery game has what it takes to make a splash like this?
Just about everything and anything imaginable, of course!
This is a far cry from your average wheel game.
 We're talking about a lotto game with four drums, running live 24/7 on a 10 minute cycle, with dozens of interactions and bets possible, as well as interesting bonus features. Best of all, the visual design surpasses not just nearly every other game on the market, but a fair helping of broadcast programming as well!
This is truly next-level presentation, with gaming substance to match. Let's dig into what makes this title so worthy of attention.
The Rise of Creedroomz
Despite the relatively limited name recognition this bran currently enjoys, Creedroomz has made quite a splash in the industry in recent years.Originally formed under the umbrella of Betconstruct, they've somehow managed to release an extremely impressive catalogue of games over a very short time in the spotlight.
Taken by itself, a string of high quality titles from a young brand would probably not be enough to stand out in the extremely crowded field of modern online gaming! But this designer always finds a way to go the extra mile… there's always some innovation, some original and unique approach, some pushing of the envelope somewhere.
This game, of course, is no exception!
Hitting the Lottery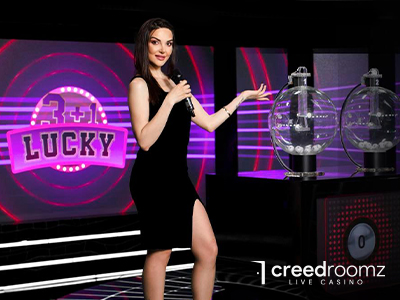 As previously mentioned, we've seen lottery- and game show-style games making waves internationally of late. What makes this one so special?
Yes, the visuals are remarkable. But the substance matches the style here.
There are three smaller lotto machines – called "the lucky 3" – present in the gaming zone, each containing balls numbered 0 through 9. Simply put, the goal is to try to predict the outcome! Bets can be placed on the results of single or multiple machines.
Results are drawn every 10 minutes, so while one never has to wait too long for action, it's also not possible to lose track of one's bankroll in a flurry of quick bets, as can sometimes happen in Blackjack or Roulette.
In addition to the lucky 3, there's a big machine present as well. In contains the numbers 1-49, and draws results only once per hour. Players do not have to bet on the larger drum – the switch at the top of the screen, next to the options menu, toggles this bet on and off. We certainly understand why not all players wish to engage the big drum – the time frame alone is a major consideration – but this does open the way to the most interesting bonuses the title has to offer.
(Please take note that, relatively unique among keno-style games, each drum draws only one single number for each betting round.)
Also enjoyable is the roulette-style betting structure.
The possible ways to bet are almost overwhelming! Let's break it down in detail. The possible bets are:
Single Number bets specific to individual, smaller machines
Even/Odd bets
Low bets, predicting a result of 4 or lower
High bets, predicting a result of 5 or higher
Fixed Bets, predicting the results of all three drums in order (this is a very difficult wager to hit, but it pays out at a pretty remarkable 974:1!)
Non-Fixed Bets, which also predict all three numbers, but not taking order into account
Pair bets, where players predict only 2 numbers to make up the final results (for example, a 1-2 pair bet would win with results of 1-1-1, 1-1-2, 1-2-1, and so on… so long as no other numbers appear in the final result, a win is awarded)
First Two, a wager on the first and second machines only – available in Fixed and Non-Fixed varieties, the former taking order into account in deciding a win, the latter not doing so at all, and…
Last Two, a wager on the second and third machines only, similarly available both Fixed and Non-Fixed.
All of these address the lucky three machines only! In addition to them, it's possible to bet on the larger, 49-ball machine. These are simpler betting options, however: single number, high, low, odd, even, and last digit are the available bets… the last of which is a bet on the final digit of the draw, regardless of the first digit. Finally, it's possible to bet on a 5-number ticket for the larger drum – this is essentially an expanded single number bet.
In addition to all of the above, there is a massive array of side bets available.
The Bottom Line
At the end of the day, this is one of the most unique, best thought-out, and most memorable lotto-style titles we've ever seen. It will hold players' imagination and interest for quite some time, and is a total stand-out in its field.
With that said, it should be noted that the RTP for this title could not be determined… neither overall, nor for individual bets. Now, lottery- and keno-style games generally have low RTP compared to the standard table games, so that doesn't in and of itself mean that players who enjoy these types of games have anything to worry about.
Still, it is a small red flag in what is otherwise an extraordinarily well-built title. We recommend proceeding at a walk, rather than a flat-out run.