Free Bet Blackjack (Evolution) Review and Tips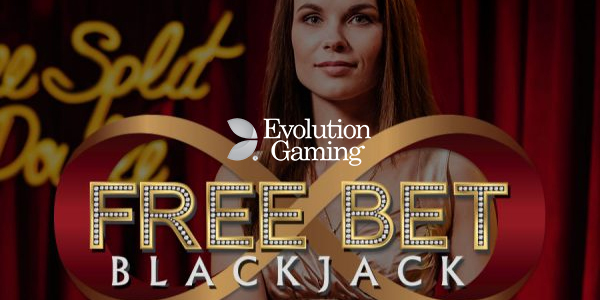 When players look through their options for the "classic" blackjack, it can be almost shocking to observe how many variants and side bets are available.
It's not just insurance anymore!
Whether it's perfect pairs, 21+3, Lucky 7s, or bet behind, casinos seems to have determine that side bets are big business.
This should come as no surprise to gamblers in the know – while classic casino games offer some of the best odds in the whole casino from a player perspective (assuming you're playing with solid basic strategy), the odds associated with the side bets are… well…
… shall we say, not quite as favorable?
Take the dreaded Lucky Ladies side bet, for example. It offers a truly horrific house edge of 25%!!! Compared to side bets like this, it might actually be more profitable (and more enjoyable) to literally light your money on fire. It should be fairly obvious by now that side bets are added by gaming companies and casinos for the express purpose of getting more of your money into their pockets. They sure aren't going to go out of their way to take the most player-friendly games in the casino even friendlier to gamblers!
As a rule, we generally advise players to avoid side bets like the plague, for exactly this reason!
There is one exception to this rule, however: the Free Bet.
This is the central feature of Free Bet Blackjack, a very appealing release from Evolution Gaming.
They'll Never Take Our Freedom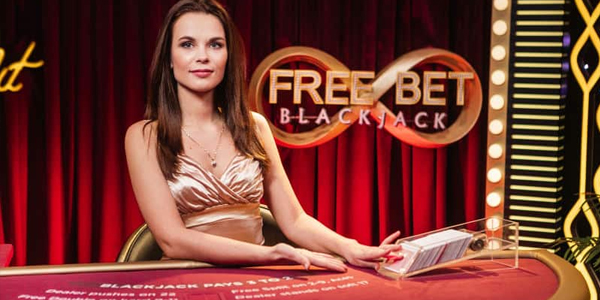 Regardless of where and how it occurs, the idea of free stuff can be obscenely appealing to the general public.
That's what makes the name "Free Bet" so appealing! And perhaps it explains why so many strong designers have been releasing their own versions of this variant.
Still, it's important (especially for players those not yet well-versed in this particular rule) to take note: there is a big difference between Free Blackjack and Free Bet Blackjack. The former is primarily a learning tool for new players, and a recreational activity for those who don't care to risk real money in their leisure activity. The latter is involves wagering real money!
Ok, so what's free about it, then?
To put it simply, certain bets are free – bets that would ordinarily cost players another wager!
Specifically, splitting is always free. Doubling is also free, when your hand value adds up to nine, ten, or eleven. (In standard rule blackjack, each of these costs an additional bet.) You can also re-split up for four hands, double aces, as well as double down after a split – all of it for free.
Does that sound too good to be true? After all, blackjack already has a famously low house edge…
… that's why players can enjoy an RTP of 99.5% when playing with standard basic strategy!
Under these circumstances, how can the house afford to create new player-friendly rules like the ones above?
The answer is: by adding one final, not-so-player-friendly rule.
That would be what happens when the Dealer's hand ends up with a total of 22. Instead of resulting in a bust, and an automatic win the players who haven't busted themselves, Dealer 22's result in a push here. This returns all bets to players.
At first glance, this might seem like a small price to pay for all of those free bets. But remember that players don't have the opportunity to split or double down on every hand they play! In fact, this possibility only emerges on a relatively small percentage of hands: most of the time, one either hits or stands! By contrast, the dealer has the opportunity to end up with a value of 22 on every hand. 
Every. Single. Hand.
As such, the math backs up what you might expect: Free Bet Blackjack actually offers lower RTP than standard tables, coming in at 98.96%, over half a point worse than the standard 99.5%.
Is that a significant drop-off? Of course. But how does it compare to other variants, such as, say, that abysmal Lucky Ladies side bet, with its aforementioned RTP of 75%?
Rather favorably, we would say!
The long and short of it: if you are a blackjack fan and you just have to try out those side bets from time to time, this is without a doubt the variant for you!
The Evolution Will Be Televised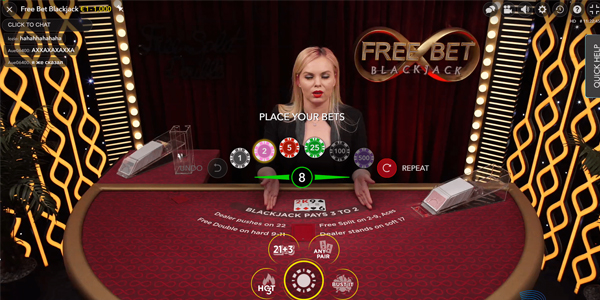 We haven't yet gotten around to one major selling point of this title: it was designed and developed by the experts at Evolution Gaming.
For gambling fans not yet in the know about this blue chip firm, let us assure you: this is a company that brings exquisite levels of professionalism, service, attention to detail to just about every element in the gaming experience. Their reputation is sterling, and they work with some of the best names in the business. Since they first hit the market in 2006, this Latvia-based company has gone from scrappy upstarts to one of the most respected companies out there – and what's more, from original titles to B2B solutions, they have the bona fides to prove it.
In short: when players see this name, they have every reason to expect the best of what live gaming has to offer.
This title is no exception. From the streamlined design to the professionalism of the dealers, there's nothing left to chance here.
For fans of their design style, as well as for those who love a fast-paced take on Blackjack, we can also recommend checking out their Infinite Blackjack offering.