Everybody likes the idea of being a hero or villain – given a chance, what would be your superpower and how would you use it?
Imagine the impossible. Time travel or telekinesis? Levitation or super intelligence? If you had to choose, would you use X-ray vision to help a doctor perform a life-saving surgery, or would you use it to see through a locker room wall? If you could fly, would you save people in war-torn countries or visit your dream destinations without having to pay for airfare?
We polled 2,000 people to find out which powers they'd want most and how they'd use them. What are the odds of them becoming a superhero or villain? Read on to find out.
Powers At Will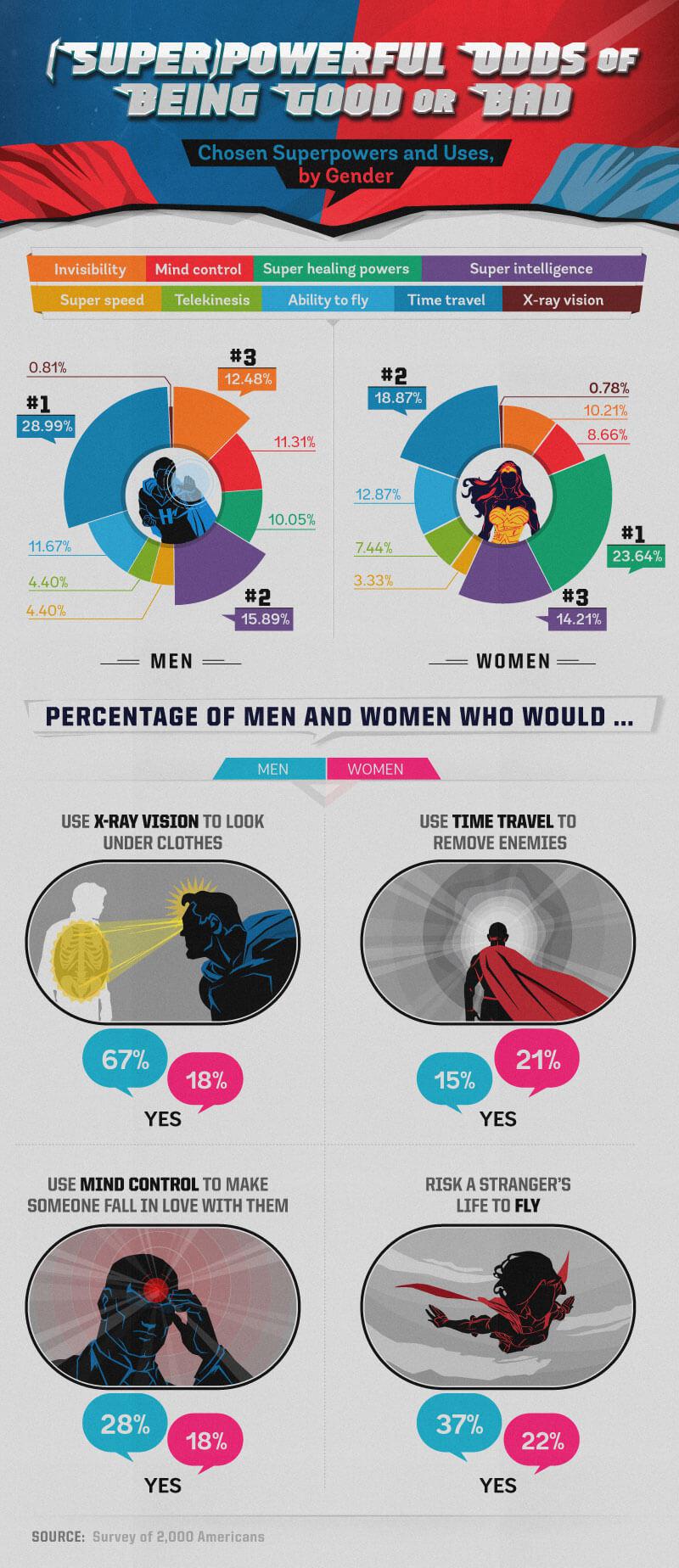 The sky's the limit for superpowers. From X-ray vision to time travel, there's almost nothing you can't accomplish with these feats of physical and mental strength.
We asked men and women which powers they'd most want to have and how they would use them. Almost 24 percent of women were most interested in super healing powers. Whether you're dealing with broken bones or killer migraines – the ability to miraculously heal can mean less time out of commission and more time taking chances you normally wouldn't take. Further, nearly 19 percent said they'd want the ability to time travel, and over 14 percent said super intelligence was the supernatural talent for them.
On the other hand, nearly 29 percent of men said the ability to traverse the space-time continuum was more exciting than any other superpower. With the chance to go back in time and bet on famous sports games or experience pivotal moments in history, men are ready to visit the future and the past at will. Super intelligence and invisibility also ranked as top superpowers for them.
If men and women were suddenly granted their desired superpowers, what would they do with them? Twenty-one percent of women admitted to wanting to remove their enemies using time travel, while 67 percent of men confessed to wanting to use X-ray vision to see through clothing. Men also admitted to being more likely to use mind control to go against the odds and make someone fall in love with them (28 percent). We just recommend not bringing up this talent before your new partner is fully committed.
Ageless Superpowers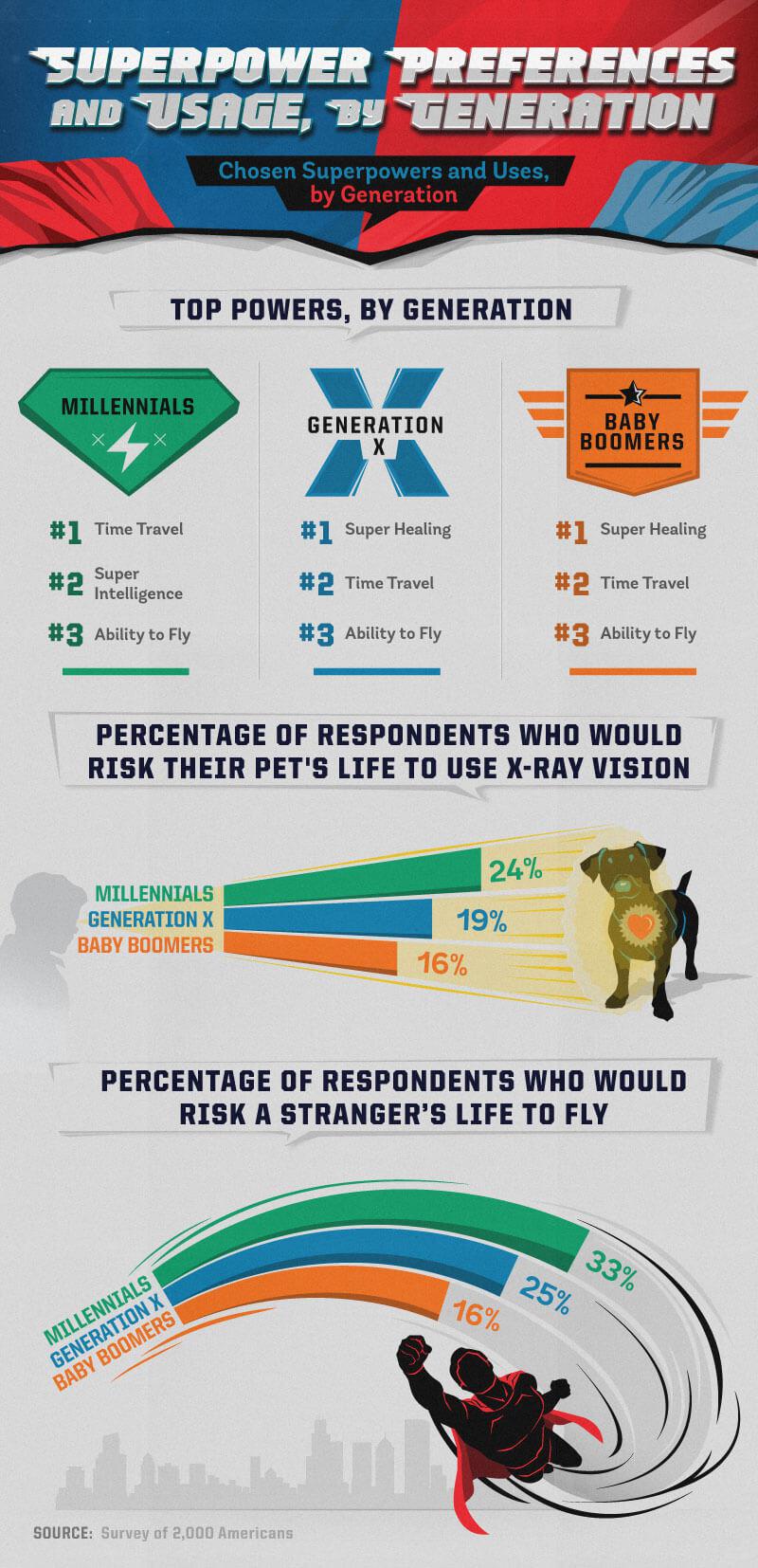 When we looked at the most desired superpowers by generation, millennials were the most likely to pick time travel as their ability of choice. Thanks to pop culture, moving through the fourth dimension is quite glamorous.
However, Gen Xers and baby boomers agreed super healing was the way to go. Maybe it's something that comes with age, but the ability to skip medical visits and daily vitamins – and heal your body in a moment's time – was more enticing than time travel or the ability to fly.
When it came to questions of morality, millennials seem to live in the gray. In fact, 24 percent would risk their pet's life to use X-ray vision, and 33 percent would risk a stranger's life to fly. Getting a superpower may seem like an opportunity you'd do anything to experience, but is it really worth Fido's life? Only 19 percent of Gen Xers and 16 percent of baby boomers agreed.
Would You ... Superpowers

Regardless of religion, respondents largely told us they would rather choose to help politicians see eye to eye than force someone to fall in love with them if they had the power of mind control. Only Catholics were slightly more likely than other religions to choose the power of love over political peace (27 percent).
If given an aptitude for super speed, respondents would still choose to generate an unlimited supply of free energy over being able to break every record at the Olympics. Over 80 percent of atheists, Catholics, Protestants, and those of other religions would give up Olympic stardom for the privilege of providing limitless energy, while 68 percent of Baptists said the same.
When it comes to time travel, most participants would go back in time to bet on the Cubs winning the 2016 World Series over stopping an enemy from being born.
However, respondents were split when they were forced to pick between using their ability to access the fourth dimension to save the life of President John F. Kennedy or Martin Luther King Jr., who both died within five years of each other. Baptists and Catholics elected to save JFK, while atheists, Protestants, and those of other religions picked MLK.
Finally, when it came to the power of flight, over half of respondents making $25,000 a year or more would rather try their hand at flying to a dream vacation destination than rescue people from war-torn countries.
"Give Peace a Chance"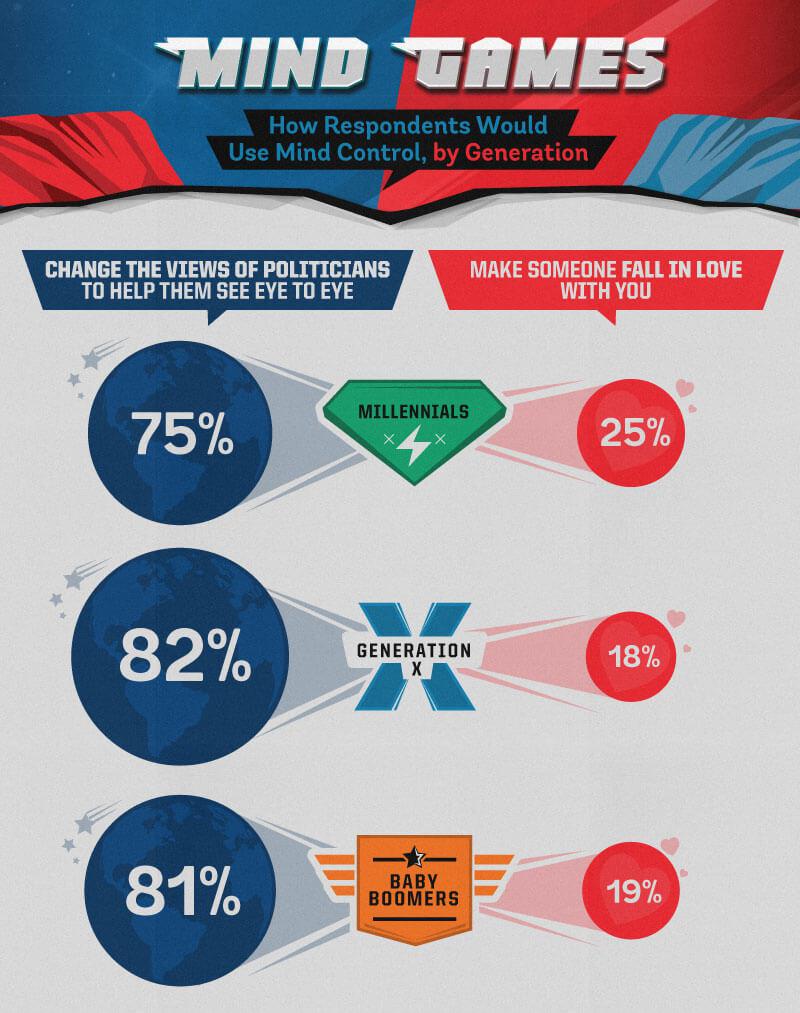 If 2016 taught us anything, it's that politics can be extremely divisive. Friends, families, and even total strangers have find themselves at odds over party lines.
When given the choice to use mind control to help opposing politicians see eye to eye or make someone fall in love with them, survey respondents unanimously chose to change the minds of politicians. Over 80 percent of Gen Xers and baby boomers – as well as 75 percent of millennials – were willing to pass on love to ease the tension between politicians.
Superpowers or Super Cash?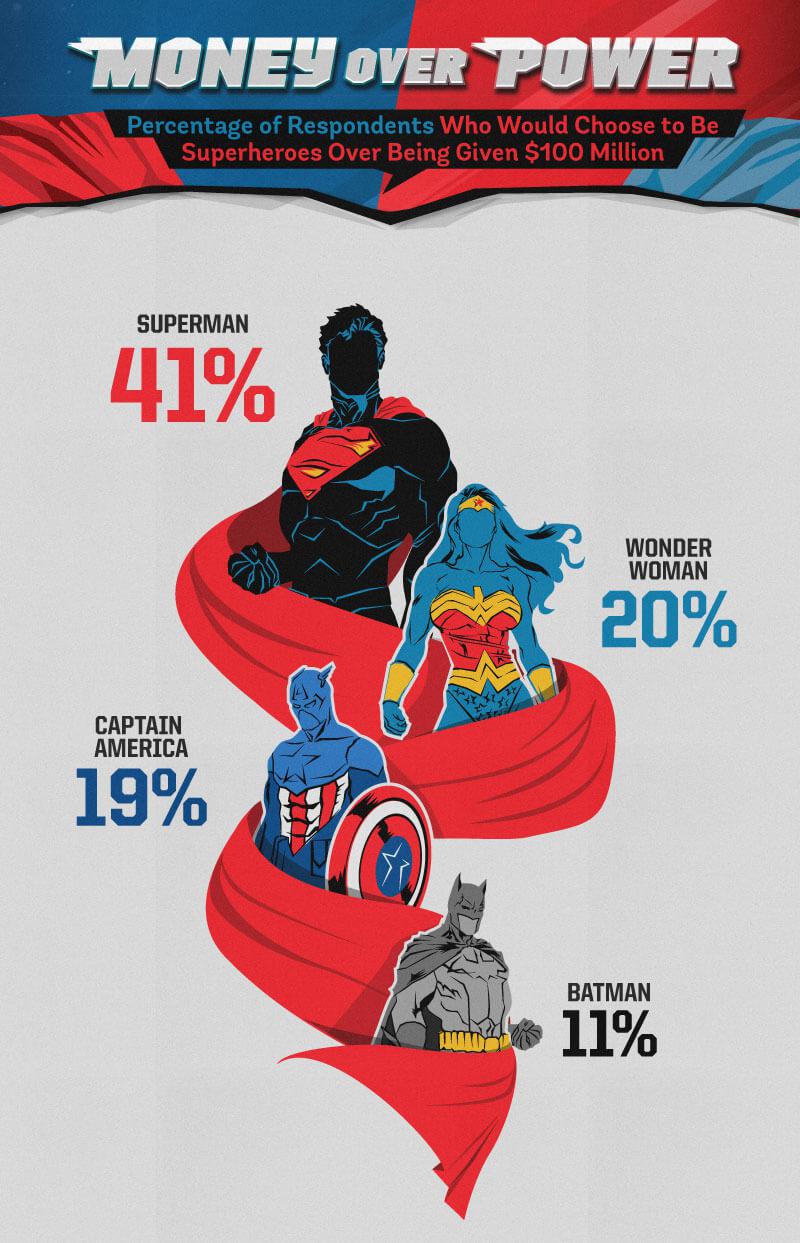 You've probably thought about what it would be like to win the lottery at some point. There are a lot of things you could do with $100 million, but money isn't always everything.
Given a chance, over 41 percent of survey participants would rather be Superman than win mega cash. With the ability to fly, turn back time, and shoot lasers from his eyes, Superman is as close to a god as any major superhero. Fitting into those tights is no small achievement either, and having abs of steel alone is worth sacrificing jackpot winnings.
When it came to Wonder Woman, only 20 percent said they'd rather be Wonder Woman than take the money. An actual Amazonian goddess and princess to boot – Wonder Woman has the complete package. Her invisible jet and magical lasso are totally cool as well.
Fewer respondents said they'd take being Captain America or Batman over $100 million. It appears that being a super soldier or having super gadgets is just too ordinary to risk giving up that kind of cash.
Being a superhero can be exhausting. All that crime fighting and do-gooding are enough to wear out even someone with superhuman strength.
But still, we can't change our moral compass. Very few of our respondents were willing to admit they'd use their imaginary super powers for nefarious acts. While some did say they might use X-ray vision to see through clothes or risk a stranger's life to fly, the thing they agreed on most was that they'd sacrifice making someone to fall in love with them to help politicians find inner peace. Maybe that do-gooding isn't so tough after all.
And if you're looking for a chance to live the superhero lifestyle without all of the leg work, try your luck at LCB.org. You don't have to be Batman to party like Batman with your winnings.
Fair Use
Be a hero and share the content found on this page for noncommercial use only. Do the right thing by linking back to this page and giving credit to the authors.
Methodology
We surveyed more than 2,000 people to find out how they would use various superpowers if given the opportunity.  Only religions, incomes, and education levels with at least 50 respondents were included.