The world of online gambling, like the universe itself, seems to be expanding without limit.
Every week brings new releases, changes in the industry, and exciting new opportunities for players.
It's easy to get caught up in the thrills of this landscape, so that players never really have to examine the attitudes they bring to the tables: if things aren't breaking your way, maybe the solution is a different table, or a different style of game, or a different casino?
Only the smartest players think to examine the thinking and habits they themselves bring to the tables.
This is a shame, because poor thinking can absolutely ruin a gambler!
What does this kind of disastrous thinking look like?
It can assume many forms… often, it manifests are bad casino habits that undermine a player's success.
Let's take a closer look at what this thinking most often looks like.
Thinking that You Deserve to Win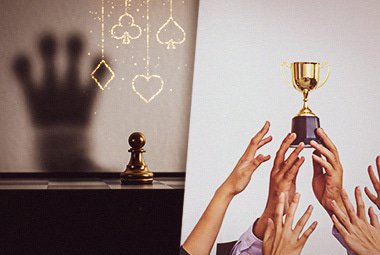 It's a common cultural phenomenon of the modern age that many people seem to think the world revolves around them.
In a way, this is completely understandable. Social media and streaming platform algorithms curate content specifically for each user ("recommended for you"), while marketing engines use metadata to focus on each person's consumer needs with eerie precision.
In gambling, though, this can be a disastrous kind of thinking.
All too many players think: "sure, the house always wins against suckers, but not against me!" And while positive thinking is indeed powerful, there's a different between keeping a winning attitude and living in a fantasy land. So let's say this once, extra loud for the people in the back:
The outcomes of individual casino games are random.
And to be fair, stories about lucky players winning big jackpots can make it feel like your payday is sure to be waiting just around the corner.
In reality, gambling success is far from guaranteed! In fact, the opposite is true: the house always wins over time.
Place your bets for pleasure, with a fun-loving attitude, and by all means hope to win and cash out before the house advantage takes those payouts away. But don't assume
Thinking That You're Destined to Lose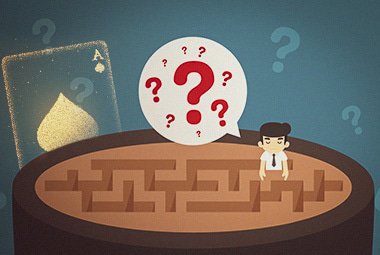 If believing that big wins are guaranteed is a terrible way to play, thinking that you're destined to lose can be even worse.
A positive attitude is crucial! Players who give in to despair are likely to make poorer gaming decisions, effectively throwing their money away. After all, if losing all your chips is certain, what's the point in drawing things out for longer than necessary?
The previous point about big jackpot wins can be taken the other direction as well – someone has to win, so why not you?
The best gamblers keep a cool head, focusing on tactics and enjoying the present gaming moment.
While luck is absolutely a factor, there is no such thing as destiny in gambling – it works neither for or against a player.
Thinking that You (or Fate) Has Power Over the Games
Modern casino games – whether played online or at a brick-and-mortar establishment – are ruled by Random Number Generators (RNGs).
These ensure true randomness for each individual gaming round. What's more, modern gambling parlors are regularly audited to ensure that table games like roulette, blackjack, and baccarat are fair to all players. Any departure from the long-term, mathematically expected results is a major red flag, and can lead to major penalties.
What does all of this mean for players?
It means that now, more than at any other time in gambling history, you can trust that reputable casinos are truly random in their gaming results. There's literally nothing players can do to manipulate the outcome of a given game. The famous gambler's fallacy, where past results are taken to predicts future ones in a demonstrably random event (flipping a coin, for example, remains a 50/50 proposition even if it has come up heads four times in a row.) has never been more obviously false.
Nevertheless, superstition remains massive among gamblers. It's not at all uncommon for players to wear 'lucky' articles of clothing when playing, to repeat certain personal rituals, or to only play at tables or terminals they feel to be 'lucky.'
How could this possibly have anything to do with the outcome of a hand of blackjack?
When viewed in this light, it's obviously madness to think that, for example, anything you do in your private life impacts any given round of a Live Dealer title being played simultaneously by hundreds or thousands of players.
With all of that said, though…
… there are areas of gambling where players do actually have the power to directly influence their bottom lines.
What are they?
The decisions on where and how to play.
This means three things: choosing the best tables to play at, playing with sound strategy, and proactively seeking out the best bonuses available.
Savvy gamblers know that, whether it's a high RTP slot, the even-money bets on the roulette table, or advantage blackjack play, seeking out seemingly small advantages against the house can make a huge difference to your bankroll.
So seek out those edges where you can. And take those bonus offers to the bank! That's the kind of thinking that can actually help a player be successful.