Introduction
Today, the online gambling industry is one of the fastest growing industries. People from different parts of the world log into these online gambling portals and play day and night. There are hundreds of different games to choose from. Video Poker happens to be one of the most popular of these online games. If you have never tried video poker, then here is a simple guide to get you familiarized with the rules of Video Poker.
Basic Information

When talking about resemblance Video poker can be closely compared to that of a slot machine. However the rules are a little different and can be best compared to that of a standard poker table game. The player needs to put down a stake into the Video poker machine and then with the click of a mouse set the machine into motion.
Operation
In Video poker, you will have to engage the machine twice, and then start to use very simple strategy. The more you play the game the more you begin to learn and understand how it works. To make it simple, once you are dealt a hand of cards, you must decide what you will keep and what you will discard. The machine will discard your cards and replace them with new card. Your new hand will then be measured with a standard poker hand scale. This means that you have to perform your actions twice and the machine corresponds and reacts twice as well. For most of the Video poker games, this operation remains more or less the same with little or no variation.
Step by Step Instructions
After you load up the video poker machine, you will see a screen divided into different sections. One section is for the playing cards, another for your payout tables and one for the game logo. Beneath the playing cards section you will see a series of buttons that help you to select and set stakes. These buttons have customized amounts which you can bet. You will also notice a plus/minus button that helps you adjust the amount you bet with. Most machines allow wagers in different denominations and if the machine has multiple playlines, you will need to click the payout table icon to see the different size of wagers. The easiest way for you to follow these step by step instructions is to get to an online video poker machine and follow these instructions.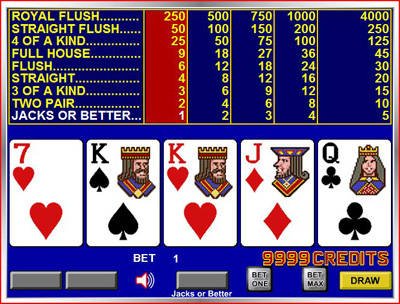 Once you set your wager amount you can click on the deal button and this starts the game. Your cards will shuffle and then settle, after which you will be confronted with two buttons saying 'Hold' and 'Deal'. The hold button appears beneath each card and if clicked, that particular card will be held. After you decide which cards you want to hold, you can click the deal button and the rest of the cards will be replaced. Your final hand will be shown. If the hand is a winning hand you will receive an immediate payout based on the payout scale and poker hand rank.
If you win, you will have the opportunity to engage in a high card showdown. This means you will have one up turned card which represents the casino and another 5 face down cards which you must choose from. If the card you pick beats the casinos card, you will automatically double your winnings. You can again double your earnings by going through the same process. If you think that enough is enough you can locate the 'Tab' button and get out. However, if you lose all your original winnings are lost.
It does not take one very long to learn how to play online video poker. Jacks or Better and Deuces Wild which are some of the most popular online video poker games operate on more or less the same set of rules.
Follow these step by step instructions once you have logged into your online gambling portal and you will find online video poker one of the simplest games you have ever played online.