Before Blackjack players go into a panic thinking that traditional Blackjack is being reinvented, relax Bodog is only making the online player experience even more exciting by expanding on the standard rules.
Gambling is about riveting action and the faster the better. When it comes to table games Blackjack rises to the top in popularity and with Bodog's ingenious Zone 21 Blackjack it adds more thrills and fast game play action than ever before.
Live Dealer games have always had the real time aspect of playing, turning the virtual gaming world into a live reality. But there is one important aspect missing, it only allowed one on one play between you and the dealer, that is until now.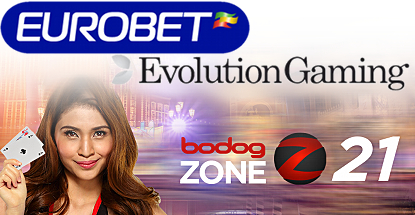 Zone 21 Blackjack throws out traditional online live gaming and reinvents it for a more realistic experience. The concept of multiplayer shared gaming took off in a big way in online Poker and Bodog's philosophy is why not for other table games too.
The initial concept was first created for Zone Baccarat and soon became one of the most popular table games for Bodog. After gaining high recognition from the gambling community it was time to add Zone 21 Blackjack into action.
The primary difference with Zone 21 Blackjack is allowing an unlimited amount of players to participate in a multiplayer game. The Live Dealer deals out the cards for each player in the traditional manner with the standard one card and one hole card for the dealer.
The round ends when any of the hands dealt are Blackjack. In the event there isn't, the players are then asked for their decision. The dealer will then deal one card to the player at set intervals until there is a hard 21, 6 cards or bust. The house cards are then dealt for the dealer until reaching a total soft/hard 17 or bust.
It is a concept that certainly has potential to revolutionize the way players play online Live Casino games. Multiplayer sharing games eliminates and avoids the isolation of playing one on one. Part of the thrill is rubbing elbows with other players and engaging in competitive game play.
What's next....Roulette, Craps, Pontoon, Red Dog? It is the wave of the future that continues to place virtual gaming into a true reality of sheer real time entertainment at its best.