Ever since gambling went online, a lot has changed. Previously, players were struggling with the idea of choosing a payment method to fund their gambling habits and cash out their winnings, but with the fact that many existing land-based methods went online and new digital-only appeared, things got easier for players.
Today, you have a myriad of online payment methods to use across online casinos. Not all of them are available across all online casinos, but each casino gives you a decent list of payment methods for you to choose from. If you've found one that accepts Bitcoin and eCheck and you want to know the differences and similarities between them, continue reading. We will give you the basic information about the two, so you can make your own decision. Which one to use across online casinos, Bitcoin or eCheck?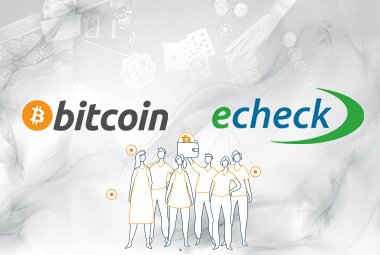 Bitcoin vs. eCheck – Introduction
As you will see in this overview, Bitcoin and eCheck are two entirely different payment methods. They are based on different principles, and they work completely differently. One is completely decentralized, while the other one works directly with banks. However, they both offer safe transactions where you reveal as little about yourself as possible.
Bitcoin…
… as mentioned, is a decentralized, digital currency. It is actually the first-ever cryptocurrency, created in 2008, which has been used online for over a decade now. It is an extremely popular payment method across online casinos because it eliminates the need for bank details and private information sharing. As such, it meets all the criteria players require: anonymity, safety and convenience.
Even though its beginnings were a bit controversial, Bitcoin not only persists to this day but has led the way to the invention of plenty of other cryptocurrencies and revolutionized online banking as we knew it. While banks were previously at the core of online banking, Bitcoin made it possible for users to completely eliminate them and exchange coins without anyone tracking their transactions.
It works…
… on a peer-to-peer system, a system that proved quite useful and beneficial for coin holders. Users can exchange coins only when the two parties give approval and confirm the transaction with their respective keys. The underlying blockchain technology benefits then makes the transaction possible, through safe gateways. It is all done in an instant, in real-time, and that's another reason why online casino players choose to use Bitcoin for deposit and withdrawals. Without a doubt, Bitcoin has become one of the most precious alternative solutions for online casino players and other forward-thinking users, all across the world.
eCheck…
… on the other hand, is precisely the opposite of Bitcoin, if we may say. It is tied to banks directly, and it basically functions like the "ancient" paper checks issued by banks way, way back. Essentially, it is a virtual, web-based check, and it functions exactly the same way as paper checks. What this means is that the payment needs to be processed and executed by your bank. This, on the other hand, means, that you need to have a bank account to use it. And, considering banks are involved, it means that it does not process transactions in real-time.
Transactions with it…
… take 3 to 5 business days, if you're lucky, therefore, this may seem like a method that's not really fitted for online casino banking. However, if you take into consideration the fact that you won't need to share anything else but some very basic info about yourself, and you won't need to disclose any credit card details, you may reconsider using it. Add to that the fact that as a method connected to banks, it is an extremely safe solution, which can provide you with impenetrable transactions. If you want your money to be safe when playing across online casinos, eCheck is the way to go.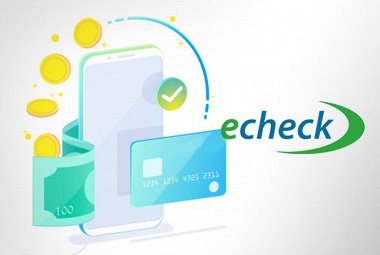 Getting Started with Bitcoin and eCheck
The process of getting started with both methods may seem a bit complicated, but trust us, it's worth the time.
To get started with Bitcoin…
… you would first need to explore Bitcoin wallets. There are several types, such as hardware, paper, desktop and online wallets to store your coins at. The most used one by online casino players is the eWallet, as you can buy and exchange coins with it at any point you want. To find such eWallet, you should explore sites like Bitfinex, Coinbase or Bitstamp. Create an account with the wallet, and you'll get private and public keys. These are the addresses, the IDs of your eWallet, and the keys to transacting with Bitcoin. You need to keep the keys safe and let no one know them if you don't want your coins to be abused.
The next step…
… of course, would be getting coins. You can do that the old way, by mining for coins by yourself, but that would mean a bunch of electricity bills and investments in computer power. Today, you have simpler solutions. You can get some coins sent by your friends, or buy your own coins with fiat currency. Regardless of the way you obtain coins, the moment you have them on your eWallet, you can start transacting with them.
Getting started with eCheck…
… would imply creating an account with it, which would later be linked to your bank account. You would need to provide some basic personal information, along with banking information, such as bank name, bank account number, routing number, to name a few. This information is sent to a middle man, a service like Autorize.Net, and after it has been vetted, confirmed as valid and approved, you are able to use it to transact with it online.
The process of transferring the funds…
… is done via an Automated Clearing House Network, which is a network comprised of financial institutions that collaborate to enable the smooth clearing of the eChecks. This network is governed by the Electronic Funds Transfer Act and the National Automated Clearing House Association, therefore, it complies with all the rules of the Regulation E, by the Federal Reserve Board. The eCheck must be cleared by the bank before it is credited to you, however, and that's why it takes so much time for the money to be at your disposal to spend.
Since there are so many legit and authorized institutions and regulation involved, you can rest assured that the money transfer would be completely safe and secure. Once the money is on the eCheck, you can start using it however it suits you.
Using Bitcoin and eCheck Across Online Casinos
As mentioned in the introduction, not all online casinos offer all possible online payment methods to their players, so before you decide to start using Bitcoin or eCheck, make sure to find online casinos that do accept them. As soon as you do, continue following the next steps.
To make a deposit with Bitcoin…
… you would have to log in to your online casino and go to its Banking/Cashier/Deposit page. Find Bitcoin's logo and click or tap on it. A new window will open where you'll need to enter the amount of coins you would like to play with, and the casino's key, ergo the address to which you're sending the coins. Double-check whether you've entered the right alphanumerical sequence, because once you confirm the request, the coins are instantly sent to the address you provided, and are irreversible. If you don't want the coins to be sent to the wrong recipient, if necessary, triple-check the key.
Withdrawals…
… are done in the same way. You would need to visit the casino's Banking/Cashier/Withdrawal page, and you'll need to find Bitcoin's logo. As you click or tap on it, and the window opens, specify the amount of coins you wish to withdraw, and enter your own key, hence, the address you want the casino to send the coins to. Needless to remind you, you need to triple-check the key if you don't want the coins to be sent on a wrong address. Confirm the request, and after the casino reviews and approves it, the coins will arrive on your eWallet in an instant.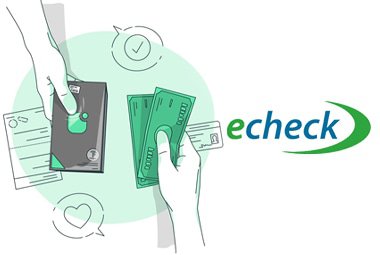 Depositing with eCheck…
… is super easy. You would need to find a casino that accepts it as a payment method, and go to its Banking/Cashier/Deposit page. Click on eCheck's logo and wait for the pop-up to appear. Provide the required personal and eCheck data, and confirm the transaction. Once you do that, the background process will be put in motion, and the bank will be the one that will send the digital check to your chosen online casino. As mentioned, the background process would last a while, so don't expect to see the money arriving on your online casino account for at least 3 to 5 days.
eCheck withdrawals…
… are even easier. With this solution, you can withdraw winnings directly to your bank account. You just have to repeat the same process as you did for deposits, and the financial institutions involved in the processing of eChecks would transfer the money safely to your bank account. Again, keep in mind that it would take some time before the money actually reaches your bank account, so don't panic. As soon as the transfer is done, you'll get the money.
Advantages and Disadvantages
It is more than obvious that Bitcoin and eCheck essentially provide you with quite the opposite things. Transactions with Bitcoin are instant and take 3 to 5 days with eCheck. Bitcoin has nothing to do with banks, eCheck is entirely based on the traditional banking system. But, they have several things in common.
First of all…
… both of these methods come with practically no fees or just small fees that would revolve around the basic transfer costs. They are both extremely secure solutions to use across online casinos, because not only do they employ the latest security measures, but they transfer the funds using highly protected networks. And, they both offer a degree of privacy. Bitcoin does not ask of you to share bank account details, while eCheck does not ask of you to own a credit card or share any details about it.
Individually, Bitcoin…
… offers untraceable transactions, transactions that can never be recorded on your bank account statement. No one will ever know whether you've spent your funds at an online casino site or a shopping site. This gives you anonymity, a feeling of complete privacy. It is an international payment solution that can be used all across the world, therefore, you can play across any international online casino that accepts it, with no restrictions.
However, transactions with it are irreversible. You cannot stop a transaction if you already sent it and you cannot get your coins back if you sent them on the wrong address. In addition to this disadvantage, we must mention that Bitcoin's value continuously changes. Enormous differences in its value have been recorded throughout the years, and this fluctuation keeps on worrying online casino players. And, of course, this solution seems very unorthodox, unconventional for many online casino players used to the traditional banking system.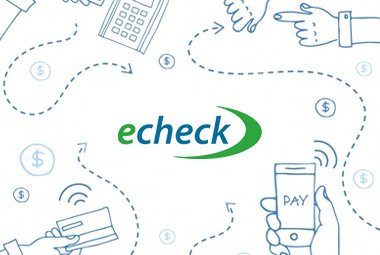 If you want to stick with the traditional banking system…
… therefore, you won't need to think long, as eCheck is the perfect solution for you. It functions like any paper check, only it is available online and can be used across online casinos. It is perfectly safe and convenient, as you know how it works, you know how to use it.
The fact that…
… it takes a while for the money to be processed with it is what makes it a less-preferred method among online casino players, especially those players that want to start playing their favourite online casino games right away. Sure, it is an excellent solution for withdrawals, as the money is sent to your bank account directly, but the waiting times are a real downside. Another downside is that you must share all of your bank account details with the casino to use it for deposits and withdrawals. So, weigh in the pros and cons of both payment solutions, and decide on the one you'd like to play with.
Online Casinos that support both Bitcoin & eCheck: