Bitcoin and Skrill might be popular payment methods, but they couldn't be more different from each other. The former is a cryptocurrency, making it one of the most modern banking options available in the online gambling space. It offers some excellent perks like speed and convenience, but it's also a somewhat experimental option with plenty of angles left to explore. As an eWallet, Skrill would also be considered a modern option, but a much more established one. It's well-known as a safe choice, on top of offering some other excellent perks. This basic background on these two solutions only leads to questions, specifically, what makes them such popular picks in the online gambling space? Up next, we'll try to go past the basics and answer one important question – Why use Bitcoin or Skrill in online casinos?
About Bitcoin and Skrill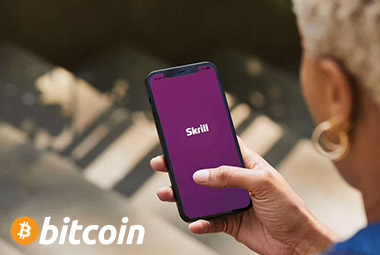 While Bitcoin has been around for a long time now, it's still a mystery for many. Of course, it's not hard to see why this is. The cryptocurrency first appeared in 2008. It was created by an individual known only as Satoshi Nakamoto, an anonymous developer whose identity is still unknown. Since Bitcoin has blown up massively in the last decade, several people have claimed to be the mystery person, but none have been able to back it up with evidence. Back to the coin in question, the token is currently the world's leading digital currency. It's been in the lead since its inception as the first cryptocurrency, and its popularity continues to grow by the day. Love it or hate it, no one can deny that the decentralized nature of this coin changed the banking world forever.
We've mentioned this already, but Bitcoin is still unfamiliar territory for many. If you're not sure what this service is all about, we'll try to shed some light on how it operates. Essentially, its basis is pretty simple. The cryptocurrency functions as a peer-to-peer system that allows players to transfer funds directly through the blockchain. What makes this system so special is the blockchain network itself. This decentralized network is known for its high security and privacy. Users can transact easily without disclosing any personal information. Naturally, this is one of the main reasons it's so popular in the online gambling scene.
While it's great to hear about the positive sides of Bitcoin, it's hard to talk about the coin without getting into negative things about its past. The currency has been a part of many controversies. There are two main reasons for this. First, the coin is still very volatile. Its insane price fluctuations have left many questioning if it's worth the risk. The second reason is the novelty of the technology itself. The currency's novelty and pseudo-anonymity have been abused in the past to foster all kinds of illegal activities. While the service and the community have taken steps to remedy this, it's pretty much safe to say that this has left a permanent stain on the coin's reputation.
Bitcoin might have a somewhat shady past, but it's not the only one. Online gambling sites weren't always considered the safest of places. Many of them operated unfairly in the past, while others were outright scams to gather and misuse personal player data. Bitcoin's safety and anonymity made it an excellent option for the online gambling space. Even in the worst-case scenario where players might lose some money in a scam, their private data would never take a hit! Sure, this might not be much of an issue nowadays, but for those that prefer to keep their data as safe as possible, this token is one of the go-to choices.
Much like with Bitcoin, most people have heard of Skrill. The service is one of the most popular eWallets on the market, with a knack for getting online gambling fans to swoon over its offer. While Skrill is practically a staple in online casinos, the service is a powerhouse much a much wider reach than this niche. Its traits to foster online and physical payments make it an excellent choice for all kinds of users globally, and it's not hard to see that it's utilized frequently for various purposes. Given this solution's recognizability, it probably won't surprise you to learn that it's been around since 2001! The service has done a lot in the time it's been out, which will become clearer as we progress in this text.
Skrill might be a standalone marvel, but the service is a part of a larger corporation that you've likely heard of – the Paysafe Group. This company is known for launching two other top-tier payment options, Paysafecard and Neteller. All of these services were released at around the same time, so they all grew together, learning from the positive and negative experiences the others went through. Skrill's growth throughout the years has been incredible. The solution is now available in more than 100 territories and still growing. There are only a few countries where the service doesn't offer support at the moment, which is a low number in the grand scheme of things.
We've talked about Skrill's incredible growth throughout its decades on the market, but we haven't mentioned why it's been such a smash-hit with users. The solution comes with tons of excellent benefits. Among others, it has fast processing times, heightened anonymity, and a convenient user-friendly platform that even the biggest newbies can navigate! All of these traits made it the perfect solution for those obsessed with the new online shopping craze. Since this trend was still in its early days, ease of use and anonymity were big pluses for any online shopper.
The last thing we want to go over is its presence in the online gambling space. Skrill is one of the most widespread payment options in online casinos. It's a viable option in nearly 1,000 venues, offering easy access to users in all parts of the world. While the sheer number of venues you can find it in is impressive, the quality many of them offer is even better! The service is accepted in some of the most premium casinos. What's better, you might get a special treat by opting to use the service as your go-to deposit option!
Getting Started with the Two Solutions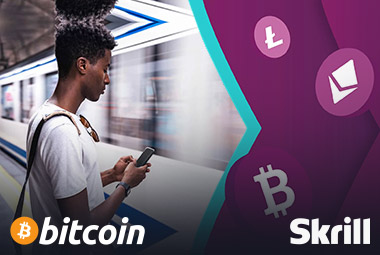 To get started with Bitcoin, you'll need an essential tool for every cryptocurrency holder – a crypto wallet. Essentially, crypto wallets are a digital version of a classic wallet or a crypto version of an eWallet. They're a place to store your cryptocurrencies, along with any other important information that might relate to them. There are several popular crypto wallet options users can go for. Some of them include Bitfinex, Coinbase, and Bitstamp. The good news about these options is that they double as crypto exchanges. Going forward, this feature can make obtaining cryptocurrencies like Bitcoin a bit easier. An alternative to these classic crypto wallets is a hardware wallet. These wallets are usually much more secure, but they lack other features.
The next step in the process is getting your hands on some Bitcoin. We're sure you already know this, but there are several ways to obtain this token. The first and one of the most popular ones is mining. Unfortunately, this method isn't as viable as it was in the past. With the coin's supply dwindling, mining crypto has become a tedious task that takes time and horsepower. Most regular Joes would need to empty their bank account to even attempt it. While this news is unfortunate, we're happy to say that a few fun new ways to obtain crypto have popped up. These include crypto freelancing and crypto games. Alas, these can take up much of your time too.
One of the easiest ways to get some Bitcoin nowadays is simply by buying it. Thankfully, this is where those crypto wallets we mentioned earlier become even more useful. Since they act as crypto exchanges, you can use them to buy and sell various cryptocurrencies in a jiff. Enter an amount you're comfortable with and purchase some Bitcoin for yourself. It's worth noting that these platforms make Bitcoin trading easy. This can be a great way to amass more currency if you do it well. Of course, we recommend learning more about the process before you even consider diving into it.
Getting started with Skrill should be a familiar process for most users. It's similar to setting up an online account with most services, so it isn't a hassle. To start, users will need to visit the solution's website. Find the sign-up button and click it. Once you do, you'll be prompted to fill out a standard registration form. It requires data like your name, email address, phone number, and other basic personal information. This data is confidential, so you needn't worry about disclosing it.
While your account setup is nearly complete, there's one more step you'll need to take before you can enjoy all of the perks of the service. Of course, we're talking about verifying your identity. To do this, submit a valid photo ID to the service. A few viable options here are a driving license, a government-issued ID, or a passport. With your account now officially live, there's one last thing left on the agenda – funding it. The good news is that Skrill makes this easy. At the moment, you'll find around 40 payment options in the list of supported methods. These include popular picks like Trustly, Rapid Transfer, Bank Transfer, VISA, AmEx, MasterCard, and many other traditional banking options.
Using Bitcoin and Skrill in Online Casinos
Bitcoin and Skrill are pretty popular picks in the online gambling space. The former of the two has inadvertently started a trend where operators exclusively host games aimed at a crypto-friendly audience, while the latter is one of the most widespread online casino banking options, popping up in nearly every venue you can think of. If you're going to be using any of these options in your online gambling journey, we'll give you instructions on how to do so below.
If you're a crypto enthusiast that prefers using Bitcoin to deposit in online casinos, here's how to proceed:
Go to the casino's Banking/Cashier page.
Find the Bitcoin logo and click or tap on it. 
Log in to your Bitcoin wallet.
Enter the number of coins you wish to deposit. 
Enter the casino's public key. 
Double-check the key to make sure it's the correct one. 
Confirm the transaction. 
Receive the money in your account and start playing immediately!
As you can see, depositing with Bitcoin is much easier than you might think. Thankfully, that trend continues for withdrawing. To withdraw using this method, you can follow the steps listed above with a few changes. In step 4, change the deposit option to withdraw and enter the desired cashout amount. You should see a crypto wallet address appear. Make sure you register it in your wallet. Once you do, you'll need to share your wallet address with the operator and confirm the transaction. The casino will confirm the cashout soon, and you'll receive your money almost instantly!
For those keener on Skrill, here's how you can deposit in online casinos using the solution:
Visit the casino's Cashier/Payments/Banking page and look for Skrill's logo.
Press it, and a new window will appear. 
Log into your eWallet account using your credentials. 
Specify how much you'd want to fund your balance, and confirm the transaction. 
The money should appear on your balance instantly.
Making a withdrawal with Skrill is just as easy. You can follow the same steps listed before for depositing, with minor changes. The good news about this service is it has quick processing times. Generally, it should take no longer than three days for you to receive your withdrawal. What's better, the average processing time is about 24 hours, so you'll likely see your payout much earlier!
Advantages and Disadvantages
The choice between Bitcoin and Skrill isn't an easy one. Both solutions have plenty to offer, making them some of the best options you can currently go for in the online gambling space. In hopes of making things a bit clearer, below, we'll lay out the biggest pro and cons of these services to help you see if some are deal-breakers.
We've already gone over the biggest pros of using Bitcoin for online gambling purposes. First, the service has incredibly fast processing times, giving users a chance to enjoy near-instant transactions every time. On top of this, it offers excellent safety features, along with pseudo-anonymity. Players never have to share any personal information with operators, so they don't have to worry about the same being misused.
Unfortunately, there is one big con to using Bitcoin that we haven't discussed. Since cryptocurrencies are still a pretty controversial topic, not all game developers offer support for crypto players. Because of this, users are limited to specific games with built-in crypto support. Naturally, this means that Bitcoin fans can't access some excellent casino content. Thankfully, there is a bright side here. Some crypto-exclusive developers have made their debut on the gambling scene, so you can enjoy a few fun titles geared toward a crypto-friendly audience.
Skrill has several excellent pros that give it an edge in the online gambling space. The service is incredibly quick, it's well-established, and it's easy to use! While these are undoubtedly helpful, its biggest advantage is its availability. The solution can be found in practically every online casino, giving users countless options. Unfortunately, it does have one con users might be put off by – fees. The fees Skrill imposes are generally reasonable, but they can vary based on how you fund your account. It's best to keep this in mind before proceeding with this option.
We'll end this text by saying that both payment solutions are excellent picks. While they differ on several fronts, their ultimate goal is to provide users with a safe and convenient transacting experience. Bitcoin and Skrill do this in spades, so carefully consider their quirks one more time and choose the one you feel suits you best!
Payment Methods Comparison
Payment methods name
Bitcoin
Skrill
Available accounts
n/a
1 account (1;2;3;4 different currency accounts)
Available currencies
BTC
41
One time signup bonus
n/a
15 USD Signup Bonus
Account management fees
n/a
free
Account unused
n/a
unused for 12 months: 1 EUR/month
Exchange fees (FX)
n/a
3.99% (3.79%; 2.89%; 2.59%; 1.99%)
p2p Money transfer
Send money p2p
n/a
1.9%, max 20 EUR (1%, max 10 EUR for bronze; 1%, max 2 EUR for above)
Receive money p2p
n/a
free
Deposit fees
Bank transfer
n/a
free
Instant bank transfer
n/a
free
Credit card
n/a
1.90% (1.25%; free; free; free)
Withdraw fees
Bank transfer
n/a
3.95 EUR (3.95; free; free; free)
Cheque
n/a
3.50 EUR
Prepaid card at the ATM
n/a
1.75% (1.75%; free; free; free)
To merchant site
n/a
free
Cashback and promotions
Promotions
n/a
up to 100 EUR Bonus by becoming Skrill VIP
PrePaid card
n/a
Skrill PrePaid MasterCard
Fee to order
n/a
10 EUR (free)
Costs at points of sale
n/a
free
Online bank statement
n/a
free
New PIN
n/a
free
New prepaid card
n/a
10 EUR (free)
Cash withdrawal at ATM limits/24h
n/a
250 EUR (750;1,500; 3,000; 5,000)
Points of sale limits/24h
n/a
1,000 EUR (3,000; 3,000; 5,000; 5,000)
Delivery time
n/a
5-10 business days
Available currencies
n/a
EUR, USD, GBP, PLN
Validation
n/a
3 years
Two factor authentication
n/a
Skrill Two-step Authentication
Fee to order
n/a
free app
Delivery time
n/a
right after app installation is completed
Money-back guarantee in case of fraud
n/a
for all Skrill customers using the 2-step-authentication
Link to terms & conditions
https://bitcoin.org/en/
https://www.skrill.com/en/footer/terms-conditions/skrillaccounttermsofuse/
No casinos support both Bitcoin & Skrill, click Bitcoin or Skrill to show casinos that just support that method.