When choosing an online casino to play at, looking at the games selection offered is not enough. You also have to check the casino for licenses and security measures. However, one of the most important things is checking the casino's payment methods list.
If the casino doesn't offer trustworthy payment methods, you need to explore new casino options. But if it does, you should check whether CASHlib or Neosurf can be found on its payment options list.
Why are CASHlib and Neosurf great options for online gambling purposes?
Discover the answer to that question and find out more about these two payment solutions in our detailed overview.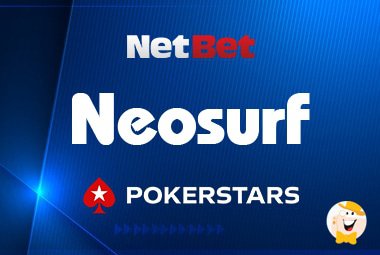 CASHlib vs. Neosurf – An Overview
To start with, both CASHlib and Neosurf are vouchers. Therefore, they are great alternatives for players who don't want to register their credit or debit cards to online casinos and don't want online gambling deposits and withdrawals to be found on their bank statement at the end of the month. Also, it is an excellent option for players residing in countries where no credit card gambling is allowed. Check out to see how similar or different they actually are, in order to decide which one would suit you best.
CASHlib is a voucher…
…established in 2015 that is accepted and available mainly across Europe. Other than being extremely useful for the aforementioned players who want to keep their gambling transactions private, it has several other things to offer that would suit any online casino player.
For one, it is a voucher system that functions both online and offline. Hence, you can purchase your voucher while going out for a walk, in the nearest retail shop, or you can purchase it from the commodity of your home.
If you're a player…
…residing in Germany, Guadeloupe, Greece, French Guiana, Spain, the Netherlands, France, Belgium, Poland, Luxembourg or the UK, you can find locations where you can buy your CASHlib voucher offline. Considering the credit card gambling ban in the UK, if you're a British player, you can use this voucher without a worry on your mind, since this voucher is not tied to credit cards in any way. Bank-card blocking schemes are underway in the UK, so you can completely benefit by using vouchers instead.
Neosurf, as well…
…is a voucher which is mostly used across Europe, but contrary to CASHlib, it has gone global throughout the years, and is now also available in China, Canada, Australia and Colombia, among other non-European countries. Considering it was founded in France, you will find it there, but also in the following European countries:
What's unique…
…about Neosurf, however, is that it has partnered with many online sportsbooks and casino sites over the years, so it seems like it was designed precisely to suit online gamblers' needs. Indeed, it has NetBet and PokerStars as some of its online gambling partners, but there are over 300 other gambling sites where you can play using this voucher.
When it comes to purchasing one, you should know that just like CASHlib, it is a voucher that can both be purchased offline and online. There are more than 135,000 supermarkets, gas stations, shops and online platforms which are known as official Neosurf Authorized Resellers or NARs in short, all over the world. Therefore, whether you'd like to purchase your voucher online or offline, you'll just have to find the nearest or the most convenient NAR and be done with the purchase.
How to Get Started with CASHlib and Neosurf?
Considering they are both voucher systems, you have probably assumed that getting started with either of them would be extremely easy. But, just in case you have never purchased a voucher, let's go through the short procedure, step by step.
CASHlib…
…before you decide whether to buy it online or offline, let's stop you right there, and inform you that the online purchasing service is not available in all of the countries mentioned above. You can only purchase it online in Luxembourg, France, Spain, the UK and Belgium, via the BeCharge platform.
Offline, you can buy it in all 11 countries. Now, you should know that you can go to its official website to find the vending point that's nearest to you. The store locator automatically finds the store that's closest to you by entering your home address.
The voucher comes in several denominations, but you cannot fund it with less than €10 and more than €250. The greatest thing is, especially for high-rollers, the fact that you can combine and buy five vouchers at once. Therefore, the highest deposit you can make with it is €1,250.
Once you buy…
…your voucher, either offline or online, you will receive a 16-digit code. This code will be your key, your ID when making online transactions with your voucher. Needless to say, keep your code a secret and never share it with anyone, if you want to prevent money loss.
With Neosurf…
…also, you have a NAR locator on its official website, where you can find the nearest authorized online platform, shop, store, gas station, or supermarket that resells the vouchers. Find the one that suits you, either online or offline and proceed. You should know right away that regardless of the way you decide to purchase it, you won't need to share personal details with the NAR staff. All you need to do is bring cash, if buying it offline, or use a cheque, credit card or bank transfer if you're buying it online. 
There are several types of Neosurf cards. The Minor is the most suited card for low-rollers since it comes in two denominations, €10 and €20. Then, you have the Classic, which comes in several denominations €15, €30, €50, €100 and €250. This is one of the most used across online casinos, to be noted. But then, you have NeoCash MasterCard, which is a reloadable card that can be loaded both offline and online. You can use credit cards, cheques or bank transfer to fill it, or you can use the two previously mentioned vouchers, the Minor and the Classic. Finally, you have the online-only option, which is called MyNeosurf card.
Upon purchase, you will get your receipt and a 10-digit code. Keep this code to yourself, and have it within an arm's reach because you'll need it every time you'd like to make a deposit at an online casino.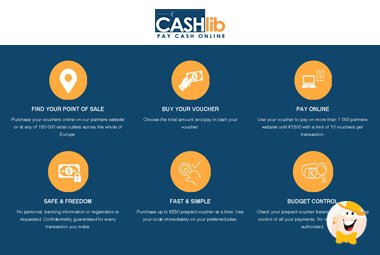 Making Online Casino Transactions
When you decide on the method to use, the next step would be finding an online casino that offers it. And while that might seem challenging, it is actually not, since many powerful operators are accepting both vouchers for deposits. CASHlib is available in over 100, and as mentioned, Neosurf in more than 300 online gambling sites. Therefore, finding a suitable casino for you out of these hundreds of sites would not be difficult for you. 
To deposit with CASHlib…
…at an online casino of your choice, you would have to do the following simple steps. You would have to go to the casino's Banking/Payment Methods page and find its logo. Tap or click on it, and a pop-up will appear asking you to provide the 16-digit code you received upon purchase. The money you had funded the voucher with will be instantly transferred to your online casino account the minute you confirm the transaction.
Withdrawals with…
…CASHlib are impossible, sadly. This would mean that if you choose to use this deposit method, you would have to look for a different one for withdrawals. This is one of the disadvantages of this payment solution since most online casino players prefer depositing and withdrawing with the same method.
Depositing with Neosurf…
…is as easy. Again, go to the casino's Banking/Payment Methods page and find its logo. As you click on the logo, a new window will appear. This is where you would need to specify whether you'd like to use all the money you have on your voucher or only a chunk of it; you can leave money on the voucher for future deposits if you'd like to. Of course, this depends on the Neosurf card you chose to use. With the reloadable cards, you may do that, but not with the Minor, for instance, considering it comes in small denominations of €10 and €20. Once you've entered the amount and the 10-digit code, just confirm the transaction and you will see the money appearing on your online casino account in an instant.
When it comes to withdrawals…
…you should know that, contrary to CASHlib, they are a possibility with Neosurf. The payment solution offers such services via the reloadable cards, but there's a small problem. Not all online casinos that accept it as a deposit also accept it as a withdrawal method, so before you proceed to request a withdrawal with it, make sure you double-check this. If yes, you should repeat the same procedure as with deposits. If not, just like with CASHlib, you would have to look for a different payment solution. Don't lose hope, though, because there's still a long list of online casinos that offer it as a withdrawal method.
Advantages and Disadvantages of the Two Methods
It is fairly obvious that both share a lot of qualities, but are also quite different in many aspects. For one, they are both voucher payment methods, and a great alternative to credit cards.
Two, they are accepted across several same countries, such as Germany, France, Spain and the UK, for instance. They are both available in three or more different countries, but these are shared. However, the first difference can be noted here, as well, and that is the fact that Neosurf is a global voucher, while CASHlib has not quite gone global.
Three, they both offer instant deposits, and they are both secure ways to transfer money across online casinos since no one but you knows your 10 or 16-digit code and no one can breach and steal your money. Four, they both give you the opportunity to purchase and load them both online and offline, which is an opportunity other vouchers do not provide you with. And finally, they are both easy, convenient and private means to transfer money across online casinos without revealing any personal or financial information.
However, CASHlib…
…has three major drawbacks. It cannot be used by players from, for instance, Australia, and Canada, and these are two major online gambling markets, with lots of players eager to engage in online gambling activities. Also, you cannot refill it with money, since it is not a reloadable voucher. You would have to be playing with limited funds, and if you have a winning streak at a given moment, you would have to look for a different payment method or quickly purchase another CASHlib voucher to continue playing. Speaking of different methods, the third major disadvantage is that it cannot be used for withdrawals. This is a major bummer and the thing that discourages players from choosing this voucher over others.
Neosurf, too…
…comes with country restrictions, and even though it went global and is available in all mainstream countries, it is still not a solution available across too many countries around the world. Other than this, the voucher does not have any other flaws, so our recommendation is that you seriously consider using it. You can already find it across more than 300 online gambling sites, and more casinos are accepting it each day, you can make withdrawals with it, and you can reload it (if you choose the right card type).
Payment Methods Comparison
Payment methods name
CASHlib
Neosurf
Available accounts
n/a
1 account
Available currencies
EUR, GBP
NZD, AUD, EUR, CAD, GBP, PLN
One time signup bonus
n/a
-
Account management fees
n/a
Free
Account unused
n/a
-
Exchange fees (FX)
n/a
2% (3% for the currency ZLOTY)
p2p Money transfer
Send money p2p
n/a
-
Receive money p2p
n/a
-
Deposit fees
Bank transfer
n/a
Free
Credit card
n/a
Free
Withdraw fees
Bank transfer
n/a
1.5%
Prepaid card at the ATM
n/a
Fee varies dependent on ATM bank
To merchant site
n/a
Free
Link to terms & conditions
https://www.cashlib.com/terms-conditions/
https://www.neosurf.com/terms-and-conditions/
No casinos support both CASHlib & Neosurf, click CASHlib or Neosurf to show casinos that just support that method.