Exploring the lists of payment methods across online casinos, players can find many different options to use for deposits and withdrawals. Casinos today make sure that players have a huge choice of solutions to consider. They get to choose whether to use local or international, traditional or alternative methods, whichever suits their needs.
However, before players choose the right method for them, they need to be familiar with what these methods have to offer. If you're eyeing eCheck or PayPal, there are things that you should know about them. The former is more of a traditional solution, while the latter an alternative. They can both provide you with different perks and they both come with their respective downsides. But they have one thing in common: they are both accepted solutions across many international online casinos. Why choose eCheck or PayPal as your payment method across online casinos?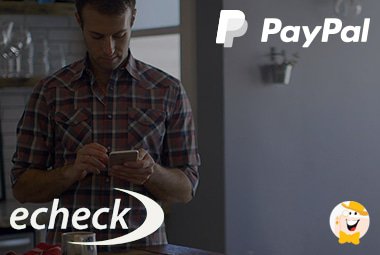 About eCheck and PayPal
The first thing you need to know about eCheck and PayPal is that they function in an entirely different way. While eCheck is a solution closely tied with banks, PayPal is an intermediary that helps you move money online without sharing any details about your bank account. But they do have things in common. They are both exceptionally safe solutions to use. Their high levels of security allow you to sit back and relax knowing that your money is protected, even though moved on the internet.
eCheck, as you would assume from its name, is an electronic cheque/check. As such, it is based on one of the oldest means for transacting money, the regular, paper check. If you're a player that has already been using paper checks back in the days, you'll know how to use it. But if a millennial, a member of a new generation, chances are you're not familiar with how the whole process go when making payments with checks.
It is actually quite simple. To have the chance to use a paper check, you would need to have a bank account registered under your name, and money on your account. The same goes for eChecks. As long as you have an active bank account funded with money, you can request to make an eCheck payment. Your bank would need to check your account balance and see whether you've got enough money to transact and authorize the payment by clearing the eCheck. After you go through the proper authentication protocol and confirm the payment, you'll successfully make your transaction.
You should know, though, that your bank is not the only one involved in the transfer. There will be other third-party financial institutions involved, to ensure the whole process goes smoothly. These third-parties will work in the background, so you'll not be bothered with any details. However, you should know that they will all treat your information with absolute discretion. Considering the other parties involved, you should know that eCheck payments take 3 to 5 days. They'll need the time to vet all the data before the transaction is approved. Therefore, only if you value quality over speed should you consider using this solution.
With PayPal, you don't get this speed issue. In fact, PayPal is one of the fastest payment methods available across online casinos. Players choose it precisely for its speed. PayPal is one of the most popular payment solutions available across online gambling sites, one that allows for instant deposits and incredibly fast withdrawals.
Created way back in 1998, it is one of the first alternative solutions that appeared in the financial world. It is an eWallet allowing users to fund their account, store their money and use it as it pleases them, whenever it pleases them. It does not necessarily need to be tied to a bank account, even though you have the option. But if you don't wish to, you can fund it and withdraw money from it using other payment solutions.
As a global eWallet, PayPal is accepted all across the globe. Throughout the years, it has withdrawn its services from some countries due to regulatory reasons but has reentered others after issues were resolved. The solution takes great care when it comes to rules and laws, and makes sure to adjust its offering to each country's regulation, to ensure all users feel safe with it, at any time.
On that note, in addition to the eWallet service, PayPal has other products to offer its users. In a collaboration with MasterCard, PayPal launched a multi-purpose product, the PayPal MasterCard. Then, it launched its own solution, PayPal Connect, and most recently, in 2020, it started approving transactions via cryptocurrencies. In addition to Bitcoin, users can use Ethereum, Litecoin and Bitcoin Cash through their eWallet and transact with digital currencies, too. Therefore, it is no wonder PayPal is one of the most widely used payment solutions across online casinos, as it offers players so many perks to enjoy seamless online gambling transactions.
Getting Started with the Two Solutions
As mentioned earlier, to get started with eCheck, the prerequisite would be an active bank account. Therefore, if you want to use the solution, you would need to open a bank account in case you don't have any, and then visit the online platform you've joined to request a transaction with it.
Considering we're interested in online casino transactions, you would need to join an online casino that accepts eCheck. From here, you would need to put in your transaction request. Now, as soon as you do, the background procedure, involving banks and other third-party financial institutions mentioned before, is set in motion. You've done your part, now it's time for them to process your transaction.
Now, the background process goes like this. First, you request a payment by providing your bank account details. An institution, such as Authorize.net, processes that information into useful, zipped data that would be easily vetted by the next party involved. The Automated Clearing House Network is the second party involved. The ACHN will check whether the processed data is legit and verify if all is in order, then send it to your bank. As the bank sees that your eCheck is in order, it gives the final blessing and clears the check. With that, your eCheck is ready to be used.
Getting started with PayPal would not involve third-parties. You will be the one that would need to visit its website in order to start the registration procedure. You'll need to locate the Sign-Up button on the homepage, and then provide your name, last name social security number, address and email address. Due to regulatory rules, you would also need to provide ID documents. As soon as you do, your account will be ready to be funded.
Now, as mentioned, you don't need to involve your bank in order to use PayPal. However, funding the eWallet with a bank transfer is the cheapest option. With a bank transfer, you don't need to pay any fees. Should you choose to fund the eWallet with credit cards, you would need to pay a 2.5% fee. But there's a third option, funding your account with another PayPal product from the ones mentioned before if you already have one. As soon as your eWallet account is funded, you can start using it right away.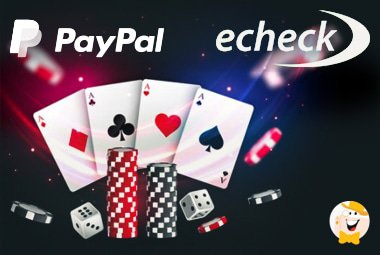 Using eCheck and PayPal Across Online Casinos
The process of depositing with eCheck was basically explained before, but let's get into detail. The first step is choosing an online casino that accepts eChecks. As you will notice, many online casinos do, so just choose the right one for you. As soon as you do, join it, and follow these steps:
Head to the casino's Cashier/Deposit page and find eCheck's logo.
Enter your bank account details and specify how much you wish to deposit at the casino.
Check the details and confirm the transaction.
Wait for the money to arrive on your online casino balance.
Remember that the background process involved takes 3 to 5 days. This means that when you deposit with eCheck, you cannot start playing your favourite games right away, but in 3 to 5 days.
Withdrawals take as much and are requested in pretty much the same way. You need to visit the casino's Cashier/Withdrawal page and request a withdrawal by entering the same details as before. This time, instead of specifying how much you wish to fund your online casino account with, you need to specify how much you wish to cash out from it. As soon as the casino reviews and approves the transaction, it will be processed by the third-parties and your bank. Withdrawals will take even longer than deposits because the casino would also need 24 to 48 hours to process your request.
With PayPal, as mentioned, deposits are instant. You just need to join a casino that accepts it and in a few clicks, you'll be able to start playing your games. Just do the following:
Visit the casino's Cashier page and find PayPal's logo.
Log in to your eWallet account and specify how much you wish to deposit.
Go through the mandatory authentication protocol and confirm your transaction.
The money will arrive on your casino account in an instant.
Depositing with PayPal, as you can see, is really effortless and easy. In a matter of seconds, you can start playing your games. But the best part is, withdrawals with it are near-instant, too. You just need to put in your withdrawal request the same way you did for deposits, and as soon as the casino approves it, PayPal will process it instantly. You'll have the money on your eWallet account in no time. Remember that you'll need to go through the authentication protocol once again, though.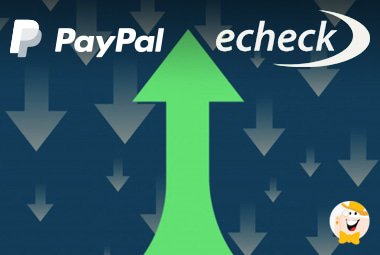 Advantages and Disadvantages
It goes without saying that eCheck and PayPal are great solutions to use across online casinos. They are global, practical, safe and easy to use on your part, and you can make both deposits and withdrawals with them. The latest technologies and high-end security measures used by the two solutions make them some of the safest solutions to use across online casinos. Plus, they are both available across hundreds of online casino sites, so you won't have a problem finding one to join that you like. These are the criteria that make methods attractive to players, and both of these solutions meet them. But naturally, eCheck and PayPal do come with some downsides you should be aware of before you choose to use one over the other.
With eCheck, you would need to share your bank account details with your online casino. Not all players are comfortable doing that, so that's the first downside. The second evident drawback is that deposits and withdrawals with it take 3 to 5 days, a week even, sometimes.
With PayPal, you don't need to share any bank account details and deposits and withdrawals are instant. However, you do need to pay a fee when funding the eWallet. Sure, with bank transfer funding the account would be fee-free, but you'd have to share bank account details. If you want to avoid that and fund your account with a credit card, a 2.5% fee would apply. You always have the option to use other eWallets or other PayPal products to put money on your eWallet, though.
As you can see, the two solutions have their strengths and weaknesses, and the only way to decide which one to use would be by weighing them in. You will see that the two solutions are meant for different types of players. So if a millennial, make sure you choose PayPal, as you'd be immensely satisfied with its offering. If more into traditional payment solutions, a generation X member, eCheck is the method for you, especially in countries like the UK where gambling with credit cards is banned. Depending on your gambling style and preferences, you can choose one over the other, but whichever your choice would be, rest assured that you won't regret it, as both of these solutions have a lot to offer.
Payment Methods Comparison
Payment methods name
eCheck
PayPal
Available accounts
1 account
2 accounts (1 personal + 1 business account)
Available currencies
n/a
AUD, BRL, CAD, CNY, CZK, DKK, EUR, HKD, HUF, ILS, JPY, MYR, MXN, TWD, NZD, NOK, PHP, PLN, GBP, RUB, SGD, SEK, CHF, THB, USD
Account management fees
n/a
free
Account unused
n/a
free
Exchange fees (FX)
n/a
2.5%
p2p Money transfer
Send money p2p
n/a
free
Receive money p2p
n/a
Free for p2p in same country and currency by using bank or PayPal balance only.By transferring money internationally, with different currencies or by using a credit card the fee is between2.9% + 0.30 USD (from US to US account) and7.4% + 0.50 USD (from US to Brazil account)–> PayPal User Agreement #Receive Money
Deposit fees
Bank transfer
n/a
free
Instant bank transfer
n/a
free
Credit card
n/a
between 2.90% + 0.30 USD and 7.40% + 0.50 USD
Withdraw fees
Bank transfer
n/a
free
Cheque
n/a
1.50 USD
Prepaid card at the ATM
n/a
1.95 USD
To merchant site
n/a
free (only available at few online gambling providers)
Cashback and promotions
Additional bonus programs
n/a
none
PrePaid card
n/a
PayPal PrePaid MasterCard
Requirements to order
n/a
customer for 60+ days with premier or business account
Fee to order
n/a
free
Membership
n/a
4.95 USD/month
Costs for cash withdrawals at the ATM
n/a
1.00 USD + 2.5% FX fees, 1% + 2.5% FX fees outside the US
ATM transaction decline fee
n/a
1.00 USD
Costs at points of sale
n/a
free
Stop payment fee for preauthorized
n/a
10 USD
Online bank statement
n/a
free
New PIN
n/a
free
New prepaid card
n/a
5.95 USD
Cash withdrawal at ATM limits/24h
n/a
940 USD
Points of sale limits/24h
n/a
5,000 USD
Delivery time
n/a
2-4 weeks
Available currencies
n/a
EUR, USD
Validation
n/a
3 years
Two factor authentication
n/a
PayPal Security Key
Fee to order
n/a
29.95 USD
Money-back guarantee in case of fraud
n/a
yes
Link to terms & conditions
https://www.authorize.net/en-us/payments/echeck.html
https://www.paypal.com
No casinos support both eCheck & PayPal, click eCheck or PayPal to show casinos that just support that method.