Since some online casino players prefer using traditional methods for depositing, while others want to use alternative solutions, you should check out eCheck or PaySafeCard as a payment method to use across online casinos. The two are incredibly different, therefore, would be suited to you, one way or the other, depending on your preferences. They are both offered across many online casinos, so it won't be a hard job finding one to join. And, one thing is for sure, they can both provide you with safe transactions. Which one to use at an online casino, eCheck or PaySafeCard?
About eCheck and PaySafeCard
eCheck and PaySafeCard, as introduced, are two different payment methods that suit different players across online casinos. The former is a traditional solution that provides a modernized service, while the latter a completely alternative method that offers the convenience you need. eCheck, as implied by its name, is an electronic cheque, while PaySafeCard is a prepaid card. So one thing is for sure: with both, you'll get an excellent replacement for credit cards.
As an electronic cheque, eCheck is the solution you need to use in case you wish to make deposits across online casinos using the money you already have or are allowed to use that's on your bank account. It is especially convenient if you don't have a credit card or you don't want to use it across online casinos. It actually functions just like paper checks do, getting processed by your bank. Third-party financial institutions are involved in the process, vetting it and making sure all is in order before the bank processes it, but you're not bothered with that.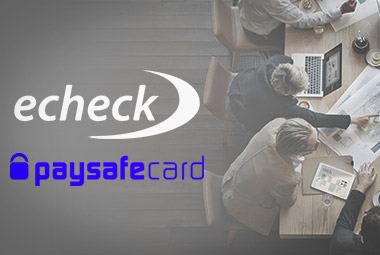 eChecks, just like regular paper checks, are used and available in virtually every country across the globe. That's one of the main reasons why online casino players opt for them, in the lack of other options. The best thing about it is that all you need to have is a bank account, with literally any bank in the world, to request a transaction via it. And that's about it.
The only issue with it is that, due to the background process and third parties involved, transactions with it are not instant but take 3 to 5 business days. That's why eCheck is preferred for withdrawals, not so much about deposits across online casinos. Even though it is a deposit option, players would rather use it for withdrawals, as they don't mind waiting for a few days until their winnings arrive, but do want to start playing right away. Therefore, in case you don't have an account with a different method or you don't own a credit card, you can still use it for deposits, but you'd need to wait for a couple of days before the eCheck gets cleared and the money arrives on your casino balance so that you can start playing.
With PaySafeCard, things are much, much simpler. Considering this is a modern and global prepaid card, all you need to do is purchase it and you can start using it, start making instant deposits with it right away. It was designed for shopping purposes, really, way back in 2000, but since its potential was obvious, many other industries showed interest in it and today, you'll find it available literally all over the place. One of the reasons for its expansion across different industries is the fact that it is led by one of the most successful financial companies on a global level, PaySafe Group. This is the company behind other popular methods like Neteller, Skrill and Ukash.
Operating for over two decades now, PaySafeCard has grown into a well-established prepaid card system, offering several different card types users can use. Aside from the regular prepaid card, which basically functions with a 16-digit code like all other prepaid cards, you can actually use two other popular types. One is the online-only card type, MyPaySafeCard, for which you'd need to create an account, and the second one is the card type designed in partnership with MasterCard, which is a reloadable prepaid card. In addition, you can download its mobile app and have your card on your smartphone at all times, for even easier and faster banking.
The solution is monitored and regulated by the Financial Conduct Authority and implements some of the highest-level security measures to ensure your alternative banking goes without a flaw. That and the fact that it has improved its services so much and delivered so many other products and options to users over the years had made PaySafeCard one of the leading prepaid cards in the entire world. It is available to users from more than 40 countries globally, and across more than 900 online casinos, to be used by players worldwide. Continue reading to find out what the other reasons are for you to choose it over any other!
Getting Started with the Two Methods
We basically explained how the process will go with eCheck, but we'll still guide you through it, step-by-step, to understand how it functions. With PaySafeCard, the getting started procedure is much simpler, of course, but we'll go through it together, too.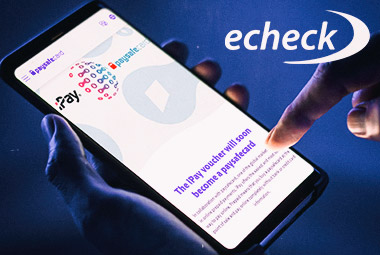 To start using eCheck…
… as we mentioned, you won't need to register any new accounts, and you won't even have to visit your bank, which is usually the case when using paper checks. Since this is an electronic cheque, all you need is an active bank account with withdrawable funds on it and you can start using it right away. That is, you can start by requesting a transaction via an eCheck. As soon as you specify how much you'd want to send to a certain receiver, the background process will be put in motion.
The background process starts with your request, which arrives at the first third party involved, the service that reviews your request and packs it makes it compact, easier to process for the next third party involved. Usually, this is a service like Authorize.net. Next, the electronic cheque goes to a network of different financial institutions which clear cheques, Automated Clearing House Network. This network will further vet the check and clear it, giving the bank a green light that everything on it is right and legit. Finally, the bank will receive the thoroughly inspected and checked cheque and will give the final approval needed for it to be processed and the money to arrive at the desired destination, in our case, your online casino balance.
Getting started with PaySafeCard…
… would involve a visit to its official website, although not necessarily, as you will see. The point is, on its website, there's a Find Sales Outlet tool that you can use to find the nearest store where you can purchase the prepaid card. But if you've already found that place, you can skip this step and go straight to the store to purchase your card.
In case you're new to PaySafeCard, enter your address in the tool and it will generate options for you, out of the over 650,000 PayPoint outlets, that you can visit to purchase your card. The regular prepaid card comes in denominations from $10 to $100, usually, but in certain countries, it can go up to $175 or the currency equivalent. But when you create an account with the solution and you purchase it online, you may get bigger denominations.
On that note, you'd need to create an account to use and top up the online-only MyPaySafeCard. You can fund it with your regular PaySafeCard card, any credit card or a bank transfer. You would need to visit any bank or financial institution authorized to issue MasterCard cards in order to apply for your PaySafeCard MasterCard card.
Any card you decide to go with will be used pretty much like all cards of their type do. With the regular prepaid card, you'd need to provide the 16-digit code you receive after the purchase to make successful transactions. With the MasterCard type, for instance, you'd also need to provide the card's details to complete the transaction. 
Using eCheck and PaySafeCard Across Online Casino Sites
We said that both eCheck and PaySafeCard are payment methods available all across the world. However, even though we mentioned that PaySafeCard is offered in more than 900 online casinos for that reason, the same does not apply to eCheck. In fact, we could find only around 60 casinos that offer it, even though globally accepted. The reason might be the waiting times when it comes to deposits, but who knows? Nevertheless, you'd have at least 60 sites to explore to find the one that you'd want to join and start depositing.
To start depositing with eCheck, you would need to go through the following steps:
Go to the online casino's Payments/Banking Options/Cashier page.
Locate eCheck's logo and press it.
In the new window, enter the required personal and bank account details.
Enter the amount of money you'd like deposited on your balance.
The background process will be set in motion, and in about 3 to 5 business days, the money you requested will arrive on your casino balance.
We said that deposits with eCheck won't be instant. Nor will be the withdrawals. Yet, players love choosing eCheck as their withdrawal method, since within a week after they request them, the money arrives directly on their bank account. Players do not need to go through any lengthy process to cash out their money, and that's a big plus. To request a withdrawal, go through the same procedure as described for depositing and provide the casino with the needed details.
Depositing with PaySafeCard is much easier, of course. Just do the following:
Head over to the casino's Payments/Banking Options/Cashier page.
Locate PaySafeCard's logo and click or tap on it.
In the new window, specify how much you wish to deposit.
Enter the 16-digit code and watch the money arrive momentarily.
Deposits with PaySafeCard are instant. As you could see, you don't need to deposit all the money you have on your prepaid card, but you can save some for later. You can check your balance on its official website, just by entering the 16-digit code.
Now, withdrawals are not as simple. In fact, they are not an option with the regular or the MasterCard type of card. They are only an option with the card for which you needed to create an account, MyPaySafeCard. In case you have it, go through a similar procedure as described for deposits. If you don't have it, you would need to look for other options to cash out your winnings.
Advantages and Disadvantages
Let's address the elephant in the room right away so that we can later continue with the good stuff. The main disadvantage with eCheck is that it takes up to 5 business days for the deposit to arrive on your casino balance. And the fact that the solution is available only across around 60 casinos. With PaySafeCard, the real bummer is that you cannot request withdrawals with the regular prepaid card, only with the MyPaySafeCard card. And the fact that for deposits, you cannot spend more than $175 at one time if using the regular prepaid card.
Now that that's out in the open, we can continue with the perks. With eCheck, you don't need to register an account, you don't need to visit your bank and you don't need to worry about a thing if you already have an active bank account. The background process goes smoothly, even though it takes a few days, but you're never bored with anything, no participation in it at all. Withdrawals are pretty popular with it since players don't mind waiting a few days, as long as they know that their money will be arriving directly on their bank account. This solution, therefore, is perfect for all those players interested in traditional banking with a modern twist.
PaySafeCard is definitely one of the most popular methods across online casinos. Players love it, and that's why over 900 operators are offering it. It is global, available in more than 40 countries across the world, and there are over 650,000 sales outlets where you could purchase your card. Deposits with it are instant, and it is super easy to use, as you only need to provide the 16-digit number to complete the transaction. This is the solution to use by players who are into instant deposits with easy-to-use methods.
So, weigh in all the pros and cons eCheck and PaySafeCard come with, reevaluate whether you'd prefer using a traditional or alternative method for online gambling purposes, and choose the one for you!
Payment Methods Comparison
Payment methods name
eCheck
Paysafecard
Available accounts
1 account
1 account
Available currencies
n/a
USD, ARS, AUD, BGN, CAD, CHF, DKK, GBP, HRK, HUF, LVL, NOK, MXN, NZD, PEN, PLN, MDL
Account management fees
n/a
From the 13th Month, a monthly fee of 5 GBP will be deducted from the paysafecard account if the customer has not carried out any transactions in the paysafecard account within 12 months.
Account unused
n/a
5 GBP per month
Exchange fees (FX)
n/a
3%
p2p Money transfer
Send money p2p
n/a
Both the use of paysafecard prepaid codes and payment using the paysafecard account are basically free
Receive money p2p
n/a
Both the use of paysafecard prepaid codes and payment using the paysafecard account are basically free
Deposit fees
Bank transfer
n/a
4 %
Instant bank transfer
n/a
4%
Credit card
n/a
4%
Withdraw fees
Bank transfer
n/a
6 GBP
Prepaid card at the ATM
n/a
3% (min. 3 GBP)
To merchant site
n/a
free
PrePaid card
n/a
paysafecard Mastercard
Fee to order
n/a
8 GBP annual
Membership
n/a
3 GBP from 7th month
Costs for cash withdrawals at the ATM
n/a
3% (min. 3 GBP)
Costs at points of sale
n/a
The transaction fee is a customer fee which can be charged by individual pre-defined retailers and which must be declared.
New prepaid card
n/a
4 GBP
Cash withdrawal at ATM limits/24h
n/a
400 GBP
Points of sale limits/24h
n/a
1,500 GBP
Delivery time
n/a
4 to 20 working days
Available currencies
n/a
USD, ARS, AUD, BGN, CAD, CHF, DKK, GBP, HRK, HUF, LVL, NOK, MXN, NZD, PEN, PLN, MDL
Two factor authentication
n/a
3D Secure
Link to terms & conditions
https://www.authorize.net/en-us/payments/echeck.html
https://www.paysafecard.com/en/terms-and-conditions/
No casinos support both eCheck & Paysafecard, click eCheck or Paysafecard to show casinos that just support that method.