The world of online gambling might be a big place, but it's not uncommon for players to run into payment methods like eCheck and Skrill often. These services might be vastly different from one another, but both are some of the most popular picks for online gamblers globally. Of course, it's not hard to see why. These services offer top-tier utility, making transacting online a breeze. From safety to convenience, they've got the hallmarks of a top-tier payment service on lock. Of course, these traits aren't unique if you pay them some mind. Many other banking services have similar offers, which can lead to confusion regarding the popularity of the previous two options. To clear up why these services have reached the point they're at right now, we'll be answering one big question. Why use eCheck or Skrill in online casinos?
About eCheck and Skrill
At a glance, eCheck and Skrill don't have much in common. The former is an updated version of an old-school traditional payment method, while the latter is one of the most modern payment solutions of our time – an eWallet. Despite the core differences in how these services operate, they have some shared traits that make them more similar than you might think. Mainly, these services have incredible global reach! Their availability in the online gambling space and beyond is unparalleled, making them powerhouses in their own right.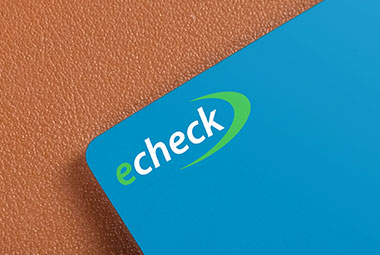 The first method we'll talk about here is eCheck. The name of this service already says a lot about what it is. The method is a modern electronic version of a traditional bank check, operating in practically the same way as its predecessor. Of course, there's one big difference between the two. The updated version is conveniently online! While we're sure many of you have some idea of how this method works based on its older version, younger audiences might be left confused. Of course, this is the result of traditional checks fading into obscurity over the years.
As we already mentioned, eChecks operate in practically the same way as traditional ones. They work closely with banks, making the process much safer than some from the get-go. Of course, this also sets a requirement for using the service. To make transfers by eCheck, you must have a bank account. The bank's role in the whole process is simple. These financial institutions go over the transfers and check their legitimacy. If all is good, the check is cleared, and the money arrives without issue.
Some players might be concerned about the involvement of banks in the process. Mainly, they may be concerned about their banking details being shared with the casino operator of their choosing. While the service does share some private details with those involved in the transaction, you needn't worry about safety. The payment is one of the most secure options, using various layers of protection to ensure you're in good hands. Among other security features, the service includes a two-factor authentication step.
The topic of safety is a big deal with eCheck. To ensure transactions arrive as intended, the service often includes other financial institutions to ensure everything goes smoothly. While this is excellent news on one end, it does come with a drawback. Since transactions go through multiple channels, the processing time is longer than usual. The issue here is that processing times can take from 3-5 days for withdrawals and deposits alike! While many casino players are used to waiting a few days before receiving their payout, doing the same for deposits is practically a foreign concept.
The other service we'll discuss here is Skrill. This method is one of the leading eWallets worldwide. It's popular within the online gambling space and outside of it, extending to many fields that are as different from each other as you can imagine. Much of this is because the service supports physical and digital payments alike, allowing it to spread to various countries with ease. Its ability to instantly send money to bank accounts and other Skrill users also helps! Of course, once you learn that the service has been around since 2001, it's easy to see that it's spent over two decades building a great reputation and loyal user base.
Skrill has a pretty interesting history. The method is one of the three popular banking services released by the Paysafe Group around the early 2000s. Along with Neteller and Paysafecard, this method took the world by storm and quickly became a hit. Naturally, it wasn't without fault. While the solution has its ups and downs, the company behind it makes smart choices. It learned from the experiences of its roster of payment methods and applied this knowledge to better its products! The ability to grow and improve is a big part of what's made this service such a success.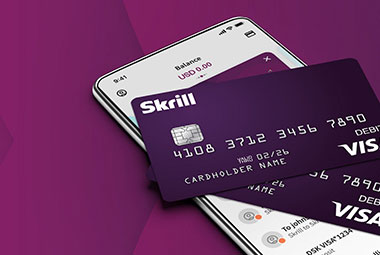 It's easy to see that Skrill has plenty of positives to boast about. These include safety, convenience, speed, and many others. These might put it ahead of many other payment solutions today, but in its beginnings, its biggest strength was anonymity. The payment solutions debuted when online shopping became a massive trend. Since it was still a novel activity on the internet, it came with the danger of scams that abused private player information. It was risky to use traditional payment methods to shop online, which is why alternatives like Skrill were the top choices! The eWallet didn't share banking details, making it one of the safest options available.
Something a bit more recent you might like about this method is the implementation of a rewards program. The solutions loyalty scheme keeps things simple. It has four tiers, including Bronze, Silver, Gold, and Diamond. The higher you rank in these tiers, the better perks you experience! Among them, you'll find benefits like lower fees, cash rewards, and much more. Thankfully, hitting a higher rank isn't too complex. To move up through the ranks, all you have to do is use the service more frequently.
Finally, we want to discuss Skrill's popularity in the online gambling world. At this point, Skrill has made it into practically every online gambling venue possible. It's available in nearly 1,000 online casinos, giving users the freedom to choose between a myriad of operators with unique offers. Interestingly enough, it's not the number of casinos that's the best part here, but the quality some of them offer. Since the method encompasses so many, it includes a few of the best casinos currently on the market.
Getting Started with the Two Solutions
Using an eCheck is one of the easiest ways to transact nowadays. The service is incredibly convenient, and getting started with it essentially only requires one thing – an active bank account. Using this service in online casinos is something fans can't get enough of. To get things started, all you have to do is visit an operator you like, select the eCheck option from the deposit or withdrawal menu, enter your bank account details, and you're done! The bank and supporting financial institutions will do all of the hard work for you, leaving you to enjoy your time however you please.
Most of you have already gotten all they needed to know about using eChecks, but if you're interested in what happens in the background after your transaction request is made, here's a summary. The details you enter are sent to a service called Authorize.net to be transformed into useful data. Once that's done, it's then forwarded to another third-party service called Automated Clearing House. This service performs a legitimacy check, and if everything goes well, it sends everything over to the bank to give the final go-ahead!
Skrill's getting-started process is a bit different. Thankfully, it's not too much of a hassle. To start, you'll need to visit the option's official webpage. Once there, click on the register button and complete the sign-up process. This process consists of two parts. The first part consists of filling out a form with personal info. This can include your phone number, address, email, etc. The second part is verifying your identity. To complete this step, you'll need to send over a valid form of photo ID. Some viable options are a driving license, a government-issued ID, or a passport.
Your account should be up and running once the previous steps are complete, but before you can start making transactions, you'll need to fund it. Doing so is no hard task. If you prefer more traditional options, you can fund it through VISA, MasterCard, Diners Club, American Express, JCB, or bank transfer. If these aren't your cup of tea, you can also use services like Rapid Transfer, Trustly, Paysafecard, and more! It's best to remember that no matter which option you go for, you'll be charged a fee. With options like bank cards, you might get an additional charge labeled a "cash advance" fee.
Using eCheck and Skrill Across Online Casinos
It's safe to say that these services are popular options in most online gambling venues. Since their availability is so widespread in the online gambling space, users have plenty of options to choose from. You should be careful when selecting a venue to play in. Before you register an account with an operator, make sure to check their licenses and related reviews. Always choose licensed operators with premium quality content.
For those of you that want to use eCheck to deposit at the online casino of your choice, here are the steps you need to follow:
Look for eCheck's logo on the casino's Cashier/Deposit/Banking page and tap or click on it. 
Enter the required details in the new window. 
Specify how much you wish to deposit. 
Confirm the transaction. 
The money will arrive in your casino account in 3 to 5 days. 
Withdrawing through the service is pretty much identical to depositing. You can follow the same steps listed above, with the change of choosing the withdrawal page at the start. It probably won't surprise most of you to learn that withdrawing with eCheck is more popular than depositing. Of course, the reason for this is simple. Players don't have as much anxiety waiting for withdrawals as they do for deposits. Waiting for a withdrawal is essentially the status quo, which isn't the deal when deposits are in question. 
If you've decided to use Skrill for your online casino deposits, here's how you can proceed:
Visit the casino's Cashier/Payments/Banking page and look for Skrill's logo.
Press it, and a new window will appear.
Log into your eWallet account using your credentials.
Specify how much you'd want to fund your balance, and confirm the transaction.
The money should appear on your balance instantly.
Withdrawing with Skrill is just as easy as depositing. The procedure only sees a few small changes, so you should have no issue going through the process intuitively. It's no secret that withdrawing through this service comes with one massive pro – short processing times. Withdrawals with the service usually take about 24 hours to process, which is much quicker than most methods available. In rare cases, the waiting times can go up to three days. While this is significantly longer, it's still a reasonable waiting period. 
Advantages and Disadvantages
eCheck and Skrill are two of the most beloved payment options in the online gambling space. They have tons of positives to offer players, which is why so many of them choose these solutions in the first place. Of course, they also have a few downsides. While they might be few and far between, they can be deal-breakers for some users. Up next, we'll summarize these pros and cons to make choosing the right service for you a little easier.
It's no secret that these payment options share many common perks. They both have top-tier security, they're available in tons of online gambling venues, and they're some of the most convenient options you'll run into. On top of these, they also carry a few unique benefits you might want to consider. For eCheck, this is the ease of use. The method keeps things as simple as possible, making transactions a breeze to get through on any platform. For Skrill, these benefits are anonymity and speed. The eWallet doesn't share any personal information with operators and is faster than most other payment services.
The cons attached to these methods are usually what best informs your choice. With eCheck, the biggest con is the processing times. You'll have to wait 3-5 days for transactions to go through, whether they're deposits or withdrawals. For Skrill, the biggest con is the fees. While the fees attached to the service are pretty reasonable compared to some other options, they're still an annoyance to deal with.
Whatever your choice is, we're sure you'll be satisfied. These payment solutions are two of the best options in the online gambling scene, so despite their cons, they're excellent picks that can lead to fun online adventures!
Payment Methods Comparison
Payment methods name
eCheck
Skrill
Available accounts
1 account
1 account (1;2;3;4 different currency accounts)
Available currencies
n/a
AED, AUD, BGN, BHD, BRL, CAD, CHF, CLP, COP, CRC, CZK, DKK, EUR, GBP, HKD, HUF, ILS, INR, ISK, JOD, JPY, KRW, KWD, MAD, MEX, MYR, NOK, NZD, OMR, PEN, PLN, QAR, TND, TRY, RON, TWD, USD, ZAR, RSD, RUB, SAR, SEK, SGD, THB
One time signup bonus
n/a
15 USD Signup Bonus
Account management fees
n/a
free
Account unused
n/a
unused for 12 months: 1 EUR/month
Exchange fees (FX)
n/a
3.99% (3.79%; 2.89%; 2.59%; 1.99%)
p2p Money transfer
Send money p2p
n/a
1.9%, max 20 EUR (1%, max 10 EUR for bronze; 1%, max 2 EUR for above)
Receive money p2p
n/a
free
Deposit fees
Bank transfer
n/a
free
Instant bank transfer
n/a
free
Credit card
n/a
1.90% (1.25%; free; free; free)
Withdraw fees
Bank transfer
n/a
3.95 EUR (3.95; free; free; free)
Cheque
n/a
3.50 EUR
Prepaid card at the ATM
n/a
1.75% (1.75%; free; free; free)
To merchant site
n/a
free
Cashback and promotions
Promotions
n/a
up to 100 EUR Bonus by becoming Skrill VIP
PrePaid card
n/a
Skrill PrePaid MasterCard
Fee to order
n/a
10 EUR (free)
Costs at points of sale
n/a
free
Online bank statement
n/a
free
New PIN
n/a
free
New prepaid card
n/a
10 EUR (free)
Cash withdrawal at ATM limits/24h
n/a
250 EUR (750;1,500; 3,000; 5,000)
Points of sale limits/24h
n/a
1,000 EUR (3,000; 3,000; 5,000; 5,000)
Delivery time
n/a
5-10 business days
Available currencies
n/a
EUR, USD, GBP, PLN
Validation
n/a
3 years
Two factor authentication
n/a
Skrill Two-step Authentication
Fee to order
n/a
free app
Delivery time
n/a
right after app installation is completed
Money-back guarantee in case of fraud
n/a
for all Skrill customers using the 2-step-authentication
Link to terms & conditions
https://www.authorize.net/en-us/payments/echeck.html
https://www.skrill.com/en/footer/terms-conditions/skrillaccounttermsofuse/
No casinos support both eCheck & Skrill, click eCheck or Skrill to show casinos that just support that method.