Most online casino fans are familiar with services like Flexepin and Skrill. These payment methods pop up in the online gambling scene frequently, allowing users access to some of their favorite content in a heartbeat. Their popularity among online gamblers might not make much sense to people that aren't immersed in that world, but the reason for their success is similar to why they thrive in general. These methods give users a safe, speedy, and reliable way to make transactions, despite being fundamentally different from each other. While these perks are undeniably great, many other payment options with similar offers exist. Naturally, this prompts a few questions you might need an answer to. Up next, we'll try to cover all of them by combining them into one all-encompassing question – Why use Flexepin or Skrill in online casinos?
About Flexepin and Skrill
Flexepin is a newer payment service. It debuted in 2015, launched by the Australian financial technology giant Novatti and operated by Flexewallet Pty Ltd. As you can probably guess, the service began spreading in Australia, quickly becoming a popular pick. Of course, it didn't take long for the method to receive worldwide attention due to its offer. It spread out to Switzerland, Italy, India, Canada, South Africa, Brazil, Malaysia, and many other countries shortly after, becoming a global powerhouse available in multiple locations. What's interesting about this service is its massive appeal to Canadian users. It's a go-to payment method in the country with countless loyal users.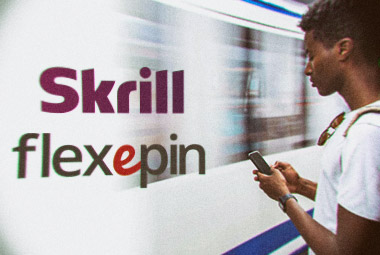 Those interested in this popular voucher should have no trouble finding one with minimal effort. Flexepin doesn't stick to exclusive deals with specific vendors. The service works with tons of retailers, so you can find it everywhere, from local shops to supermarkets. There are about 14,000resellers for the service, and that's just in Canada! A reseller for this service is always pretty much a stone's throw away, so you needn't worry about getting your hands on a card at any time.
There are countless reasons for Flexepin's quick rise in popularity, but one that truly put it on the map is its anonymity. This is especially true when online gambling comes into play! As you likely already know, online gambling fans usually prefer not to share any private banking info with the operators they visit. Of course, this is impossible with some methods. This one isn't one of them. Since it's a prepaid voucher, you can use it to deposit once and discard it later. The lack of a user account means your private doesn't have to leave your lips, making your transactions safer.
Safety is another thing we have to cover when discussing Flexepin. The service offers top-tier security that's hard to beat. The first thing to note about the service is it's authorized by the Australian Securities and Investment Commission. Another thing you to keep in mind is the 16-digit code it implements. Essentially, this code works as a two-factor authentication key to help start transactions. The card owner is the only one with access to it, making the service nearly impossible to crack.
To top it off, users can find a few extra security features by visiting the method's website. These include the Stay Aware feature, a verification software that checks whether a reseller is authorized to sell vouchers, and a list featuring unauthorized sites that claim to accept Flexepin payments. No matter what, you should keep away from these websites.
Skrill is the other payment service we'll explore today. This solution is one of the world's most popular eWallets, and it's immensely widespread. Right now, you can find the service in nearly 100 different territories! It would be an understatement to say that this method is popular in the online gambling scene, but its popularity isn't limited to gaming. Since this payment method supports digital and physical transactions alike, it's used by millions. Its reach is growing every day, and although it's been on the market for over two decades, we don't doubt it has an even brighter future ahead.
Something that might surprise you about Skrill is that it's one of three mega-successful payment methods released by the same company – Paysafe Group. It launched in 2001, at about the same time as Neteller and Paysafecard. You've likely heard of these solutions. They're about as big as the focus of this text itself, and they've managed to grow and improve immensely over the years. A big reason for this is their collective experience. Since the Paysafe Group could work with information gathered from three different payment solutions, it had a better insight into what works and what doesn't. Naturally, the company made frequent changes and improvements to their services that delivered incredible results!
More recently, the service has done plenty to push itself forward with the addition of an updated rewards program. Skrill doesn't hold back when rewarding loyalty, so the more you use the method, the more you can rank up and reach the higher tiers in the loyalty scheme. As you can probably guess, the higher your tier, the better the rewards you receive. If you happen to be an avid user who reaches the upper levels, you'll experience perks like lower fees and even get a few cash rewards!
To close off this part of the text on a high note, we'd like to discuss Skrill's popularity in the online gambling scene. It's safe to say that the service is a massive hit within the field. It's a supported payment method in nearly 1,000 online gamblingvenues, making it one of the most widespread options available. While most players will be more than impressed by this, what's even better than the sheer number of operators available is their quality! Some of these online casinos are the best platforms you'll run into, boasting top-tier games and rewarding offers.
Getting Started with the Two Solutions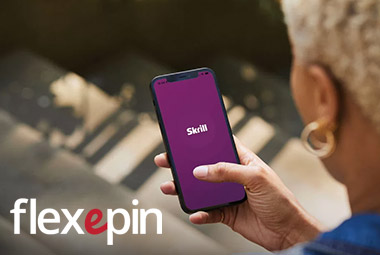 To make things easier on users, Flexepin offers several different options to get you started. The first one is picking up a voucher from a physical location. To do this, you'll need to take a walk to the nearest supported reseller and grab a voucher. The good news, countless shops support the service, so finding one should be a hard task. You can go for options like Daisy Mart, Hasty Market, GAS+, BP, and others. If you're more of a homebody that can't be bothered leaving the house, you can purchase a voucher online! The voucher is available for purchase on several popular platforms, including sites like TopMeUp, Payment Source, DPO Think Payments, SCDKEY, OffGamers, etc.
Now that you know how easy it is to get your hands on a Flexepin voucher, here are some important details to note about the service before buying one. The vouchers come in several different currency options, digital, and fiat. These include euros, US dollars, Canadian dollar, Australian dollar, UK pounds, Bitcoin, and more. Another thing you might want to note is that you can buy the voucher using several different means. Among them, you'll find popular options like JCB, Maestro, American Express, MasterCard, and PayPal.
Finally, one last thing to note is the limits for Flexepin vouchers. If you're a casual player looking to put in a few spins on the slots, you can go for options as low as $20! If you're looking to play for a bit longer than that, you'll be happy to hear that the maximum limit on a single voucher is $500. In hindsight, this limit might seem a bit small for high rollers. Thankfully, there's a crafty solution to this. Players can combine up to ten vouchers for a single payment, making the highest possible deposit with the method of $5,000!
Getting started with Skrill takes a bit more effort than the previous service, but it's still a simple-enough process to make it highly convenient. The first step towards creating your eWallet account with the service is heading to its official webpage and clicking on the register button. Once you do so, you'll prompt a form to open. Here, you'll need to enter some information about yourself to set up your profile. This can include data like your email, address, phone number, etc. Don't worry, none of this private info is shared with third parties. The next step you'll have to complete is verifying your identity. Doing this is pretty easy. Submit a valid form of photo ID when prompted, and your account is practically ready for use!
Of course, before you can start using your new eWallet, you'll need a way to fund it! Skrill makes this step simple, although it does come at a cost. To fund your eWallet, you can use services like VISA,  Diners Club, AmEx, Master Card, JCB, Bank Transfer, Rapid Transfer, Trustly, Paysafecard, and more. Unfortunately, no matter which option you choose, you'll be charged a fee. It might not be as hefty as what you see with some other services, but it's still an annoyance. It's also worth noting that with some methods, such as bank cards, you might even incur a second charge labeled a "cash advance" fee. 
Using Flexepin and Skrill Across Online Casinos
One of the best things about Flexepin and Skrill is their popularity in the online gambling space. They're both available in many operators worldwide, with the latter reaching an impressive number of nearly 1,000 supported online casinos! Since you have plenty of options with either method, we suggest focusing on finding a high-quality operator with a great offer. When searching for a venue, be sure to check its licensing, offers, and any related reviews.
If after careful consideration, you've chosen Flexepin as your go-to online casino payment method, here's how to proceed:
Visit the operator's Cashier/Payment Methods/Banking page, look for Flexepin's logo and click or tap on it.
In the new window, enter the 16-digit code you received upon purchase. 
Specify how much you'd like to deposit from the money you have on your voucher. 
Confirm the transaction and watch the money arrive on your balance in an instance.
Unfortunately, we've reached a point where we can no longer avoid one of Flexepin's biggest downsides. As you might already know, prepaid payment methods tend not to offer withdrawal capabilities. Since the service is a prepaid card, users can't cash out throughit, leaving them to look for other alternatives. You can go for several different options to make the ordeal smoother, but we suggest picking an eWallet or cryptocurrency for casino withdrawals. These methods are pretty safe, and they boast faster processing times than most other services.
If you're choosing Skrill as your primary online casino deposit method, here are the steps you should follow going forward:
Visit the casino's Cashier/Payments/Banking page and look for Skrill's logo.
Press it, and a new window will appear. 
Log into your eWallet account using your credentials. 
Specify how much you'd want to fund your balance, and confirm the transaction. 
The money should appear on your balance instantly.
Skrill is one of the few payment options that make withdrawing a breeze. To cash out your winnings, all you have to do is follow the same steps listed above, with a few small changes sprinkled here and there. While the method's ease of use is a big plus, what truly gives it an edge in this department is its processing speed. Skrill withdrawals are pretty fast. They tend to take about 24 hours, which is much faster compared to methods like bank cards. While withdrawal waiting times can go up to three days here, this rarely happens.
Advantages and Disadvantages
While we hope we've provided enough information to help you decide which one of these popular online casino payment options is the better fit for your gameplay, the choice between the two isn't easy. Both services have plenty to offer, giving you much to consider before moving forward. Up next, we'll summarize some of the biggest pros and cons of these payment methods, giving them one more chance to shine.
The first method on the list is Flexepin. A running theme with this service is convenience. The prepaid voucher is available for purchase online and offline, it can be used for online and physicalpurchases, it offers various currency options, it's incredibly safe, and it comes in many denominations. All of these things make it easy to use when online gaming, which is why the method is also widely available in online casinos! The con with this service is an obvious one. Since it's a prepaid card, withdrawals aren't a viable option.
All things considered, Skrill isn't too different from the previous service on this list when looking at their pros. The eWallet is safe, easyto use, anonymous, and fast. These traits give it a huge advantage in the online gambling space, what gives it an even bigger edge is its availability! Players can find countless operators that support the payment method, so finding a venue with top-tier offers is an easy task. With this solution, the biggest con you'll run into is the fees. They're not the heftiest out there, but they're impossible to dodge.
In closing, we'd like to say that both Flexepin and Skrill have plenty to offer online gamers. They're at the top of the list of best online casino payment methods for a reason, so choosing either one should lead to a positive experience. Take your time to figure out which best fits your preferences and give it a fair shot!
Payment Methods Comparison
Payment methods name
Flexepin
Skrill
Available accounts
1 account
1 account (1;2;3;4 different currency accounts)
Available currencies
CAD, EUR, GBP, AUD, USD, ZAR, NZD
AED, AUD, BGN, BHD, BRL, CAD, CHF, CLP, COP, CRC, CZK, DKK, EUR, GBP, HKD, HUF, ILS, INR, ISK, JOD, JPY, KRW, KWD, MAD, MEX, MYR, NOK, NZD, OMR, PEN, PLN, QAR, TND, TRY, RON, TWD, USD, ZAR, RSD, RUB, SAR, SEK, SGD, THB
One time signup bonus
n/a
15 USD Signup Bonus
Account management fees
n/a
free
Account unused
n/a
unused for 12 months: 1 EUR/month
Exchange fees (FX)
n/a
3.99% (3.79%; 2.89%; 2.59%; 1.99%)
p2p Money transfer
Send money p2p
n/a
1.9%, max 20 EUR (1%, max 10 EUR for bronze; 1%, max 2 EUR for above)
Receive money p2p
n/a
free
Deposit fees
Bank transfer
n/a
free
Instant bank transfer
n/a
free
Credit card
n/a
1.90% (1.25%; free; free; free)
Withdraw fees
Bank transfer
n/a
3.95 EUR (3.95; free; free; free)
Cheque
n/a
3.50 EUR
Prepaid card at the ATM
n/a
1.75% (1.75%; free; free; free)
To merchant site
n/a
free
Cashback and promotions
Promotions
n/a
up to 100 EUR Bonus by becoming Skrill VIP
PrePaid card
n/a
Skrill PrePaid MasterCard
Fee to order
n/a
10 EUR (free)
Costs at points of sale
n/a
free
Online bank statement
n/a
free
New PIN
n/a
free
New prepaid card
n/a
10 EUR (free)
Cash withdrawal at ATM limits/24h
n/a
250 EUR (750;1,500; 3,000; 5,000)
Points of sale limits/24h
n/a
1,000 EUR (3,000; 3,000; 5,000; 5,000)
Delivery time
n/a
5-10 business days
Available currencies
n/a
EUR, USD, GBP, PLN
Validation
n/a
3 years
Two factor authentication
n/a
Skrill Two-step Authentication
Fee to order
n/a
free app
Delivery time
n/a
right after app installation is completed
Money-back guarantee in case of fraud
n/a
for all Skrill customers using the 2-step-authentication
Link to terms & conditions
https://flexepin.com/
https://www.skrill.com/en/footer/terms-conditions/skrillaccounttermsofuse/
No casinos support both Flexepin & Skrill, click Flexepin or Skrill to show casinos that just support that method.