Canadian online casino players are greatly appreciated by operators who wish to accommodate them on their sites the best way possible, and what's a better way than offering them the chance to transact with either INSTADEBiT or iDebit? These two are some of the most popular national solutions that have been used by millions of Canadian users throughout the years, for all kinds of payments and purchases, online casino transactions included. To decide which one to go with, stay with us, as we'll share with you everything we know about them. Which one to choose as your online casino payment method, INSTADEBiT or iDebit?
About INSTADEBiT and iDebit
A lot of the things INSTADEBiT and iDebit offer are similar, but the two do have differing aspects. One thing you should know about them is that they both require you to have a bank account with a Canadian bank. Correspondingly, they both require you to be a Canadian citizen. And those would be the two shared pre-requirements you'd need to meet in order to get started with them. But as said, the two solutions function differently, so let's explore them individually so that you could compare them and decide which one would suit you better as a Canadian online casino player.
When you first start exploring INSTADEBiT, you might think that it is an eWallet, considering you'd need to create an account with it and you can transact with it online without sharing any of your banking info with the online platform. However, as soon as you realize that you cannot store money on it, you'll understand that this is not an eWallet, but a payment processing service, launched in 2003 by International Solutions Ltd. Headquartered in Toronto, the company managed to open an international branch, INSTADEBiT Global in Malta, but the solution is still mainly used by Canadian users.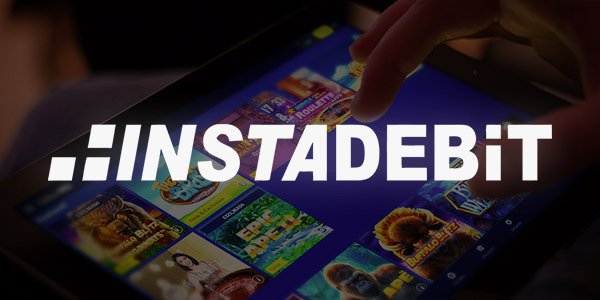 How does it function? Well, we said that it is not an eWallet, but you still need to register an account with it. And we said in the introduction that you need to have a bank account to use it. So, combine these two, and the two requirements you need to meet is to have a bank account with one of the most popular banks in Canada and register an account with the solution. Actually using it would be like paying online with a personal check. You'd be the one giving out the orders of when and to whom the money needs to be sent via your bank account, and the solution will take care of the rest.
As you can see, using it is pretty easy. That's one of the reasons why INSTADEBiT is a popular name across online casinos. That, and the fact that it can be used for both deposits and withdrawals, which is not always the case with similar payment processing services. These two combined, made the solution one of the most used and preferred methods by Canadian players across online casinos. Soon, you'll see how to get started with it and use it for safe and easy deposits and withdrawals.
iDebit, on the other hand, offers exactly what's implied by its name: internet debit services. It is the solution that will enable a direct debit from your Canadian bank account and connect you, your bank account and your online casino balance. As such, it is used by millions of users nationwide, and pretty popular with Canadian online casino players.
The beauty with it is that you don't even have to register an account with it if you don't want to, if you don't want to go through extra steps. You could choose your way to go, either by registering an account with it or by visiting your bank's online banking system as a guest.
We'll get to the getting started process soon, but for now, you should know that there's a list of banks you would need to have an account with in order to use iDebit. These banks are TD Canada Trust, Scotiabank, Bank of Montreal, National Bank, Desjardins, Canadian Imperial Bank of Commerce, Royal Bank of Canada and Simplii Financial. As long as you have an account with one of these leading Canadian banks, you can make use of iDebit's swift and above all, safe services.
On that note, the solution not only uses your bank's security systems to ensure your transactions are bulletproof safe, but it also uses 128-bit encryption. You'll also need to authenticate yourself to your bank before the transaction is processed, by entering your login details and the bank's security question, so you can rest assured that no one but you can actually request a transaction via it using your bank account funds.
Knowing what you do about it now, you should not be surprised to learn that iDebit is quite the star across Canadian online casinos. In fact, you'll find it across hundreds of sites, both Canadian-only and international sites that cater to Canadian players. Let's go through the getting started procedure so that you can become interested in it even more.
Getting Started with the Two Methods
We said in the beginning that to use both of these methods, you need to have a bank account with one of the leading Canadian banks and to be a Canadian citizen. Other than these two shared requirements, to get started with these methods, you'd need to go through different processes.
To figure out how it works, you can explore INSTADEBiT's official website thoroughly, or you can just follow our lead. As long as you're a Canadian resident with an account with any Canadian financial institution or bank, who's 18 or older, you can create an account with it.
To actually register your account, you'd need to enter your personal details, the last four digits of your Social Insurance Number and your bank account details. You'll confirm your identity that way and the solution will be able to protect your payments in the future. You would further need to log in and verify your bank account. As soon as you do that, you can get an insight into your transaction history, withdraw funds, accept refunds, change personal info, among some of the services that verified users unlock.
To start using iDebit, as we said, you can either use your banking system to send a debit as a guest or create an account with it directly. You can go to the online platform, in our case, online casino, choose it as your payment method and log in using your online banking details. This is how you deposit as a guest, but if after your first payment with it you want to, you can select for your account to be automatically created at the end of this payment. Having the account is useful, as you can have an insight into your complete transaction history, to check how much you've deposited at the casino, for instance.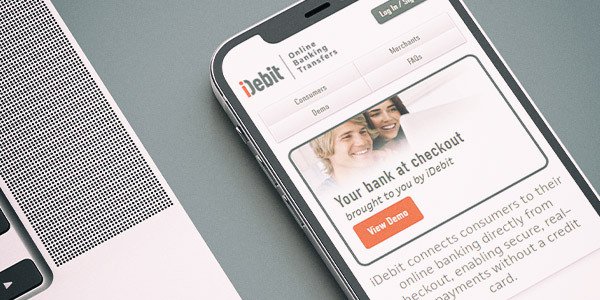 The best part is, transactions are in real-time, and as you can see, you don't need to own or use a credit card to make transactions with iDebit from and to your bank account. To use its amazing services, though, as mentioned, you'd need to have a bank account with one of the listed Canadian banks, and be 18 or older.
Using INSTADEBiT and iDebit Across Online Casinos
There are around 290 casinos that accept INSTADEBiT, and 250 that offer iDebit. How cool is that? This means that both solutions are available across the top Canadian casinos that you can join. And considering how easy it is to get started with the two methods and how popular they are nationwide, you've probably expected to find them across the very best international casinos accepting Canadian players, as well. So, just go over your options and choose the online casino you'd want to go with, which will probably be a casino that accepts both of these methods, if it caters to Canadian players.
To make a deposit with INSTADEBiT, you would need to do the following:
Find INSTADEBiT's logo on the list of accepted methods on the Cashier/Payments/Banking page at your chosen casino.
Enter the bank account info required (12-digit account number, 5-digit transit number and 3-digit financial institution number).
Specify how much you'd like to deposit.
Approve the payment and see the money arriving on your casino balance in no time!
We said that you can make withdrawals with INSTADEBiT and that the solution is an absolute hit among players when it comes to cashouts. It is recorded as a refund on your bank account and is processed in 3 to 5 business days. The procedure is similar to the one for depositing, and you'd need to log into your account, specify how much you'd like to cash out and wait for the casino to approve the transaction. As soon as the funds arrive in your bank account, you're free to use them as it pleases you.
You should know at this point that deposits and withdrawals with INSTADEBiT are subject to a fee. There's a CA$1.95 for deposits, and a CA$2.00 fee for withdrawals transferred to your bank account.
To fund your online casino account with iDebit, you would need to go through these steps:
Visit the casino's Banking/Payments/Cashier page.
Find iDebit's logo from the list of offered methods and press it.
Log into your iDebit account if you have it, or log in as a guest.
From the list of eligible banks, choose your bank and log into your online banking profile using your credentials.
Specify the amount of money you'd like to deposit and confirm the transaction.
The money will arrive instantly on your online casino balance.
The withdrawal procedure is just as easy and just as fast. You'd need to go through the same steps as just described, specifying this time the amount you'd like to withdraw. Select whether you'd want the casino to send the money to your iDebit account or bank account, and wait for its approval. As soon as the casino approves it, the money will be transferred to the desired destination.
iDebit charges similar fees, a CA$1.50 for deposits and a CA$2.00 for transferring funds from your iDebit account to your bank account to then cash them out.
Advantages and Disadvantages
You've probably spotted the differences between the two methods as you were reading this article. Let's highlight them, as these are also the disadvantages each of the methods comes with.
The choice of banks is bigger with INSTADEBiT, compared to iDebit's list. You can be a member of any Canadian bank to use the former, but you'd need to have an account with one of the eligible banks to use the latter. That's one of iDebit's weakest points. Plus, you have more casinos to explore with INSTADEBiT, less with iDebit. In this regard, INSTADEBiT is better. However, when you compare the fees, iDebit is a bit cheaper to use, at least for deposits. Withdrawals with both are subject to a CA$2.00 fee.
So, there are not that many differences when you compare these two Canadian solutions. You'd need to be a Canadian citizen to use them both, with a bank account with one of the leading Canadian banks. You can use them both across over 250 casinos, and you can make both deposits and withdrawals with them. The two are extremely popular with Canadian players and chosen as the best payment methods to use as a player across Canadian online casinos. They are both easy to get started with and use for funding your casino account and cashing out winnings from it, so whichever of the two you choose to use, you can rest assured that you won't make a mistake.
Payment Methods Comparison
Payment methods name
InstaDebit
iDebit
Available accounts
1 account
1 account
Available currencies
USD,CAD
CAD,USD
Account management fees
free
free
Account unused
n/a
free
Deposit fees
Bank transfer
CA$1.95
n/a
Withdraw fees
Bank transfer
CA$2
2.00 CAD/USD
Two factor authentication
n/a
n/a
Money-back guarantee in case of fraud
Yes
Yes
Link to terms & conditions
https://www.instadebit.com/terms.jsp
https://www.idebitpayments.com/termsofuse.html
No casinos support both InstaDebit & iDebit, click InstaDebit or iDebit to show casinos that just support that method.