MasterCard Credit vs. Discover
Users looking to improve their banking experience when gambling online will undoubtedly run into options like MasterCard and Discover. These mega-popular brands are now a staple in multiple online casinos, giving players an easy way to enter the gaming space and start betting with real money. There are countless reasons why these services are so beloved, but at the forefront are safety and convenience. While these perks are undoubtedly excellent, they're not exactly unique. Many other payment alternatives can boast about the same pros, which might raise a few questions with interested parties. Among them, the biggest one should be pretty obvious, and next, we'll try to answer it for you. Why use MasterCard and Discover across online casinos?
About MasterCard and Discover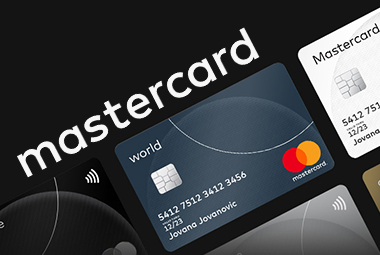 MasterCard and Discover are very similar services on the surface. Both belong to the bank card family, with the latter focusing exclusively on credit cards, while the former issues various types of bank cards. Since these solutions are in the same group of payment options, it's not a stretch to assume they share many similarities. These are most obvious when comparing some of their biggest perks – safety and convenience. They offer top-notch security that's nearly impossible to crack and a convenient way to pay for your purchases online and in physical locations.
The first card we'll take a look at is MasterCard. The service is one of the most popular banking brands worldwide, so we doubt someone hasn't heard of it. It's available in nearly all corners of the world, boasting a user base that's practically unmatched by any other brand.
MasterCard is incredibly well-established, and part of this is how long it's been on the market. Originally, the service debuted under the name Master Charge in the US back in 1966. Some might be surprised to learn that the service didn't start as a bank card, but as a membership organization heralded by four massive financial institutions. These included the Bank of California, United California Bank, Wells Fargo, and Crocker National. Not long after making a splash onto the scene, the organization managed to amass over 25,000 financial institutions as shareholders. This impressive feat made news in territories outside the USA, leading to massive growth globally. Naturally, this led the service to rebrand and launch its iconic bank card products.
There are many reasons why MasterCard is one of the most powerful brands you'll run into, but its incredible global reach is the biggest one. Right now, you can find the service in more than 180 countries! It's used for all kinds of payments daily, from big investments like real estate and cars to grocery shopping for the bare essentials. The solution's massive reach is a big plus for online gambling fans. Since the method is welcome in nearly all online gambling venues, it gives them access to premium sites without much hassle.
One last thing we want to get into when MasterCard is in question is the types of cards it offers. Currently, debit and credit cards are the most popular products by this service. Most of you probably already know how they operate, but for those that don't, here's a quick rundown. Debit cards are what you'd expect from a typical bank card. With a debit card, you can spend as much money as you have on your account. Credit cards are a bit trickier. They give users the option to spend past the money they have available and go into debt. Keep the differences between these two in mind when applying for a bank card.
Discover is another popular bank card that's been around for a long time. Interestingly enough, this service debuted later than powerhouses like VISA, MasterCard, and AmEx. It got its start in 1986, which made it hard to break through an already saturated market. Since the previously mentioned services dominated the bank card space, Discover had to work extra hard to convince users to give it a shot. Thankfully, the US-based solution had a few tricks up its sleeves that helped it along. Now, the service boasts a hefty user base of over 5 million people globally!
While Discover started by working with a US audience, it quickly grew to reach many other territories. It grew especially popular in Europe, solidifying its presence as an excellent choice with tons of extra benefits. We're sure you're wondering how this solution managed to gain a following despite the harsh competition, and the answer is pretty simple. The service upped its game by offering a few unique perks that competitors didn't have. Among them, you'll find cashback, a lack of annual fees, and no need to create a user account!
It's not hard to see that these perks are an excellent fit for the online gambling space. While they're top-tier pros in general, their synergy with casino promotions makes the service a fan favorite with online gamblers. When combined with the usual offers you find in online casinos, you can extend playtime and potentially better your odds of winning! Knowing this, it's easy to see why the service is now available in nearly 200 online gambling venues. Of course, this number is still growing as more operators realize how well the service works in tandem with them.
One more thing we want to cover here is the solution's top-notch security. On top of the usual security channels this service users, it also incorporates a feature called merchant codes. These unique codes are assigned to every Discover partner, making transactions incredibly easy to track. The service can follow transactions from start to finish at all times, ensuring they reach their intended destination! Unfortunately, this excellent feature was once a big downside for US users. Back when gambling regulations in the US were stricter, banks used these codes to identify online gambling transactions and block them. Thankfully, this isn't an issue in the slightest these days.
Getting Started with the Two Methods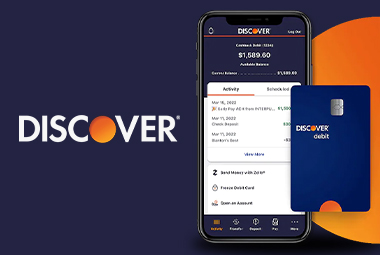 Most people should have an inkling of how the getting-started process with MasterCard goes. Since the service is a traditional bank card, it involves more legwork than other methods. The first thing players will need to do is find a partnering bank near them. This shouldn't be an issue. Since the service is incredibly widespread it collaborates with nearly any bank you can imagine. If you feel like walking around to find a bank is lots of work, you can visit the MasterCard website and get help from the locator tool It should point you to nearby ATMs and financial institutions that support the service.
Before you proceed to one of the supported locations, we recommend doing your due diligence on the different cards the service offers. You can find more information about them on MasterCard's official website, or the bank's website itself. Since these are collaborations, the offers can vary from one financial institution to another.
With that out of the way, you can apply for a card by checking in with the clerk. The process itself isn't too complicated, as it consists of only two steps. The first step is filling out the required application forms. These shouldn't take too long, but they might trip up some applicants due to their nature. Some of the questions may require personal info about your marital status or financial situation. You can rest easy knowing that this data will only be used to set up your card and is 100% confidential. The second and last step is verifying your identity. To do this, submit a valid photo ID document, and you should be pretty much finished. The bank will take a few days to process everything and set up your card, and contact you when it's ready.
The process of getting started with Discover is pretty much identical to the one we just went over with MasterCard. Of course, there is one key difference between the two making the second one much less of a hassle. Getting a card with this option is an online ordeal! Unlike most bank card brands, Discover has a separate network dealing with this side of things. Thanks to it, users can visit the website and follow the instructions there to get everything in order. Before you do so, we recommend checking out the card options here too. While they might all be credit cards, they do offer from one another.
The rest of the process is pretty much the same as what we went over previously. First, you'll need to fill out a few forms with personal information. These are mainly there to record the essentials and test your eligibility for a credit card. The second part of the process is identity verification. Once you complete both, you can sit back and relax while the reps at the service go over the information. As soon as everything is in order, you'll be contacted regarding how to proceed.
Using MasterCard and Discover in Online Casinos
As we've mentioned multiple times, MasterCard and Discover are very popular options in the online gambling space. While the former dominates more of the scene, the latter isn't too far behind, especially in the past few years. Both options are supported in some of the best venues available, so whichever you choose, you're in for a treat.
If MasterCard is more your speed, here is how you can deposit using this bank card:
Choose the "Deposit with Credit/Debit Card" option.
From the list of offered credit/debit cards, select MasterCard as your deposit option. 
Enter the card's number, expiry date, your name as the cardholder, and the CCV2 code on the back of the card. 
Specify how much you wish to deposit and confirm the transaction. 
In an instant, the funds will arrive on your balance!
The MasterCard withdrawal process isn't hard to follow. It's practically a carbon copy of depositing, with a few small changes here and there. While the ease of using the card for withdrawals is great news, there's some bad news regarding the process itself. Withdrawals with the service are slow and drawn out. They can take up to seven days, which is much longer than you can expect from most modern payment options. If you're looking for speedy payouts, you might want to look into some faster payout alternatives like eWallets and cryptocurrencies.
If you feel like Discover is a better fit for you as a deposit option, here's how to proceed:
Choose the "Deposit with Credit/Debit Card" option.
From the list of offered credit/debit cards, select Discover as your deposit option.
Enter the card information requested on the screen.
Enter the 3-digit verification code provided by Discover.
Specify how much you wish to deposit and confirm the transaction.
In an instant, the funds will arrive on your balance!
We have some bad news regarding Discover withdrawals as well. Since the service is a credit card, it suffers many of the same downsides as the previous method. Unfortunately, this includes long processing times. With this option, withdrawals usually take between five to seven days. The service might not be a good choice for users without much patience, but the withdrawal process in online casinos is easy at least. It's pretty much the same as depositing with the method, so all you have to do is follow the steps listed above, with a few changes.
Before proceeding to the final part of this text, there's one more important issue we need to bring up. At the moment, countries like the UK and Germany are affected by a credit card gambling ban. Essentially, this means that operators from these regions are prohibited from accepting credit cards as viable payment options. Since Discover and MasterCard both have credit card options, you should be wary of where you play. The good news is that there are tons of excellent sites outside of these countries. Through a simple internet search, you can find many premium alternatives worldwide.
Advantages and Disadvantages
Choosing between MasterCard and Discover is no easy task. Both services are powerhouses in their own right, but what makes the decision even harder is how similar they are! Since they belong to the same family of bank cards, it can be a pain sifting through their small differences to find the best for you individually. In hopes of making things a tiny bit easier, we've summarized some of the biggest pros and cons of both solutions below.
MasterCard is easily one of the most popular bank cards worldwide. The service offers high-end security, it's reliable, and has an excellent banking platform anyone can use instantly. While there are many benefits to using this solution, the biggest one is undoubtedly its availability. MasterCard is everywhere, including nearly every online gambling site imaginable. With this service at your side, you can enter any gambling venue you please. The perks of this method are undeniably top-tier, but it does come with one big con – processing speed. Unfortunately, withdrawals with MasterCard are on the slow side, taking up to seven days to arrive.
As we already mentioned, these solutions share many similarities. Knowing this, it's not surprising to see Discover being praised for its security, convenience, and user-friendly banking platform. Despite sharing many positives with the previous service, this solution has some unique perks that give it an edge on the market. These are its cashback, no need for a user account, and lack of annual fees. All of these work wonders in the online gambling space, giving casino fans much to look forward to. The unfortunate here relates to the service's processing times. Withdrawals with this service are slow as well. They usually take five to seven days, which is much longer than most modern options.
Hopefully, this summery is enough to push you in the right direction in line with your preferences. Choosing between the two should be easier after reading this text, but don't let that rush your decision. While we're sure you'll be happy with either of these excellent options, take your time and choose the one that feels better suited to your playstyle.
Online Casinos that support both MasterCard Credit & Discover: