Exploring online payment methods to use at an online casino, there's rarely a player who hasn't thought of using either PayPal or Neteller, since the two are extremely popular methods globally, especially across online casinos. Delivering exceptional services, the two are some of the most used and most trusted eWallets out there, which have done a lot throughout the years to deserve users' trust. If, after all, you're one of those players in a dilemma whether to use one or the other, make sure you stay with us as we'll try to give you your answer. Why choose to use PayPal or Neteller at an online casino?
About PayPal and Neteller
As just introduced, PayPal and Neteller are the world's most well-known and popular eWallets. You cannot really tell which one is more preferred by people from all around the globe. These are two brands that have international recognition and for good reasons. They have been working hard to get to where they are today, especially when it comes to their availability across the online gambling industry. Let's check them out individually before we compare them since the two offer quite similar things.
You probably know, but PayPal is one of the oldest, one of the first alternative payment solutions that have appeared out there, way back in 1998. When it first appeared, it started offering users a service that looked so convenient that it become suspicious at first. People were mind-blown by the option to connect all of their most-used payment methods to one single account and use them for online payments. As an eWallet, PayPal provided that convenience, but it wasn't all sunshine and roses at first.
With over two decades of experience behind it, PayPal went through a lot. First, it came with some huge fees, which were unacceptable by many, but reasonable for others, considering the service they were getting. After lowering those fees, PayPal bumped into some regulatory issues and made sure to do things straight and get the licenses and certificates it needed to provide a safe and secure pathway for users to send and receive money online in a few clicks or taps on their device. That's why you should not be surprised to see it excluding payments for some players or reentering markets and once again processing payments and offering its services to other players. Throughout the years, PayPal has built a fortress, a solution that cannot be breached and one that can keep your money safe from any fraudulent activities.
As such, it has managed to cement its reputation as a leading eWallet in the world, grabbing more than two dozen awards across prestigious ceremonies for its services. Speaking of its services, you should know that in addition to the eWallet solution it is most well-known for, PayPal offers the PayPal MasterCard, designed in collaboration with another major brand, MasterCard, as well as its PayPal Connect feature. A line of credit was launched, too, and as of 2020, the solution also started approving transactions with crypto, which even further strengthened its position as a leader on the online banking scene.
Neteller's story is not that much different than PayPal's. In fact, the eWallet was launched only one year later than PayPal, in 1999. The two were competitors from the very beginning, actually. Launched by a well-established financial company, Paysafe Group PLC, Neteller was introduced to the world as an internet funds transfer service, which also arrived with hefty fees. Just like PayPal, though, Neteller reviewed those fees and made sure to lower them, so that users can get an even more pleasant experience.
Just like its sister products, Skrill and Paysafecard, Neteller became available all across the world. In fact, there is a list of only 50 countries that do not offer its services. So, with a global presence, in addition to its headquarters in the Isle of Man, it had to open services in other countries in the world, China, Costa Rica, England and Canada, to attend to the demand. With an international team behind it, a massive user base and the desire to always innovate and offer improved services, today, Neteller is one of the best solutions you will find out there, for seamless online transactions.
Getting Started with the Two Solutions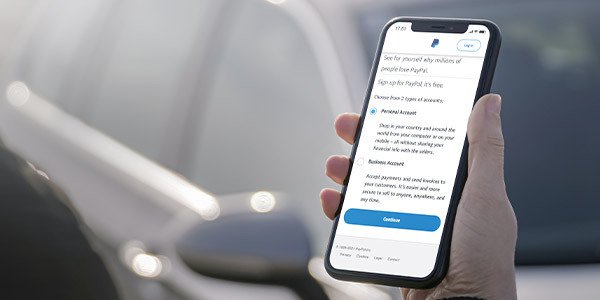 Considering how similar the two are, you should not be surprised to learn that to get started with PayPal and Neteller, you'd need to go through similar procedures. Since they are both eWallets, of course, you'd need to create an account with them.
To create an account with PayPal, the first thing to do is to go to its official website. After you locate the blue Signup button on the right top corner of the screen, click it or tap on it. A new window will open where you'll need to enter your full name, email and home address, in addition to your social security number. As mentioned, PayPal puts safety and security first, so it needs to verify your identity. Therefore, you should also provide the needed ID documents to complete the registration. These will be used for tax reporting, too, so you can rest assured that once your account is ready, all things will be in order.
The next step would be funding your account, meaning connecting your favourite payment methods to it. You can use bank transfer or credit cards, among other options, which all come with different fees. Depending on the method you choose to use, you should be prepared to pay the corresponding fee for funding your eWallet. But, the good news is, if you go with a direct bank transfer, no fees would apply! If you go with the more convenient option, credit cards, you should be prepared to pay a fee of around 3%. A 2.5% currency conversion fee would apply, too, when you decide to use a currency that's different from the default one.
You'd need to head over to Neteller's official website to get started with it, too. You'd also need to share your full name, email and home address, but also your date of birth and gender, and choose your default currency. Then, you'd need to accept the Terms of Use, provide the necessary ID documents, and in no time, you'll receive a Security ID code, which is a 6-digit code working like two-factor authentication to further secure your account.
Funding the eWallet would be easy, as there are so many payment methods at your disposal. In addition to its sister products Skrill and Paysafecard, to fund your Neteller account, you can use popular options like Neosurf, Trustly, POLi, Rapid Transfer, Eps, QIWI, and iDeal. Other options would include Euteller, BOKU, and Yandex. Naturally, they all arrive with different fees, so you better explore them all before you decide on the one to use.
Finally, we need to mention that just like PayPal, Neteller has also started allowing users to use cryptocurrencies. In fact, through your eWallet account, you can sell and buy crypto using over 28 currencies. Bitcoin and Ethereum are just some of the popular crypto options you can transact with, so make sure you explore them all.
Using PayPal and Neteller Across Online Casinos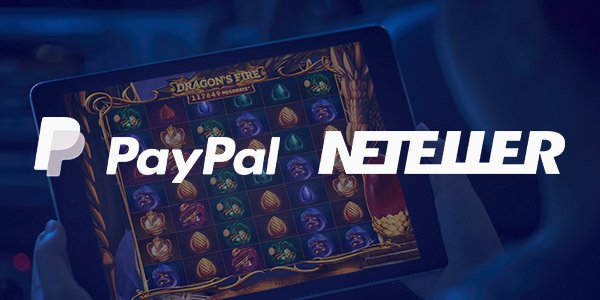 Now that you know how easy it is to get started with and fund the two eWallets, it is time to learn how to use them across online casinos. You probably expected this information, but let us clear the air by saying that both PayPal and Neteller are offered across most, if not all, online casinos out there. PayPal is offered across 400, while Neteller in over 1,000 casinos. Therefore, whichever of the two you choose to go with, you'll have more than enough sites to explore to join. After you've found the one for you, join it and continue to the next step, depositing.
To make a deposit with PayPal, you would need to do the following:
Go to the casino's Banking/Payments/Cashier page.
Look for PayPal's logo and click or tap on it.
Enter your eWallet account using your credentials.
Go through the authentication process, and specify how much you'd like to deposit.
Confirm the transaction and watch the money arrive on your casino balance momentarily!
Deposits with PayPal are instant, but the solution shines in the withdrawal section. In fact, withdrawals with this eWallet are near-instant, too! All you need to do is request a payout, wait for the casino to approve it, and as soon as it does, PayPal will make sure to transfer the money to your eWallet account in no time.
With Neteller, depositing is as simple. All you need to do is:
Click or tap on Neteller's logo, after you locate it on the list of accepted methods on the Banking/Payments/Cashier page.
Use your credentials, the Account and Secure ID numbers, to enter your eWallet account.
Specify how much you'd like to transfer to your casino balance.
Confirm the request and the money will arrive on your balance in an instant.
Now, here we get to one of the major differences between PayPal and Neteller, the withdrawal processing times. With PayPal, we said that even withdrawals are near-instant. But that's not the case with Neteller. In fact, with Neteller, withdrawals may take up to three business days. This is one of the things that may solve your dilemma if you're looking to cash out your winnings fast. In this case, you would want to choose PayPal, of course. 
Advantages and Disadvantages
You've probably realized how similar PayPal and Neteller are, from what you've read so far. And just now, you've seen what the main difference between the two is when it comes to online casino transactions. So, let's start with that. The fact that Neteller takes up to three business days to process a withdrawal is what puts PayPal in a better position since PayPal processes payouts in a matter of minutes.
Other than that, we can only list the similarities, which are also the advantages you get with these methods. They are both eWallets, providing an alternative banking service, which makes them super-popular among online casino players looking to share as little as possible about their bank accounts and credit cards with the operators. They are both global, with a short list of restricted countries, so no matter where you're from, you're probably eligible to use them. But most importantly for you as an online casino player, you can use them for making both deposits AND withdrawals with them, which is not something offered by many payment methods. And, you can find these two eWallets across most, if not all, online casinos! They'll definitely be offered across top casinos, that's for sure! The fact that you can transact with crypto using both of them is also quite handy. Cryptocurrencies are a thing now, and being able to use them via your favourite eWallet is a great thing.
So, you must be wondering, how to choose one over the other, if they are so similar? Well, other than Neteller's downside with the slower withdrawals, to make a decision on which one of the two to use, you'd need to look at the fees they both come with. You'd need to go to their respective websites and check out the payment methods you can use to fund your eWallet accounts and cash out winnings from them. As you will see, the two eWallets provide you with different choices, each arriving with its own fees. Comparing them would make it easier for you to decide which one would suit you better, PayPal or Neteller. One thing is for sure, whichever of the two global eWallets you choose to go with, you won't make a mistake, because your online gambling experience with either will be a smooth and safe one.
Payment Methods Comparison
Payment methods name
NETELLER
PayPal
Available accounts
1 account (1;2;3;4;N/A different currency accounts)
2 accounts (1 personal + 1 business account)
Available currencies
AED, AUD, BGN, BRL, CAD, CHF, CNY, COP, DKK, EUR, GBP, HUF, INR, JPY, MAD, MXN, MYR, NGN, NOK, PLN, RON, RUB, SEK, SGD, TND, TWD, USD, ZAR
AUD, BRL, CAD, CNY, CZK, DKK, EUR, HKD, HUF, ILS, JPY, MYR, MXN, TWD, NZD, NOK, PHP, PLN, GBP, RUB, SGD, SEK, CHF, THB, USD
Account management fees
free
free
Account unused
unused for 12 months: 5.00 USD (or equivalent) /month
free
Exchange fees (FX)
3,99% (3.79%; 3,19%; 2,79%; 2,39%; 1.29%)
2.5%
p2p Money transfer
Send money p2p
1.45%, minimum 0.50 USD (1.45% money transfer fee with min. of 0.50USD for Bronze, free of charge for Silver, Gold, Platinum and Diamond)
free
Receive money p2p
free
Free for p2p in same country and currency by using bank or PayPal balance only.By transferring money internationally, with different currencies or by using a credit card the fee is between2.9% + 0.30 USD (from US to US account) and7.4% + 0.50 USD (from US to Brazil account)–> PayPal User Agreement #Receive Money
Deposit fees
Bank transfer
2.5%
free
Instant bank transfer
2.5%
free
Credit card
2.5%
between 2.90% + 0.30 USD and 7.40% + 0.50 USD
Withdraw fees
Bank transfer
10 USD
free
Cheque
N/A
1.50 USD
Prepaid card at the ATM
1.75% (1.75%; 1.75%; $6; $6; $6)
1.95 USD
To merchant site
free
free (only available at few online gambling providers)
Cashback and promotions
Promotions
none (regular low-prize draws)
n/a
Additional bonus programs
n/a
none
PrePaid card
Net+ Prepaid MasterCard (Net+ card is only available to residents of authorized European Economic Area (EEA) countries)
PayPal PrePaid MasterCard
Requirements to order
n/a
customer for 60+ days with premier or business account
Fee to order
10 EUR
free
Membership
n/a
4.95 USD/month
Costs for cash withdrawals at the ATM
n/a
1.00 USD + 2.5% FX fees, 1% + 2.5% FX fees outside the US
ATM transaction decline fee
n/a
1.00 USD
Costs at points of sale
free
free
Stop payment fee for preauthorized
n/a
10 USD
Online bank statement
free
free
New PIN
n/a
free
New prepaid card
10 EUR
5.95 USD
Cash withdrawal at ATM limits/24h
1,000 USD (1,000; 1,000; 3,300; 3,300; 3,300)
940 USD
Points of sale limits/24h
2,250 EUR
5,000 USD
Delivery time
2 -10 business days
2-4 weeks
Available currencies
28
EUR, USD
Validation
3 years
3 years
Two factor authentication
Two-step Authentication
PayPal Security Key
Fee to order
free app
29.95 USD
Delivery time
right after app installation is completed
n/a
Money-back guarantee in case of fraud
for all NETELLER users
yes
Link to terms & conditions
https://www.neteller.com/en/policies/terms-of-use
https://www.paypal.com
No casinos support both NETELLER & PayPal, click NETELLER or PayPal to show casinos that just support that method.