Choosing the right casino payment option for you is no walk in the park, and methods like PayPal and Discover don't make that decision any easier. These services are two of the most popular picks for transacting in the online gambling space, but they couldn't be more different from each other! The latter of the two is a modern take on a credit card with a few special features in its pocket. The former, of course, is the world's leading eWallet, offering users a secure platform that never lets them down. Despite the differences in how they operate, these services strive towards a common goal – to make transacting a breeze. Both come crazy close to achieving it seamlessly, but they aren't the only ones. Given the tough competition in the market right now, a fair question arises. Why use PayPal or Discover in online casinos?
About PayPal and Discover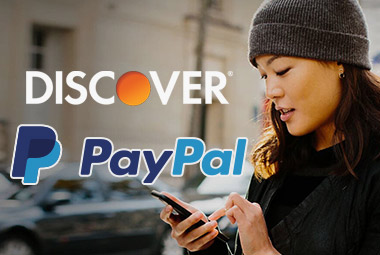 PayPal is an internet staple at this point. The service is easily the world's most popular eWallet, giving it a prestige position that many businesses don't take lightly. Released in 1998, the service made its debut at just the right time. Personal computers and the internet were starting to enter most households, and with them, the advent of online shopping skyrocketed in popularity. While everyone wanted to try this convenient new way of shopping, it came with risks. Since it was still very novel, scams ran rampant. Naturally, this meant that using services like bank cards for online payments could lead to your information being misused. Luckily, the introduction of eWallets took care of that problem, and this coveted service was at the forefront!
It wasn't just PayPal's anonymity that made it such a beloved option. The service has been hyper-focused on security from the start, implementing top-tier safety measures to ensure users are protected from the dangers of the internet. Combined with the short processing times it offered, this made it a smash-hit that couldn't be stopped! Naturally, PayPal took this in stride and released several different services that cover various fields. While the eWallet is still its number one, these new additions are doing pretty well themselves.
One thing users love about PayPal is the service never stops growing. For example, one of its latest ventures is a partnership with MasterCard on a PayPal MasterCard product! This service will utilize the perks of eWallets and bank cards, giving them the best of both worlds when transacting. Of course, there's also the addition of cryptocurrencies to its platform. That's right, users can now process digital currency transactions with ease straight from the service's platform! Various tokens have been added to the list of viable currencies, including popular options like Bitcoin, Bitcoin Cash, Litecoin, Ethereum, and more!
The other payment method we'll be discussing is Discover. This service has been on the market for much longer than some think. It debuted in the USA in 1986, and despite this seeming like a long time ago, it was a much later entry to the credit card game. By this point, bank cards like American Express, VISA, and MasterCard had made their presence on the market well-known. They dominated in nearly every part of the world, giving Discover fierce competition that was hard to get by. Thankfully, the service had a few tricks up its sleeve, leading it to amass a loyal following of more than 5 million users!
The secret to Discover's success in such a competitive market isn't some overcomplicated magic formula. Instead of wallowing in the disadvantage of getting a late start, the service saw the opportunity in it and took it. It launched with some exclusive features that other bank cards didn't offer, which quickly got tons of eyes on it. It didn't take long for users in the USA and Europe to see the top-tier perks of using this method, and its popularity spread quickly after that. If you're wondering what some of these unique perks are, they include cashback, no annual fees, and no need for a user account!
Now that you know about some of the perks that gave Discover an edge, it's easy to see why this service is such a smash-hit in the online gambling world! Online casinos tend to prepare special promotions and bonuses to help players extend their playtime and make things a bit more interesting. These promos often look similar to Discover's many perks, making the two complement each other perfectly! As you can imagine, this has allowed the service to become a top pick in many online casinos. At the moment, it's available in nearly 200 online gambling venues globally.
One more thing to note about this service is its top-notch security. On top of the expected safety measures for a payment method of its caliber, Discover assigns unique merchant codes to the businesses it partners with. This subsequently ensures that transactions go seamlessly, as they're incredibly easy to follow from the start of their trip to their intended destination. Interestingly enough, this security feature was once a pain for online gambling fans in the US! Since the codes made it easy to identify businesses, banks used them to block all transactions related to online gambling. Of course, this was to enforce the strict online gambling laws active back then, so there's no need to worry about something like that happening now.
Getting Started with the Two Methods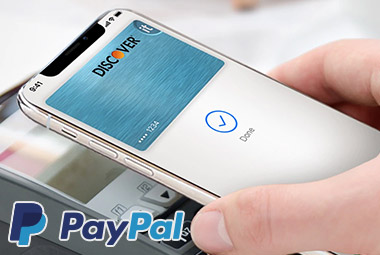 PayPal and Discover might be very different payment services, but their getting-started processes are surprisingly similar. Both aim to make things as convenient as possible, giving users a pleasant experience that won't take too much time.
Let's start with the first method on our list – PayPal. Since the service is an eWallet, the registration process is online. The first step toward opening an account is visiting the method's official website. Once you do, click on the sign-up button, and you'll be met with a few forms asking for your information. Here, you'll find fields requiring your full name, phone number, email, etc. When you finish this step, you'll be requested to verify your identity. Doing so requires submitting a valid photo ID document, so make sure you have a driving license, passport, or another eligible document handy.
You're pretty much done! Your account should be set up at this point, but there's still one more thing left to do before you can use it. The last thing PayPal users need to do before proceeding is to fund their accounts. This isn't a hard task. The service presents many viable options, so you can choose from various popular methods. Something to keep in mind before proceeding is the fees. These depend on how you fund your account, so make sure to check them out. Popular options like credit cards, for example, incur a 2.5% charge. Compared to that, bank transfers don't have a fee at all!
It's likely a surprise for many to learn that a credit card like Discover has an online getting-started process. Of course, the service isn't your traditional credit card. Since it operates on a personal network, the need to get banks involved is non-existent. Applying for a card from the service is pretty easy, as all it takes is visiting the method's website and completing a few simple steps. Before doing this, however, it's best to learn more about the different cards it offers. The service has several, so make sure you choose one that fits your individual needs.
After you've taken a good look at Discover's card options, it's time to apply for one. The process here doesn't differ much from that of PayPal. The first step requires filling out some forms with information about yourself. Since this is a credit card application, you should expect some of the questions here to dive into private matters like your finances, social circles, etc. Of course, this information is kept 100% confidential. The next step is going through the identity verification process. Submit a valid photo ID, and you're done! The service should contact you soon with an update on your card.
Using PayPal and Discover Across Online Casinos
Since PayPal and Discover offer top-tier security and massively convenient online payment platforms, they're beloved options in the online gambling world. You can expect to find them in various venues, so choose a casino you like, check its legitimacy, and carry on!
For those interested in using PayPal as their go-to online casino payment method, here's what to do:
Look for PayPal's logo on the list of Payment Methods/Deposit Methods at the casino's Cashier/Banking section. 
Click or tap on it, and a new pop-up window will appear. 
Log into your eWallet account using your credentials. 
Enter the amount you'd like to deposit at the casino. 
After the authentication procedure, confirm your transaction. 
As soon as you've confirmed it, the money will instantly arrive on your casino balance. 
There are many positives to using PayPal as your primary online casino payment option, and withdrawing is one of them. One of the biggest perks of using the service is the short withdrawal times. They're usually instant, giving users a chance to enjoy their money moments after their victory. Additionally, withdrawing with the method is easy as pie. To do so, follow the steps listed above, with a change in step four. Make sure to select withdraw here and enter the amount you'd like to cash out.
If you believe Discover is more your speed, here's how you can deposit at online casinos using this method:
Choose the "Deposit with Credit/Debit Card" option.
From the list of offered credit/debit cards, select Discover as your deposit option.
Enter the card information requested on the screen.
Enter the 3-digit verification code provided by Discover.
Specify how much you wish to deposit and confirm the transaction.
In an instant, the funds will arrive on your balance!
The only good news about Discover withdrawals is that they're easy to do. They follow the same pattern as depositing, so you can retrace the steps for depositing, with the only change being choosing the withdrawal option at the start. Discover might be a modern credit card in most regards, but it's like any bank card when processing times come into play. These can be pretty drawn out, making the withdrawal process a pain. Generally, players will need to wait from five to seven days to see their cash out on their balance.
Another con that affects all credit cards is the credit card online gambling ban in specific countries. Right now, this ban only affects the UK and Germany, so most players shouldn't have an issue with it. Still, it's good to be aware of it if you're thinking of visiting an online casino based in these regions.
Advantages and Disadvantages
We've already discussed most of the crucial details about these two popular payment options, but if you're still uncertain about which is the better fit for you, stick around. Below, we'll go over their biggest pros and cons again to wrap things up.
PayPal is the world's leading eWallet, and as such, it boasts tons of perks that secure its spot at the top. These include reliable service, excellent safety features, and a convenient online platform. While these give it a nice leg-up on the competition, the good news doesn't end there! The service is also known for its anonymity and speed. Not only is your info kept private during transactions, but the process is incredibly speedy. No matter how perfect it seems, PayPal still has a few flaws. Mainly, funding your eWallet can incur some fees.
Discover shares many of the same pros as the previous method. It's reliable, safe, and incredibly user-friendly! Of course, the credit card also has some unique perks that work perfectly in the online gambling space. These include 5% cashback on all payments, a lack of annual fees, and no need for a user account. The service also comes with a few cons to consider. These consist of slow withdrawal times and the credit card ban effective in specific countries.
In general, you should be happy with either of these services. Both are at the top of their game, offering some excellent benefits to any new online casino fan. It's all about personal preference, in the end, so give these incredible services another once-over and choose your favorite.
Payment Methods Comparison
Payment methods name
PayPal
Discover
Available accounts
2 accounts (1 personal + 1 business account)
1 account
Available currencies
AUD, BRL, CAD, CNY, CZK, DKK, EUR, HKD, HUF, ILS, JPY, MYR, MXN, TWD, NZD, NOK, PHP, PLN, GBP, RUB, SGD, SEK, CHF, THB, USD
n/a
Account management fees
free
free
Account unused
free
n/a
Exchange fees (FX)
2.5%
n/a
p2p Money transfer
Send money p2p
free
n/a
Receive money p2p
Free for p2p in same country and currency by using bank or PayPal balance only.By transferring money internationally, with different currencies or by using a credit card the fee is between2.9% + 0.30 USD (from US to US account) and7.4% + 0.50 USD (from US to Brazil account)–> PayPal User Agreement #Receive Money
n/a
Deposit fees
Bank transfer
free
n/a
Instant bank transfer
free
n/a
Credit card
between 2.90% + 0.30 USD and 7.40% + 0.50 USD
n/a
Withdraw fees
Bank transfer
free
n/a
Cheque
1.50 USD
n/a
Prepaid card at the ATM
1.95 USD
n/a
To merchant site
free (only available at few online gambling providers)
n/a
Cashback and promotions
Additional bonus programs
none
Yes
PrePaid card
PayPal PrePaid MasterCard
n/a
Requirements to order
customer for 60+ days with premier or business account
n/a
Fee to order
free
n/a
Membership
4.95 USD/month
n/a
Costs for cash withdrawals at the ATM
1.00 USD + 2.5% FX fees, 1% + 2.5% FX fees outside the US
n/a
ATM transaction decline fee
1.00 USD
n/a
Costs at points of sale
free
n/a
Stop payment fee for preauthorized
10 USD
n/a
Online bank statement
free
n/a
New PIN
free
n/a
New prepaid card
5.95 USD
n/a
Cash withdrawal at ATM limits/24h
940 USD
n/a
Points of sale limits/24h
5,000 USD
n/a
Delivery time
2-4 weeks
n/a
Available currencies
EUR, USD
n/a
Validation
3 years
n/a
Two factor authentication
PayPal Security Key
n/a
Fee to order
29.95 USD
n/a
Money-back guarantee in case of fraud
yes
Yes
Link to terms & conditions
https://www.paypal.com
https://www.discover.com/online-banking/terms-of-use/
No casinos support both PayPal & Discover, click PayPal or Discover to show casinos that just support that method.