PayPal vs. MasterCard Credit
Choosing between PayPal and MasterCard for online casino transactions can be pretty daunting. At a glance, these methods are very different from each other. The former sticks to a more traditional banking system that's proven time and time again to be a safe and reliable option. In contrast, the latter option is a modern payment solution that excels in speedy delivery and convenience in online shops and services. While these services offer different perks, they both strive towards the same goal – providing users with a banking experience fit for royalty! Both services come close to achieving this goal, which is where the dilemma comes into play. Why use PayPal or MasterCard as your online casino payment method?
About PayPal and MasterCard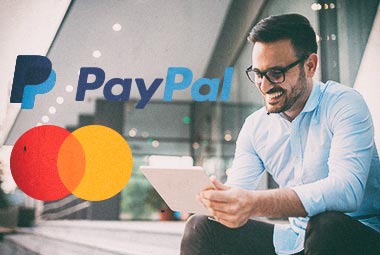 Before we get into their histories, it's best if we look at the shared traits of these services. First and foremost, PayPal and MasterCard are practically online casino royalty. These payment methods are two of the most well-established services available in the online gambling space. Naturally, this gives them access to a variety of gambling venues. Players can choose to play in nearly any online casino with these methods at their side, which instantly puts them near the top of the list of best casino banking options.
To many, PayPal is a service that came out well ahead of its time. It was released back in 1998 when computers and the internet were starting to become a staple in every household. Of course, this was around the same time the online shopping boom erupted, and with it, the need for a specific kind of payment option arose. What set PayPal apart from other payment services at the time was its status as an eWallet. By using the service, players could conveniently pay for online purchases, without disclosing any private banking data. Since scams were rampant in this growing field at the time, PayPal presented a saving grace for online shopping aficionados everywhere!
PayPal took its growing momentum and released several other services down the line. Of course, the company's eWallet service remained its most popular product, and it's still a massive success now. A few other reasons for its stellar reviews from users included its processing times and high level of security. Players felt safe when transacting with the service, mainly due to the great policies it implemented. Regarding the processing times, they've been nearly instant from the start! This was pretty rare back in the day, and it gave the service a competitive edge.
PayPal has taken up a few new ventures lately. First, the service recently partnered with the other method we'll be discussing, MasterCard, to release a PayPal MasterCard product! Thanks to this exciting collaboration, players can use their eWallet, and their card, for various purchases. Another fun addition to its line-up of products is PayPal Connect, an app designed to help users pay their internet service providers in a jiff. The most worthwhile venture the service has taken up lately is the addition of digital currencies to the eWallet. Now, users can process cryptocurrency transactions for popular coins like Bitcoin, Litecoin, Ethereum, Bitcoin Cash, and many others!
In contrast to this service, MasterCard is a much more traditional payment method. It was established much earlier than the former option, back in 1966. MasterCard didn't start as a bank card service. It debuted as a Master Charge, a membership organization created by some well-known names in the US finance sector. These include Wells Fargo, the Bank of California, United California Bank, and Crocker National Bank. Soon after its launch, word of it spread. It managed to amass a whopping number of over 25,000 shareholders and strived for global reach. Of course, it did exactly that. It spread outside of the USA, launching various bank cards and rebranding into the service we know today.
It's not hard to guess what makes this service such a force to be reckoned with. It has a massive global reach, covering over 180 countries worldwide. What's interesting about MasterCard is that it's incredibly versatile as well. It's used for many payments, including everything from trades between world governments to buying a pack of gum at your local kiosk. Naturally, this reach extends to the online gambling world. You can expect it as a viable option in most gambling venues, from niche slot sites to well-established operators.
An important thing to note about MasterCard is that the service offers a variety of bank cards to choose from. These come with unique pros and cons, but the most popular ones currently include debit and credit cards. Most of you should have a clue what these cards are, but if you're not too familiar with how they operate, here's a basic explanation. Debit cards tend to be the default most users choose. With these cards, users can only spend the money available in their accounts. Credit Cards are a bit different. Players aren't as limited with this option, as they can spend past the money they have in their account and go into debt.
While it seems that credit cards are the better option, that's not always the case, especially when online gambling is in question. Countries like the UK and Germany have banned the use of credit cards in online gambling venues in their regions. Sure, this only affects these two specific countries at the moment, but we're afraid this could become a trend others follow.
Getting Started with the Two Methods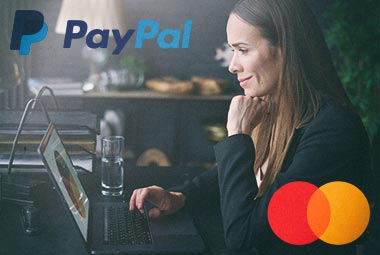 While PayPal and MasterCard are structurally different, they share many similarities. Unfortunately, the getting-started process isn't one of them. While both are pretty convenient, one does require a bit more effort. Here's how you can start using these services, starting with PayPal.
PayPal is mainly an online service, so it's only natural to assume that the getting started process is online too. To get started, the first thing you'll need to do is visit the service's official website and create an account. Doing this is pretty simple. Just click the sign-up button, and you'll see a form appear. Make sure you enter the correct personal details, including your name, address, phone number, etc. On top of this, you'll need to go through an online identity verification process. PayPal takes security seriously, which is why it includes this step in the account setup.
When you're done with the previous steps, your account should be live and good to go! The last thing left on the to-do list is funding it. You can do so by adding a payment method to your account through a browser or the official mobile app. Users will be happy to hear that there are plenty of options to choose from here. Most of the popular banking services are included but be careful, they all come with individual fees unique to them. For example, if you choose to fund your account with a traditional bank transfer, you won't be charged a penny! In contrast, choosing to fund your eWallet with a credit card will incur a charge of 2.5%.
The MasterCard getting-started process is one most adults are familiar with. Since the service partners with banks and financial institutions, you'll need to visit one of these and apply for a credit card. This might sound like grueling work, but it's pretty easy to do. Since the service has a massive worldwide network, you should be able to find a qualifying financial institution nearby in mere minutes. You can do this through a quick internet search, or you can use the nifty locator tool on the service's official webpage. Before you head in, remember that you need to choose between a credit or debit card. Do your research and see which of these two works best in your favor.
Once you've made your choice, you can proceed to the main event. The first thing you'll need to do is fill out a few forms with personal information about your finances, marital status, and other similar details. For some users, this might seem a bit invasive. Rest assured that this information will only be used by the bank to create your account. On top of this, you'll also need to verify your identity. This is much easier than it sounds. All you need to complete this process is a valid photo ID document to show the teller. You can use a passport, driving license, government-issued ID, or other similar forms of identification.
That about wraps up the MasterCard getting-started process. After everything is submitted, the bank will approve your application and start working on your card. It shouldn't take too long to prepare it. Cards are usually ready within a few days and can be delivered through mail or picked up on location.
Using PayPal and MasterCard Across Online Casinos
Using PayPal and MasterCard as your go-to online casino payment methods comes with some top-tier perks. Above all, these include security and accessibility. Both methods are available in some of the best online gambling venues worldwide, so you can pick and choose between casinos with various offers. Once you find one with content matching your taste, you can proceed.
If you've decided to use PayPal as your online casino deposit method, here's how you can proceed:
Look for PayPal's logo on the list of Payment Methods/Deposit Methods at the casino's Cashier/Banking section. 
Click or tap on it, and a new pop-up window will appear. 
Log into your eWallet account using your credentials. 
Enter the amount you'd like to deposit at the casino. 
After the authentication procedure, confirm your transaction. 
As soon as you've confirmed it, the money will instantly arrive on your casino balance. 
PayPal withdrawals come with an incredible list of perks that are bound to impress any user. Since the method is an eWallet, it boasts short processing times. Thanks to this, you can expect near-instant withdrawals from the service! On top of this, withdrawing with the method is just as easy as depositing. To do so, users can follow the same steps listed above, with a few tiny changes. While PayPal processes transactions insanely quickly, the casino you choose might not. Keep in mind that it might take the operator a few days to approve your withdrawal.
MasterCard is an excellent choice for players that like to kick it old-school. If you've landed on this method, here's how you can start depositing:
Choose the "Deposit with Credit/Debit Card" option.
From the list of offered credit/debit cards, select MasterCard as your deposit option. 
Enter the card's number, expiry date, your name as the cardholder, and the CCV2 code on the back of the card. 
Specify how much you wish to deposit and confirm the transaction. 
In an instant, the funds will arrive on your balance!
Withdrawing with MasterCard isn't always the most pleasant experience. The process itself is practically identical to depositing, but it comes with a few drawbacks. First, the withdrawal option isn't always available. While this is only the case in select venues, it's still a hurdle some players will need to get through. Second, MasterCard withdrawals are on the slower side compared to most modern payment options. Generally, it takes around 5-7 days for players to receive their cashout. Add to this the credit card ban effective in some regions, and things get even trickier! 
Advantages and Disadvantages
PayPal and MasterCard may be fundamentally different, but they still share many positive traits. To start, both services boast availability across the wider online gambling space. They make an appearance in most top-tier online casinos, and even in smaller operators that function locally. On top of this, they also share a few more pros that make them excellent picks. These include a reliable service, high-end safety procedures, and a spotless reputation!
Separately, these services still have much to offer. PayPal is the more modern choice of the two. It prioritizes speed, giving users a chance to make instant deposits and withdrawals around the clock. While this might be one of the main reasons users choose the service, another is the anonymity it grants. There's no need to share your banking info with the operator when using an eWallet, which adds a bonus layer of security to protect against scams! Despite its pros, the service isn't perfect. They might not be too over-the-top, but PayPal does come with fees players should be mindful of.
MasterCard's reach is unparalleled. The service has a practically unmatched global network that gives players access to nearly any shop or service worldwide. The convenience and safety it offers are also excellent pros to consider, but that doesn't mean you should overlook its cons. The service has slow processing times for withdrawals and has run into a few problems with the credit cards it issues in specific regions.
Now that we've summarized some of the key points in this text, it should be easier for you to choose between these two excellent options. Both are sure to provide a positive online gambling experience, but their respective traits will undoubtedly make it feel more personalized for the right user.
Payment Methods Comparison
Payment methods name
PayPal
MasterCard Credit
Available accounts
2 accounts (1 personal + 1 business account)
n/a
Available currencies
AUD, BRL, CAD, CNY, CZK, DKK, EUR, HKD, HUF, ILS, JPY, MYR, MXN, TWD, NZD, NOK, PHP, PLN, GBP, RUB, SGD, SEK, CHF, THB, USD
n/a
Account management fees
free
n/a
Account unused
free
n/a
Exchange fees (FX)
2.5%
n/a
p2p Money transfer
Send money p2p
free
n/a
Receive money p2p
Free for p2p in same country and currency by using bank or PayPal balance only.By transferring money internationally, with different currencies or by using a credit card the fee is between2.9% + 0.30 USD (from US to US account) and7.4% + 0.50 USD (from US to Brazil account)–> PayPal User Agreement #Receive Money
n/a
Deposit fees
Bank transfer
free
n/a
Instant bank transfer
free
n/a
Credit card
between 2.90% + 0.30 USD and 7.40% + 0.50 USD
n/a
Withdraw fees
Bank transfer
free
n/a
Cheque
1.50 USD
n/a
Prepaid card at the ATM
1.95 USD
n/a
To merchant site
free (only available at few online gambling providers)
n/a
Cashback and promotions
Additional bonus programs
none
n/a
PrePaid card
PayPal PrePaid MasterCard
n/a
Requirements to order
customer for 60+ days with premier or business account
n/a
Fee to order
free
n/a
Membership
4.95 USD/month
n/a
Costs for cash withdrawals at the ATM
1.00 USD + 2.5% FX fees, 1% + 2.5% FX fees outside the US
n/a
ATM transaction decline fee
1.00 USD
n/a
Costs at points of sale
free
n/a
Stop payment fee for preauthorized
10 USD
n/a
Online bank statement
free
n/a
New PIN
free
n/a
New prepaid card
5.95 USD
n/a
Cash withdrawal at ATM limits/24h
940 USD
n/a
Points of sale limits/24h
5,000 USD
n/a
Delivery time
2-4 weeks
n/a
Available currencies
EUR, USD
n/a
Validation
3 years
n/a
Two factor authentication
PayPal Security Key
n/a
Fee to order
29.95 USD
n/a
Money-back guarantee in case of fraud
yes
n/a
Link to terms & conditions
https://www.paypal.com
https://www.mastercard.co.uk/en-gb/vision/terms-of-use.html
No casinos support both PayPal & MasterCard Credit, click PayPal or MasterCard Credit to show casinos that just support that method.