Players Rewards Card vs. Discover
The world of online gambling makes many things easy, but choosing between excellent payment options like Player Rewards Card and Discover isn't one of them. These methods are just two of the countless payment services available to online gaming fans. They're reliable, convenient, and pretty popular among casino connoisseurs, but this is pretty much where the similarities stop. Despite being starkly different in their approach, these services have a common goal – to make transactions as smooth as possible. Ultimately, all payment services strive to achieve the same, so what makes these two special? In this text, we'll try to find an answer to that question. Why use Player Rewards Card or Discover in online casinos?
About Player Rewards Card and Discover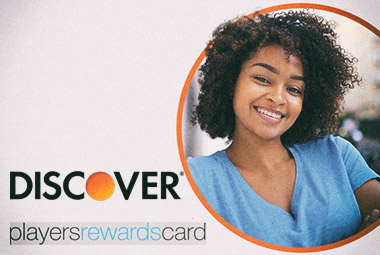 Player Rewards Card and Discover operate in starkly different manners. The former boasts two services – an eWallet and a prepaid card. Both were made as bank card alternatives, so they were essentially designed to be much different than what we see with traditional banking systems. Discover is a credit card. With this information, it's easy to see why they work so differently. The former was meant as a replacement for the ladder! Of course, bank cards still hold up well and have many perks, so we doubt they'll disappear anytime soon.
The first method we'll look at here is Player Rewards Card. As the name suggests, this card was made with players in mind. Of course, these aren't just any players, but online casino fans specifically! The team behind the service consists of experts in the field that saw a need for a specialized card with a unique set of perks. While it wasn't easy, they put together their efforts and created a payment option that does this flawlessly. What's better, they split it into two different services for maximum convenience. These include an eWallet and a prepaid card.
As you can probably imagine, the perks of using Players Rewards Card are pretty specific. They aim to boost the gameplay experience for casual players and veterans alike, offering enhancements to traditional casino boosts. One perk players can expect from this service is the Deposit Match. For every deposit they make at an eligible venue, players are rewarded a 10% Deposit Match to have fun with. Another excellent perk of the service is access to exclusive bonuses and promotions. You'll find that loyalty grants many benefits with this method, so the more you keep using it, the more perks you can expect to see!
At the moment, Players Rewards Card partners with about 20 venues. Sure, this number may be small, but quantity isn't an important factor here. The quality of these partnering sites is through the roof! They've all been vetted to ensure they're fair. On top of this, they're licensed, have stellar reputations, and have top-tier games that are some of the best on the market. Among these venues, you'll find a host of online casinos, a few online Bingo sites, sportsbooks, and even exclusive Poker sites.
Players Rewards Card practically guarantees a good time with its selection of operators. Sure, there might only be a few of them, but they're hand-picked premium brands. While this takes care of one concern, there is another thing players should keep in mind. The service is limited by its availability based on location. It's currently available exclusively to players in the US and Australia. If you're not within these regions, you might have to look for a different option.
As we mentioned previously, Discover is a credit card service. It debuted back in 1986 in the United States, and it's operated by a popular local brand called Discover Financial Services. One of the most noteworthy things about Discover's beginnings is how hard it had to fight to be recognized. Since it launched long after the bank card craze began, competitors like AmEx, VISA, and MasterCard had already established roots nearly everywhere. Despite the insanely fierce competition, the service managed to prove its worth and steadily build a global user base of over 5 million people!
While the growth of Discover started in the US, it quickly spread throughout Europe and other regions. What's impressive about the credit card's growth is that it practically had to convert people that already used other card brands. Bank cards were a staple for most at this point, so the service enticed people to switch over with its top-tier set of perks. Of course, many of these are unique to the service and are great incentives to give it a shot. They include a lack of annual fees, 5% cashback on every purchase, and a convenient platform that doesn't require setting up a customer account.
The perks listed above might be impressive all on their own, but they're even better when paired with the common benefits players get in online casinos. These perks might not have been targeted at online gambling fans, but they mix surprisingly well with casino promotions and bonuses. This is especially true in the case of the 5% cashback perk. Combined with similar cashback offers from casino promos, players can use it to their advantage and take back a hefty sum. Naturally, this can be used to extend playtime!
On top of everything we already mentioned, Discover is known for its high-end security. The best-known safety feature here is the merchant codes. Discover Financial Services has a unique code assigned to the brands and businesses it works with. Since this code appears on each transaction, it's easy to track, ensuring the delivery goes smoothly. While this significantly heightened security, it did spell trouble for online gambling fans in the past. Since US laws on online gambling were much stricter than they are now, banks used these codes to identify online casino payments and block them. Sure, this is no longer an issue, but it did mark a significant period in the history of the service.
Getting Started with the Two Methods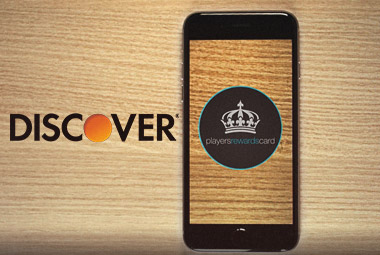 To get started with Players Rewards Card, the first step is visiting the service's official webpage through your PC or smartphone. Once you do, click on the corresponding button and start the registration process for your eWallet. The process itself is pretty basic. It covers a form that players will need to fill out and a confirmation step. The former means sharing your email, phone number, address, and other information with the service. The latter consists of opening a confirmation email and is a way to improve security.
Getting your hands on the Players Rewards Card prepaid card is a breeze after this. Since you already have an account with the service, they're already privy to the information needed to set up your card. Simply request one, and it will appear at your door in no longer than one week. Something to note is that the card doesn't just arrive by itself. It comes in an envelope with some extra tools you'll need down the line. These include card details and verification codes. Keep these close, as you won't be able to transact without them.
You might be done with the getting started process for Players Rewards Card, but there is one more thing you need to be aware of. Every PRC account is made up of two parts. The first is your Real Money account. As the name suggests, this is where all of your real money goes. You can load it anytime with a viable payment method and use it to transact without missing a beat. The second part is the Rewards Money account. This is where all of your rewards and bonus money reside. It comes pre-loaded with some treats and can be filled up additionally by using your card at qualifying online gambling sites.
Discover is a credit card, so you're probably thinking that you'll need to visit a bank to get the thing started. Thankfully, there's no need to leave your home to apply for a card. Since the service doesn't operate on a traditional bank network, it issues cards itself. Because of this, it can provide users the convenience of setting their cards up anytime, anywhere. Besides this, the process is essentially identical to getting a bank card. If you've ever applied for one of these, you should be familiar with how everything goes, but if you haven't it might be a good idea to explore the various card options the service offers.
To get the ball rolling, visit the Discover website and choose a card you'd like to apply for. Once you do, you'll find with some forms you need to complete. These forms will test your eligibility for a credit card, so expect questions about your finances, relationship status, and other personal information. Of course, all of this is kept private and used exclusively to set up your card. After submitting the forms, you'll need to verify your identity. To do this, submit a valid photo ID. The agents on the other end will check your info as soon as possible and start working on your card when it gets green-lit. 
Using Players Rewards Cards and Discover Across Online Casinos
Getting started with either of these services should be easy. With Player Rewards Card, you can choose from a list of about20 top-tier online casinos hand-picked by the service itself. With Discover, players are privy to access nearly 200 online gambling venues with various fun offers. Explore your options and choose the one that works for you.
If you've decided to use Players Rewards Cards as your go-to payment option, here's how to proceed:
Head over to the casino's Payment Methods/Cashier/Banking page.
Choose Players Rewards Card from the list of available solutions and click or tap on it. 
Decide whether you'd want to deposit with your card, your Real Money, or your Rewards Money account. 
Log into your account to get access to your Real Money/Rewards Money account. 
Enter the amount you'd like to deposit. 
If using the prepaid card, enter the card details, as required. 
Confirm the transaction, and the money will immediately arrive in your account. 
To withdraw using the Players Rewards Card service, you'll need to refer to the steps we've listed above for depositing. The process is nearly identical, with a few small changes that are easy to implement. Something we should note about PRC withdrawals is that they will arrive on your Real Money account. The Rewards Money account is exclusively there for bonus funds.
 If you've chosen to deposit at an online casino using Discover, here are the steps you'll need to take:
Choose the "Deposit with Credit/Debit Card" option.
From the list of offered credit/debit cards, select Discover as your deposit option. 
Enter the card information requested on the screen.
Enter the 3-digit verification code provided by Discover. 
Specify how much you wish to deposit and confirm the transaction. 
In an instant, the funds will arrive on your balance!
It should come as no surprise to learn that Discover does offer withdrawals. Unfortunately, they do come with a few drawbacks. The main problem users have with these withdrawals is the waiting times. They're much longer than what we usually see with other services, taking five to seven days. When you add to this the standard casino processing times of a few days, you can imagine how much of a headache this is. Another thing to consider is the credit card ban active in countries like the UK and Germany. Since Discover is a credit card, it can't be used for online gambling purposes in these regions.
Advantages and Disadvantages
Choosing between Players Rewards Card and Discover is no easy decision. Both services have premium features, so both lead to excellent perks in the online gambling space. Below, we'll go over them again to push you in the right direction.
The bonuses and various loyalty rewards are what make Players Rewards Card such an excellent option for online gamblers. These exclusive boosts can make your stay in an online casino more pleasant and lead to great rewards. On top of that, you also get excellent security and speedy transactions. Of course, the biggest con of this service is the limited availability. Not only is it exclusive to the US and Australia, but it's only available in about 20 online gambling venues.
Discover also comes with some exclusive perks. While they're not specifically aimed at online gamblers, they have excellent synergy with most online casinos! These perks include 5% cashback on all purchases, no annual fees, and a convenient online banking platform. The biggest con with this service can be a massive let-down. Withdrawals with the service are slow, taking up to seven days.
Even with their flaws, these services are still some of the best options you'll run into. If you can get past the inconveniences and focus on the premium perks they bring to the table, there's no doubt in our minds you'll have an unforgettable online gambling journey!
Online Casinos that support both Players Rewards Card & Discover: