Players Rewards Card vs. MoneyGram
When online casino players look for payment methods to use for safe deposits and withdrawals, they are often found at a crossroads whether to use Players Rewards Card or MoneyGram. While significantly different, these two payment solutions are pretty popular among online casino players, who are fascinated with the things they can offer. Being different, the two solutions have their own player fan bases, but that's because they both most certainly tick many boxes when it comes to the things different players are looking for in a payment method. Why choose Players Rewards Card or MoneyGram as your online casino payment method?
About Players Rewards Card and MoneyGram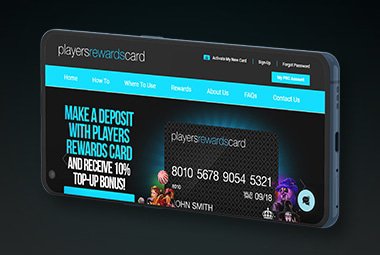 Players Rewards Card and MoneyGram do offer two services that are not similar in the slightest, yet, the thing they have in common is the popularity among online casino players. The former is a solution offering two services, the eWallet and the prepaid card, while the latter is a money transfer service. You've probably heard about them both, especially if you're a US player since the two are solutions originating in the US. As such, they are both extremely popular across the US casinos, offering players the most rewarding online gambling experience. Stay with us to learn why.
Launched by a bunch of online gambling industry experts with the aim to facilitate online casino players' banking experience across casino sites, Players Rewards Card was designed with the gambler in mind. It is a solution that offers the most convenient conditions and the best perks an online casino player can ask for. As introduced, is it a solution that offers the eWallet and prepaid card service, so that players can choose one of the two to use for the most seamless transactions.
But what it stands out in is the fact that it is pretty generous with online casino players. It gives them a 10% Bonus Match across any of the eligible casinos for each transaction they make with it. It also gives them access to special promotions and bonuses across these casinos and rewards them for their loyalty in many other ways. Each time you transact with it, you can rest assured that your loyalty will be recorded and you'll duly be rewarded for it.
When it comes to the number of online gambling sites that are offering it, there are around 20 partnered sites that you can join to use its services. These are leading poker, bingo, sportsbetting and casino sites which are properly licensed, offer fair play, powered by premier software developers and, of course, offering the best bonuses and promos.
Therefore, you can rest assured that even though the number of these sites is quite limited, your choices are vetted, proven and trusted, offering some of the best games out there. Consider them as handpicked for you, and just choose one of your preference to join without worrying about anything. Well, there's one thing you should consider. The solution, as amazing as it is, is only available to US players, as we mentioned, and to Australian players. Unless a player from these two countries, you cannot actually use it.
MoneyGram's story begins back in 1940…
…the Minneapolis-based money order company known as Travelers Express. The company laid the grounds for the money transfer service offered by it today, which was actually launched in 1998 when Travelers Express merged with another financial firm, Integrated Payments Systems Inc. Even though initially available in the US only, by 2004, it managed to spread to many other countries across the world and rebranded to MoneyGram International.
Today, there's not a person out there on the planet that hasn't heard of or used MoneyGram at least once in their lives. This is an extremely well-known money transfer service, which has gone to great lengths to make its name memorable and known by literally everyone, from anywhere. It has managed to open hundreds of branches in all parts of the world, in cities and small towns, making sure people are getting the easiest way to transfer money overseas in the most affordable way. Precisely for the convenience it offers, it has over 150 million customers from all across the world.
Previously, there was only one way to use it
You needed to visit one of its branches to request a transfer. But today, in addition to this way, you can also request a transfer digitally. That's right, the solution has gone digital, too, leveraging its contemporary, API-driven online platform, which helped it become one of the best P2P digital payments providers. When you explore its website, though, you'll see that today it offers more than money transfers, but many other products and services, too, at your disposal as soon as you get started with it.
And while previously, when it only had a land-based presence, MoneyGram was not that popular today, you will find it across a plethora of online casinos. Its popularity increased when the solution went digital, for obvious reasons. You can request a transfer with it from literally any place in the world, the receiver can be from the other side of the world, and the transfer will still be successful, and above all, quick and affordable.
As such, it is the perfect solution to be chosen by any online casino player looking to transact to and from any online casino, regardless of where the operator is based. But we must mention that, just like Players Rewards Card, MoneyGram is also quite generous with its customers. It gives them a 20% discount on the fees for their next transfer, and with each transfer, users are collecting Plus Rewards. Therefore, whichever of these two you choose to go with, you can rest assured that you'll get an exceptional online casino experience. So, let's see how to get started with both of them.
Getting Started with the Two Solutions
Both of these payment methods are simple to get started with and use, that's for sure. So, just follow our lead and you'll be done with the getting started process in no time.
Visit Players Rewards Card's official website to start the procedure. You would need to first create your eWallet account. To apply for an eWallet account, you would need to fill out the pre-set application form, entering your home address, email address and full name. After you submit the form, you'll need to wait for an email with confirmation details. When the email confirmation arrives, and you click on it, your account will be ready to be used.
Now, given you created your eWallet account, you should know that Players Rewards Card will automatically have prepared your prepaid card. Since you've provided all the necessary personal details, its team had everything it needed to create your prepaid card, which will arrive at your home address within a week. With it, in the envelope, you'll also get the necessary codes and card details for verification and authentication, so that you can start using the card right away.
On that note, you should know something else about Players Rewards Card. When you create your account, it will be an account consisting of two parts, the Real Money and the Rewards Money account. This is a unique feature offered by the solution, which allows you to use rewards money, bonus money, pre-added on your Rewards Money account, so that you can use it right away to make your first deposit at an online casino, even if your Real Money account has not been funded yet! What's more, this bonus money will automatically be available on your prepaid card, so you can use either the eWallet or the prepaid card to make your deposit, which is awesome! The Real Money account, of course, needs to be funded with real money, using any of the convenient payment methods offered when you access your account. 
To get started with MoneyGram…
…you'd first need to decide whether you'd want to request a transfer online or go to the nearest land-based branch. If you go with the second option, you can use the locator tool on its official website, type in your home address, and see where the nearest branch is located. If you go with the first option, you would need to go to the website or to Apple App Store or Google Play Store to download its app and create your profile, depending on whether you're using an iOS or Android device.
The registration procedure, regardless of whether you go through it via your browser or app, would be the same. It would involve you sharing your phone number, email address and password. After you accept the Terms of Use of the solution, the account will be ready. Next, to request a transfer with it, you would need to specify the amount of funds you'd want to send and to whom. Then, specify the way in which the receiver would like to receive their money, and use your card or bank account to pay for the transfer. Fees would be involved, calculated by the solution after you've entered all the information needed for the transfer to be successful. These fees depend not only on the payment methods involved, but also on the amount of money being sent, but you can rest assured that they will be reasonable. After you pay for the transfer, you will get a reference number that you'd need to share with the receiver so that the transfer is complete and successful.
Using Players Rewards Card and MoneyGram Across Online Casinos
When it comes to the choice of casinos you can join to play with Players Rewards Card, we said that the number is limited. You have 20 casinos to explore to find the one you'd like to join and use Players Rewards Card, but with MoneyGram, the number is tripled, and you have over 60 sites to go through to find the best one for you. So, to start depositing with either, your first task would be exploring and choosing a casino to join. Then, you'd need to create an account with that casino.
To make your first deposit with Players Rewards Card, you would need to go through these simple steps:
Head over to the casino's Payment Methods/Cashier/Banking page.
Choose Players Rewards Card from the list of available solutions and click or tap on it.
Decide whether you'd want to deposit with your card, your Real Money or Rewards Money account.
Log into your account to get access to your Real Money/Rewards Money account.
Enter the amount you'd like to deposit.
If using the prepaid card, enter the card details, as required.
Confirm the transaction and the money will immediately arrive on your account.
When it comes to withdrawals, Players Rewards Card is actually quite a popular withdrawal method among players. Naturally, the funds, once requested, arrive in your Real Money account. So, just go through the same procedure as described for deposits with the Real Money account, specify how much you'd like to cash out and wait for the casino to approve your request. As soon as it does, the money will instantly arrive on your eWallet.
To fund your online casino account with MoneyGram, go through these steps:
Visit the casino's Cashier/Banking Methods/Payments page.
Look for MoneyGram's logo and click or tap on it.
In the pop-up, enter your credentials to log into your account.
Go through the same steps as explained previously for sending money with the transfer service.
Specify how much you're sending and enter the details of the casino's preferred way of receiving the money, if not pre-entered.
When fees are calculated, make sure you pay for the transfer using your card or bank account.
As soon as the casino gets the reference number, the money will arrive on your balance.
MoneyGram is on the list of the top withdrawal methods for USA players. The withdrawing procedure is similar, only the other way around. After you request how much you'd like to receive and get the reference number from the casino, you can cash out your winnings as you please, as you requested previously.
Advantages and Disadvantages
Players Rewards Card and MoneyGram have two things in common: they are both really rewarding and generous towards their loyal users and they are awesome for online casino transactions as they can be used for both depositing and withdrawing.
Add to that the fact that they are both available across a decent number of casinos, and there you have the solutions you need. They are both safe and popular among online casino players, and they both offer instant deposits. Withdrawals with them are also quick.
And since the two are quite different…
…they come with different downsides. Players Rewards Card can only be used by the US and Australian players, and only across two dozen casino sites. MoneyGram, although used globally, comes with fees. So, make sure you compare your notes for the two to decide which one would suit you better. Whichever of the two you decide to go with, you'll see that you won't regret your decision.
Payment Methods Comparison
Payment methods name
Players Rewards Card
MoneyGram
Available accounts
1 account
1 account
Available currencies
USD, AUD
USD
Account management fees
free
n/a
Exchange fees (FX)
n/a
Fees vary depending on where you are sending, how much, and how you are paying.
p2p Money transfer
Send money p2p
n/a
Fees vary depending on where you are sending, how much, and how you are paying.
Receive money p2p
n/a
Fees vary depending on where you are sending, how much, and how you are paying.
Deposit fees
Credit card
free
n/a
Cashback and promotions
Promotions
10% Top-Up Match Bonus
n/a
Link to terms & conditions
https://www.playersrewardscard.com/terms-and-conditions
https://www.moneygram.com/mgo/us/en/m/terms-and-conditions