Players Rewards Card vs. Paysafecard
Different players across online casinos are looking for different things in a payment method, and with Players Rewards Card and PaySafeCard, they get two great options. These two methods are not different; they are actually offering one similar service. They both have a growing fan base, players who trust them and choose them over any other method. The former is a bit less popular than the latter, however, they both have awesome things to offer to users, especially online casino players, so stay with us to learn more about them, to decide which one would suit you better. Why decide to use Players Rewards Card or PaySafeCard as your online casino payment method?
About Players Rewards Card and PaySafeCard
Not only are their names similar, containing the word "card" in them, but so is the service they are offering. Players Rewards Card and PaySafeCard are both prepaid cards, fundamentally, even though the former also offers the eWallet service. As such, they are alternatives to credit cards and bank accounts, and great options to be used by online casino players since they both can provide them with the privacy they need. They are especially valuable for those players who are not allowed to use credit cards for gambling, like UK players or simply don't want their credit card or bank account info to be shared with casino operators. Let's check what the two methods can actually offer.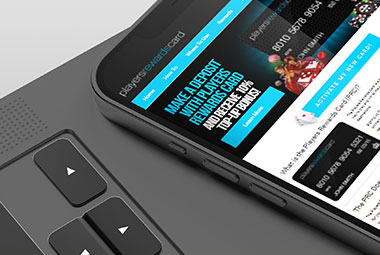 There are two important things you need to know about Players Rewards Card right away before we go into details about how it functions. First of all, this is a method only available in Australia and the US. So, if you're not from these countries, you should be aware right away that you won't be able to use it. And two, it is a payment method option only across two dozen online casinos. These are sites the method has partnered with, so if you were looking for a more varied choice of casinos, that won't be possible.
Now, we can explain these in detail. Players Rewards Card was actually launched in the US, by real online casino players, who wanted to create the perfect payment method to be used across online casinos. They wanted to create a method accepted across elite operators, to form some kind of a club where players could join the best casinos, and enjoy special promotions and bonuses to boost their winnings.
That's how they created this solution, and that's why you'll only find it across around 20 online casino sites, listed on its official website. These are all handpicked gambling sites, casinos, poker sites, bingo and sportsbetting sites that you could join, all vetted, licensed in the best jurisdictions and offering a huge variety of games for you to try.
And when you decide to use it, you should know that you will instantly get a 10% Bonus Match on your first deposit across these eligible casinos. That way, you'll be rewarded for your loyalty and for choosing to use it over any other solution. In addition to this initial bonus, you should know that many other bonuses and perks will be waiting for you across the eligible online casinos. Stay with us to learn how to get started with it and use its services.
PaySafeCard only offers the prepaid card service. However, it offers different types of prepaid cards, so you'll still have choices to make with it. Contrary to PRC, which is only available in 2 countries, PaySafeCard is available in over 40 countries across the globe. It is a truly global solution, offering over 650,000 outlets where you could purchase your prepaid card. Add to that the fact that it is offered across over 900 online casinos, and there you have it: the solution to use regardless of where you're from.
This is one of the most popular solutions you will find across the online gambling industry, founded way back in 2000. It has been operating for two decades now, each year further strengthening its position as a leader. It helps the matter the fact that it has PaySafe Group behind it, one of the most well-reputed financial companies across Europe, the name behind two other hit methods, Skrill and Neteller.
As said, throughout the years, it has launched several card types. In addition to the regular card, which can be purchased and used both online and offline, there's one in collaboration with MasterCard, for which you can apply anywhere MasterCard cards are issued, and another one that can only be used online, MyPaySafeCard. But you can also use the UKash service because PaySafe has acquired the solution a few years back. So, continue reading to figure out how to get started with it and use it across online casinos.
Getting Started with the Two Methods
The getting started procedures with these two methods, although offering the same prepaid card service, are quite distinct. Let's check them out.
To get started with Players Rewards Card…
… you would need to visit its official website. You would need to apply for an account with it, so first, you start with the creation of your eWallet. Fill out the application by entering your name, email address and home address. Submit it, and wait for an email confirmation that your account has been approved.
The solution will use the personal details you provided to prepare your prepaid card. And, in a few days, within a week, expect the card to arrive on your doorstep, along with all the needed codes for verification. On its website, you have detailed instructions on how to start using the card, but overall, it would be pretty intuitive to use, as you will see later, just like any other prepaid card.
But, you should know a thing or two about the account. You will see, as soon as you log in, that you'll have a Real Money and a Rewards Money Account available. You will be able to top up the Real Money Account with real money, using several traditional payment methods. But, the Rewards Money Account will already be pre-filled with bonus money! That's right, you will get a kick-start bonus to start making deposits across the eligible online casinos. The bonus money, though, cannot be cashed out, but only used across the eligible online casinos for claiming bonuses and making deposits.
To start using PaySafeCard…
… first, you'll need to decide whether you'd want to purchase the card online or offline, and also, which card type you'd like to use, from the ones mentioned earlier. Then, go to its official website and find the Find Sales Outlets tool. This tool has all of the 650,000 outlets listed, and as soon as you enter your home address, it will generate the nearest PayPoint outlets to your house. These are local stores, markets, gas stations that you have around the corner of your home, so you won't need to go far to complete the actual purchase. After you purchase your regular prepaid card, you will get a 16-digit code that you'll later be using for deposits across online casinos.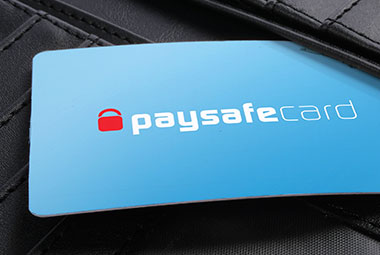 But, as mentioned, you can also purchase the card online, by registering an account with PaySafeCard. You would need to provide the solution with the necessary ID documents, your personal details such as email address, name and country of residence. Having this account, you can purchase a card with larger denominations, which usually go from $10 to $100. And you can top up your online-only MyPaySafeCard, using a credit card, a bank transfer or your regular PaySafeCard. To apply for and get issued with the PaySafeCard MasterCard card, visit any bank or financial institution that issues MasterCard cards.
Using Players Rewards Card and PaySafeCard Across Online Casinos
Players Rewards Card, as mentioned, is available across around 20 online gambling sites, handpicked sites that provide you with next-level gaming. But, PaySafeCard is available across over 900 sites, so your options are absolutely massive. Explore the eligible casinos if you go with PRC, or over 900 of the industry's global casino sites if you go with PaySafeCard, and join the casino of your preference.
To make a deposit with Players Rewards Card, do the following:
Head over to the casino's Payment Methods/Banking page.
Look for PRC's logo and press it.
Choose whether you'd want to fund your casino account with the Real Money, Rewards Money Account or the prepaid card.
If you go with any of the two accounts, log in entering your credentials. If using the card, enter the required card details such as card number and expiry date.
Specify how much you'd want to fund your casino account with.
Confirm the transaction and in an instant, the money will arrive on your balance.
Withdrawals with PRC are, of course, possible, and will arrive on your Real Money Account. From there, you could transfer them to your prepaid card, or keep them there. Nevertheless, the withdrawal procedure will be as easy and simple as the depositing one, so you have nothing to worry about.
To fund your online casino balance with PaySafeCard, you would need to follow these steps:
Go to the casino's Payment Methods/Banking page.
Look for PaySafeCard's logo and press it.
Specify the amount of money you'd like to use to fund your casino balance.
Enter the 16-digit code and confirm the transaction.
Watch the money arriving on your account in an instance!
As you will see, PaySafeCard is not an option for withdrawals across too many casinos. That's because to make a withdrawal with it, you'd have to have the online-only MyPaySafeCard card. The other cards won't work because there won't be a return address where the casino could send you your winnings.
Advantages and Disadvantages
As you could see, Players Rewards Card and PaySafeCard have a lot of things in common, but also significant differences that could actually help you decide which one would suit you better.
Players Rewards Card is an option for the US and Australian players only. It is available across select online gambling sites, leading sites that you can join without questioning their legitimacy. There are around 20 sites you can explore to join. Now, should you decide to use it, you know that you will get plenty of perks as an online casino player, such as a 10% Bonus Match right after you make your first deposit, in addition to many other special bonuses and promotions. On top of that, you get to use the bonus money on the pre-filled Rewards Money Account as soon as you log in.
While with it you get two methods in one, to make withdrawals with it, you can only use the Real Money Account and not the prepaid card. That's basically a minor downside, which is so insignificant because later, you can transfer the money from your Real Money Account to your prepaid card with ease. The biggest disadvantage with it is that it is only accepted in 2 countries and in 20 casinos, so not everyone can use it.
PaySafeCard is a global prepaid card available all across the world, purchasable both online and offline, across over 650,000 PayPoint outlets. No matter where you're from, you will probably be able to use it. The biggest advantage with it is that it is available across most, if not literally all, online casino sites out there! Over 900 sites accept it as a deposit method, so you can rest assured that you'll find one that suits you real fast, to make instant deposits with it. You have several card types to choose from and use.
On that note, to make withdrawals with it, you can only use the online-only card, and that's a bummer for many players. That, and the fact that not all casinos accept it as a withdrawal method.
So, there you have them, all the positives and negatives these two exceptional payment methods come with. Make sure you go over them again, to finally decide which one would meet your criteria and which one of the two would suit you better. Regardless of your choice, you can rest assured that both Players Rewards Card and PaySafeCard will provide you with a great online gambling time!
Payment Methods Comparison
Payment methods name
Players Rewards Card
Paysafecard
Available accounts
1 account
1 account
Available currencies
USD, AUD
20
Account management fees
free
From the 13th Month, a monthly fee of 5 GBP will be deducted from the paysafecard account if the customer has not carried out any transactions in the paysafecard account within 12 months.
Account unused
n/a
5 GBP per month
Exchange fees (FX)
n/a
3%
p2p Money transfer
Send money p2p
n/a
Both the use of paysafecard prepaid codes and payment using the paysafecard account are basically free
Receive money p2p
n/a
Both the use of paysafecard prepaid codes and payment using the paysafecard account are basically free
Deposit fees
Bank transfer
n/a
4 %
Instant bank transfer
n/a
4%
Credit card
free
4%
Withdraw fees
Bank transfer
n/a
6 GBP
Prepaid card at the ATM
n/a
3% (min. 3 GBP)
To merchant site
n/a
free
Cashback and promotions
Promotions
10% Top-Up Match Bonus
n/a
PrePaid card
n/a
paysafecard Mastercard
Fee to order
n/a
8 GBP annual
Membership
n/a
3 GBP from 7th month
Costs for cash withdrawals at the ATM
n/a
3% (min. 3 GBP)
Costs at points of sale
n/a
The transaction fee is a customer fee which can be charged by individual pre-defined retailers and which must be declared.
New prepaid card
n/a
4 GBP
Cash withdrawal at ATM limits/24h
n/a
400 GBP
Points of sale limits/24h
n/a
1,500 GBP
Delivery time
n/a
4 to 20 working days
Available currencies
n/a
20
Two factor authentication
n/a
3D Secure
Link to terms & conditions
https://www.playersrewardscard.com/terms-and-conditions
https://www.paysafecard.com/en/terms-and-conditions/