uPayCard vs. MasterCard Credit
For those well-versed in the art of online gambling, the names UPayCard and MasterCard should have a familiar ring to them. Both are incredibly popular payment options within the space, offering great perks that users covet. Above all, these include excellent security and convenience, which coincidentally, are practically the only shared perks these services have. Naturally, the methods have tons of other great qualities that give them a competitive edge, respectively. While these services are undoubtedly excellent options when online gambling is in question, there are many other similar picks in the sea of payment methods available right now. If you're wondering what makes these services so special, stick around. Next, we'll try to answer the question – Why choose UPayCard or MasterCard as your primary online casino payment method?
About UPayCard and MasterCard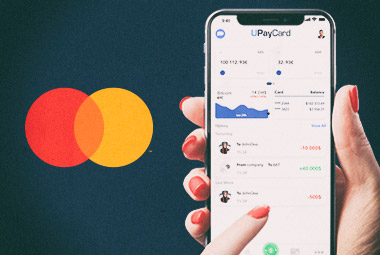 The first thing people notice when they see UPayCard and MasterCard is they both include the word card in their names. It's best to distinguish from the start that these are two very different types of cards. While the former option is a relatively modern prepaid card, the latter is a traditional bank card. These respective cards have starkly different characteristics, so don't let that confuse you going forward.
The first method we'll be talking about is UPayCard. Compared to many of its competitors, UPayCard is a pretty new service. It was established recently, in 2013, but despite its short time on the market, it's managed to amass quite the following. The service has played it cool since the very beginning. When it debuted, the market was in desperate need of a service that processed both fiat and digital currencies. Cryptocurrencies were gaining more traction by the day, and people's interest rose with it. Of course, UPayCard filled this gap in the market and gave users a chance to use both types of currencies across different services. Not only did it offer this option on its prepaid card, but it launched an eWallet with the same capability.
It's safe to say that UPayCard is now a globally recognized brand. It's available in nearly all corners of the world, with few exceptions. If you're wondering where the service doesn't reach, these territories include the US, Angola, American Samoa, Afghanistan, the Republic of Moldova, and Bahrain. While it's unfortunate that some pretty big gambling markets aren't within the company's grasp, the rest of the world is free to enjoy the benefits the service offers.
On the topic of benefits, UPayCard has many. One of the biggest perks for online casino fans is the heightened anonymity attached to the service. Since it is a prepaid card, the chance of hacks, info leaks, and other shady practices are practically out of the picture entirely. These issues are known to plague the online gambling space, so this is a massive advantage to have. Of course, the eWallet service also comes with some top-tier advantages. These include convenient online transacting, fast processing speeds, and excellent security.
You might have thought that we're done singing UPayCard's praises, but there's still more to come. A problem players won't have to deal with when using the service is currency conversion fees. As we previously mentioned, this method support fiat and digital currencies alike. On the crypto side of things, you'll find support for tokens like Bitcoin, Ripple, Ethereum, Bitcoin Cash, Litecoin, and other popular coins. When fiat currencies are in question, most of the ones from major regions are covered. These include the UK pound, Canadian dollar, Australian dollar, Swedish krona, and more.
MasterCard is a service with a much longer history than the previous one. The now-massive bank card company started as Master Charge, a membership organization established by several big-name financial institutions. These included Wells Fargo, Crocker National Bank, United California Bank, and the Bank of California. It was founded in 1966 in the US, but it quickly gained notoriety far beyond US borders. Not long after it launched, its list of shareholders managed to amass over 25,000 financial institutions. As expected, this skyrocketed its popularity worldwide and helped establish the brand internationally. With this new wind beneath its wings, the service rebranded into the MasterCard we know today and launched its most popular product, bank cards.
There are several reasons why MasterCard is such a success today, but the main one should be pretty apparent to everyone reading this text. The service reaches nearly every nook and cranny in the world. It's available in over 180 countries, making it one of the largest global networks. As you might have guessed, this not only benefits regular users but is a massive plus to online gambling fans. Thanks to its incredible reach, MasterCard users can play in nearly all online casinos out there. Except for a few crypto-exclusive sites, this method is a viable option in most gambling venues, online and offline.
There are many things to note about MasterCard and its services, but we'll keep things simple and focus on its biggest hits at the moment. Naturally, we're talking about its various bank cards, specifically, debit and credit cards. If you're legally an adult, you're likely familiar with what these two types of bank cards have to offer. In any case, we'll still give a brief explanation of what to expect from them. With debit cards, users can spend as much money as they have available in their accounts. Credit cards work similarly, but they allow users to exceed the limited funds in their accounts and accrue debt.
Depending on your financial situation and needs, both card types can work well for you. Still, there have been some development online casino fans should consider before proceeding. The use of credit cards has been banned in a few countries. For now, these include the UK and Germany, but others may follow in the future. This might not impact most players outside of these regions, but it could pose a problem if you want to play in venues based in these territories.
Getting Started with the Two Methods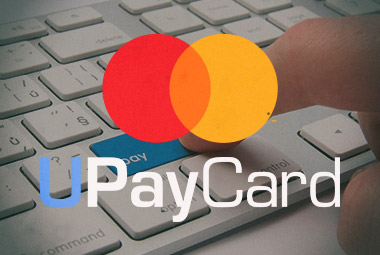 Getting started with these methods is much simpler than you might have imagined. With UPayCard, you'll need to decide whether you want to use the method exclusively for depositing, or if you want to withdraw with it as well. If the former is enough, then the prepaid card service should do. If you want to enjoy the benefits of the latter option, then creating an eWallet account is crucial.
Let's start with some good news. No matter which option you've chosen, the getting-started process with UPayCard is simple. The first thing you'll need to do is visit the official website for the service. Once there, you can register an account with a few clicks. Of course, you'll need to fill out a form with some personal information before this, so make sure to enter it correctly. Don't worry, the service is highly secure, so the information you share won't reach any third parties.
While the stricter sign-up guidelines might seem like a hassle, they're a good sign. They exist because the service is approved by the UK Financial Conduct Authority and complies with KYC rules. Naturally, this ups the method's safety, giving players some much-needed peace of mind. Another security step in the process is identity verification. To complete this step, you'll need to submit valid identity verification documents. Most forms of photo ID work here, so a driving license or passport is more than enough.
When you've completed all the previous steps, your account should be live, and you can proceed to the main event. All that's left to do now is fund your account. Luckily, users have many ways to do this. You can use services like Neteller, Poli, Skrill, QIWI, and several other popular payment methods. Once you have some money in it, you're to shop, deposit in online casinos, and explore everything the online world has on deck!
The MasterCard getting-started process is something many of you might already be familiar with. To get things going, you'll first need to find a bank or financial institution near you that partners with the service. Doing this should be a breeze. As we already mentioned, the service has one of the largest global networks. Because of this, most local and international banks partner with it to issue credit and debit cards. Speaking of these two options, you'll need to choose one or the other before proceeding. Take some time to consider the pros and cons they offer and pick the option you feel most comfortable with.
Once you make it into the bank, you can request to be issued a MasterCard credit/debit card. Of course, this means filling out a few forms and completing some simple steps beforehand. The first thing you'll notice is that the forms request very personal information. They can include questions about your earnings, marital status, living situation, etc. This data will be used exclusively by the bank, so you shouldn't worry too much about it. Another thing you'll have to do is verify your identity. Like with the last method, you'll need to show valid proof of ID to continue.
That pretty much sums up the process. Submit everything when you're ready, and the bank will process your request. They should start working on your card immediately and have it ready within a few days. If you don't feel like leaving the house, you can request it be delivered to you by mail. Of course, you can also go pick up your card on location and start using it right away.
Using UPayCard and MasterCard Across Online Casinos
Now that you have the basics down, you can start using these services in online casinos. There's plenty of good news here. First, you have access to tons of online casinos with either method. UPayCard is currently a viable option in more than 100 operators, while MasterCard can easily be found in over 1,000 of them! While the difference is pretty stark, both are high numbers. Choose the site that best suits you and proceed to the fun part.
If UPayCard is your primary choice, here's how to start depositing with it:
Head over to the casino's Banking/Cashier page and find the UPayCard logo.
Click on the logo and enter your eWallet account credentials or the card's number, depending on whether you're using the one or the other service.
Proceed to enter the amount of money you'd like to deposit.
Confirm the transaction, and in an instant, the money will arrive on your balance soon.
We already mentioned this previously, but withdrawals aren't available when using the UPayCard prepaid card option. Thankfully, this shouldn't be an issue if you're signed up for the service's eWallet! It might require some additional work to set up, but the eWallet brings nothing but positives. It boasts minuscule processing times, a convenient online banking platform, and it's an additional way for you to track and organize your finances.
If you're someone that prioritizes convenience above all else, you've likely chosen MasterCard as your primary online casino banking method. Here's how to deposit with it:
Choose the "Deposit with Credit/Debit Card" option.
From the list of offered credit/debit cards, select MasterCard as your deposit option.
Enter the card's number, expiry date, your name as the cardholder, and the CCV2 code on the back of the card.
Specify how much you wish to deposit and confirm the transaction.
In an instant, the funds will arrive on your balance!
Withdrawals are an option associated with MasterCard. Unfortunately, it comes with a few bumps along the road. The first thing users should keep an eye out for is whether the withdrawal option is available in their chosen operator at all. While this shouldn't be an issue in most venues, some operators allow MasterCard deposits, but not withdrawals. Another thing to note is the overall waiting time attached to these transactions. In most cases, it takes between 5-7 days for your money to reach your account. When you compare these waiting times to other methods, they're much longer.
Advantages and Disadvantages
If you've taken your time reading this text, you've likely made a few notes about what these methods can do for you. What's surprising about UPayCard and MasterCard is they share a few traits, despite being fundamentally different. Mainly, this includes an international reach. Sure, the latter option is much more popular, but both can be found in online gambling venues across the globe. This makes them pretty convenient for users as it gives them access to an excellent list of top-notch online gambling sites.
Separately, these methods have much to offer too. With UPayCard, players get two for the price of one. The prepaid card service is one of the best ways to remain anonymous in the often hostile online gambling environment. Players can dip in and out of different casinos without sharing any personal banking information. Paired with the eWallet's lightning-fast processing speeds, the service gives potential users lots to think about. With MasterCard, the pros are impossible to miss. The service is as reliable, safe, and convenient as can be. The method is a staple in nearly every industry, so you'll never have to worry about issues with accessibility or support.
When choosing between these methods, it's important to consider the things they lack too. With UPayCard, the primary con players will face are the fees. While they aren't unreasonable, they can set players back a fair amount. Make sure you know what you're getting into before you start loading up your card. With MasterCard, the cons are less subtle. The method's issues stem from withdrawals. These include scarcer availability and drawn-out waiting times. On top of this, the credit card ban in specific countries can also pose somewhat of an issue.
All in all, the pros outweigh the cons for both services. There's a reason why they're such hits in the world of online gambling, and a few flaws won't change that anytime soon. We're sure you'll love what you end up with, no matter what you choose. So, give their offers another once-over and get down to business!
Payment Methods Comparison
Payment methods name
uPayCard
MasterCard Credit
Available accounts
2 accounts (1 personal + 1 business account)
n/a
Available currencies
EUR, USD, JPY, GBP
n/a
One time signup bonus
free
n/a
Account management fees
free
n/a
Account unused
free
n/a
Exchange fees (FX)
3%
n/a
Deposit fees
Credit card
0.25 EUR +3.9%
n/a
Withdraw fees
Bank transfer
10-25 EUR
n/a
PrePaid card
UPayCard
n/a
Requirements to order
Personal Card and Business Card
n/a
Fee to order
free
n/a
Membership
2 EUR/month
n/a
Costs for cash withdrawals at the ATM
3.5 EUR
n/a
Online bank statement
free
n/a
Cash withdrawal at ATM limits/24h
900 EUR
n/a
Delivery time
up to 6 weeks
n/a
Available currencies
EUR, USD, JPY, GBP
n/a
Validation
36 months
n/a
Two factor authentication
3D Secure
n/a
Link to terms & conditions
https://upaycard.com/about
https://www.mastercard.co.uk/en-gb/vision/terms-of-use.html
No casinos support both uPayCard & MasterCard Credit, click uPayCard or MasterCard Credit to show casinos that just support that method.