Visa Credit vs. MasterCard Credit
Whether you're an online casino connoisseur or a casual player, you've likely heard of VISA and MasterCard. These services are popular in the online casino world, effectively covering most online gambling venues that work with traditional payment methods. Of course, the popularity of these bank cards goes far beyond just online gambling. You can find them in nearly all areas of life, from entertainment to the bare essentials. There are plenty of reasons why these two methods are such go-to's for all kinds of purposes, but that doesn't mean other services don't have similar offers. This begs the question – Why use VISA or MasterCard across online casinos? In the text below, we'll try to provide you with an answer.
About VISA and MasterCard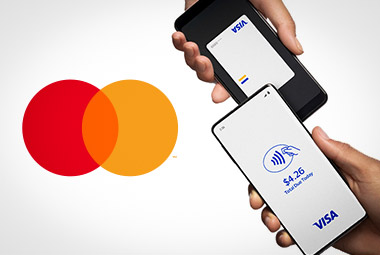 VISA is a payment option most people know about. It launched back in 1958, and to date, is one of the few brands that's managed to survive and thrive for such a long period. The service has an interesting history. Created by the Bank of America, it started as a regular old project to automate the billing process with the help of a computer system. The project was an instant success, and in no time, it grew to launch the first credit card program in history! That's right, we have VISA to thank for creating modern credit cards.
These days, the brand is a household name around the globe. It's one of the most widespread payment options out there, and it's used for nearly everything you can imagine. If it can be bought or sold, VISA is probably on the case! Of course, this applies to both online and offline goods and services. What makes this service the powerhouse it is today is its massive worldwide network. It has the largest one out of any payment processing service out there, and it collaborates with everyone from world governments to large financial institutions regularly.
There are plenty of reasons why VISA is a go-to method for online gambling fans, but the main ones are its security, reliability, and convenience. To keep players safe in their online gambling ventures, the service implements two-factor authentication. Naturally, this is a step up from what most other payment options offer. The convenience of the service is an extension of its accessibility. Most people are already VISA card owners. All they have to do is enter their banking details in the casino of their choice, and they're done! Even if you don't have a card from the service, you can get one easily. Search for a bank near you and apply for one. The financial institution you visit likely collaborates with the service.
MasterCard is another bank card service with a long history behind it. Initially, the service started as a membership organization founded in the USA by a few powerful financial institutions. These included Wells Fargo, Crocker National Bank, Bank of California, and United California Bank. In a short time, the organization grew exponentially, featuring thousands of financial institutions in its long list of shareholders. It didn't take long for MasterCard, then known as Master Charge, to gain notoriety globally. Once it expanded beyond US borders, the service underwent a rebrand and launched its first bank cards.
Similar to VISA, MasterCard's power lies behind its massive global influence. The service is available in more than 180 countries, putting right behind the previous method we talked about. Regardless of that, this method is the first choice for many, in more fields than you can count! It's used for shopping in supermarkets, massive online retailers, local services, and more. Most people you meet will likely know what you're talking about if you bring up MasterCard, so it's safe to say this service can open many doors in the online gambling space, and out of it.
It's not hard to see that VISA and MasterCard share many similarities. Both services are known for their bank cards, they're reliable, convenient, and as safe as can be. Of course, this isn't surprising given that these services are direct competitors, and currently the best-known banking options in the world. Other than positives, these methods also share similar cons. We'll get into those a bit later on in this text.
Getting Started with the Two Methods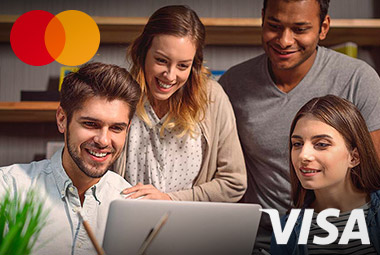 The getting-started process for VISA and MasterCard is very similar. Since both services are traditional bank cards, it entails visiting a physical location and potentially going over a few things with a bank teller.
Let's start with how all of this works for VISA. To begin the process, users will need to go to a partnering bank or financial institution and apply for a card. Naturally, this is one of the simplest parts of the process. Thanks to the service's massive global network, you'll find a partnering institution at practically every corner. Head on over to your preferred location and get the ball rolling. One thing to keep in mind before the process is underway is you'll need to decide whether you want a VISA debit or credit card. Consider what we talked about before and choose the option that's better suited to your situation.
Once you've started the process, you'll need to fill a few forms out. This is arguably the most grueling part of applying for a bank card. In these forms, users will need to enter information like their address, phone number, their name, but also answer a few personal questions regarding their finances and other fields of life. These questions might be a bit uncomfortable to answer, but the only one with access to them is usually the bank itself. When you're done, submit the forms along with a valid photo ID to verify your identity. A driving license or passport should do.
The process of getting started with MasterCard is practically identical. Getting a bank card issued is a standardized process, so the card brand doesn't matter as much as the minute details imposed by the bank issuing it. Since MasterCard is another bigwig in the world of finance, finding a partnering institution to start the process is a breeze. What's better, users can visit the MasterCard official website and use the nifty locator tool available there. Thanks to this program, you'll instantly receive a list of partnering banks nearby.
Something players should keep in mind before proceeding with either of these methods is the credit card ban that's currently effective in a few regions. In countries like the UK and Germany, credit cards are banned from use for online gambling purposes. While this shouldn't be a problem for players outside these regions, other countries may follow this trend. Sure, this might seem highly unlikely now, but it's something to factor in when deciding whether you should get a credit or a debit card.
Using VISA and MasterCard Across Online Casinos
As we've already mentioned once or twice, the biggest pro of using these services is the accessibility you get in the online gambling space. VISA and MasterCard are powerhouses in the field. They're easily the most recognizable and mainstream methods available in most online gambling sites, so they often get the royal treatment. Other than allowing access to nearly any gambling platform you can imagine, these cards often come with special perks, such as casino bonuses. These are often restricted with other methods, but with bank cards, things are different.
If you've decided to use VISA as your primary online casino deposit method, here are the steps you'll need to follow:
Visit the casino's Payments/Banking/Cashier page.
Look for the VISA logo on the list of accepted methods and click or tap on it.
In the new window, enter the card's number, expiry date, and the CCV2 number, if needed, and specify your name as the cardholder.
Specify the amount of money you'd like to deposit.
Accept the transaction, and the money will arrive on your balance right away.
Players shouldn't run into any issues with the VISA withdrawal process. Essentially, depositing and withdrawing with the service requires the same steps. The only difference players should note is the slight change in step two. Instead of looking for the logo in the deposit tab, search for it in the withdrawals section, and click on it. Follow the rest of the steps listed above per usual, and you should be done in a minute or two.
Unfortunately, one of VISA's biggest cons rears its head when withdrawals come into play. While options like eWallets, cryptocurrencies, and other modern methods are known for their quick withdrawals, this bank card falls behind on speed. Withdrawals with the service can take 3-5 days, which might not be ideal if rushing to cash out your winnings. What's worse, this processing period is on top of the standard waiting time imposed by casinos. You'll likely have to wait 5-7 days for withdrawals to land in your account.
If you've decided to use MasterCard to deposit at the online casino of your choice, you'll find the process is quick and painless. It follows nearly identical steps to the one concerning the previous method, so you should already be familiar with it. Here's how it works:
Choose the "Deposit with Credit/Debit Card" option.
From the list of offered credit/debit cards, select MasterCard as your deposit option.
Enter the card's number, expiry date, your name as the cardholder, and the CCV2 code on the back of the card.
Specify how much you wish to deposit and confirm the transaction.
In an instant, the funds will arrive on your balance!
Unfortunately, MasterCard suffers many of the same flaws as VISA when withdrawing is in question. First, withdrawing is a somewhat scarcer option than depositing. From the start, this can set some players on edge, as it implies having to add an alternative banking option to bridge the gap. Another big flaw is the processing time. Withdrawals with the service take anywhere between 5-7 days. If patience isn't a virtue you possess, we suggest exploring other options.
Advantages and Disadvantages
After reading this text, you've likely formed an opinion on these methods. Usually, it's a positive one! Both of these services have plenty to offer, and as two of the biggest payment methods currently on the market, they're options that shouldn't be overlooked under any circumstance. Of course, this doesn't mean that VISA and MasterCard are without flaws. Next, we'll briefly go over the pros and cons of both services to hopefully help you conclude which method is right for you.
Choosing between VISA and MasterCard is incredibly hard. Both services have insanely similar offers, making it nearly impossible for users to go for one. The pros of both options start from their history. They're well-established global brands that have proven time and time again they are trustworthy. Add to this their massive worldwide networks, and you practically have unobstructed access to every crevice of the online and offline gambling space.
The security of this service is nothing to scoff at either! It's well-known that banks tend to implement the highest level of security available, and since partnerships with these financial institutions are at the core of these services, players can rest assured that their accounts and personal information are kept under lock and key.
The cons of these services shouldn't be ignored either. While their pros give them an advantage, their cons can be instant deal-breakers for specific users. Mainly, we're talking about the long processing times that both services have. It might seem minute to some people, but long waiting periods can easily ruin the online gambling experience. Cashing out your winnings is half the excitement, and not having the option to do so quickly can put a damper on the victory celebration.
The credit card ban is also a con that needs to be addressed. While it seems like the situation is contained to the UK and Germany, there's no telling whether other countries will consider this too. If you prefer the convenience that credit cards allow, you might be disappointed to learn that the option is excluded in some regions and gambling venues.
It's nearly impossible to find differences between these services without nit-picking. When it comes down to it, deciding which of these options you should pick is all about personal preference. Both options boast similar offers, so choosing the right one for your might have more to do with brand identity than online gambling perks!
Payment Methods Comparison
Payment methods name
Visa Credit
MasterCard Credit
Online Casinos that support both Visa Credit & MasterCard Credit: