Skip To The List of Casinos
If you're a fan of online gambling, chances are you're playing at a top-tier online casino based in Europe. Since the continent is one of the most diverse gambling markets available, payment options like Brite are practically a necessity. Users are constantly exploring the endless sea of offers in the region, and while they're lucky to have countless payment services, not all of them are viable in all territories. Some methods exclusively serve a few countries, while others are too much of a hassle for what they bring to the table. Brite offers a solution to these issues. First, it has impressive reach in many European countries, with constant expansion efforts. Second, the service puts convenience at the forefront, making it easy for players to give it a shot. If your interest is piqued, stick around as we answer a big question. Why use Brite for your online casino transactions?

About Brite
Brite Payments is a fast-growing fintech company that's been getting tons of attention recently for the right reasons. Mainly, the company's payment solution is what has people talking. The service offers users instant payments by leveraging Open Banking technology. It facilitates account-to-account transactions between users and between users and merchants, all in real-time! It might seem simple on the surface, but that's what makes it such a hit! Unlike most payment solutions, it doesn't try to distract from its shortcoming with unnecessary bells and whistles that often just kill time.
Simplicity is at the forefront of Brite, and with that comes convenience that's practically unmatched by anything on the market. The service understands that people are getting tired of managing different accounts and details for every service they use. Remembering all of this info can be tedious, which is why Brite doesn't require a user account. To start using the solution, all you need is basic information connected to your bank's identification method. With just a few clicks, users have access to instant online banking they can access anywhere.
Brite's convenience is further reinforced by its excellent coverage. As we already mentioned, the service is available in many European countries, 21 of them to be exact. Instant payments with the service are available in four of these markets, but not to worry, new ones are also in the works. In any case, transactions in the remaining countries are lightning-quick too! Unlike instant payments, instant withdrawals are universally available in all supported markets. Users can cash out in mere minutes, upping the convenience factor of this service by a mile!
Getting Started with Brite
Brite might be a new contender in the online gambling space, but its popularity is growing by the day. The service is gaining access to more and more online casinos as time passes, with operators realizing the incredible perks it has to offer. Naturally, the method's rise in popularity has gained the attention of many players. Hooked by the convenience it promises, new users are giving this service a shot and seeing how easy it is to handle. Of course, there's one thing you need to watch for before getting started with Brite. To use the service, you need to have an active bank account in one of the supported banks throughout Europe. Thankfully, this is a long list of over 3,800 banks in the EU and the UK.
As you can imagine, the first thing players need to do to get started with Brite is open a bank account. To do this, they'll need to find a supported bank nearby and complete the necessary steps in the registration process. Before we get to these steps, it's best to get informed on the various offers available in the banks in your area. Some offer benefits better suited to specific users, which might give you an advantage down the line. You should also learn more about the different types of bank accounts on hand, as the differences between them can be detrimental to using the service.
With that out of the way, it's time to move on to the main event. The first step you'll need to take after finding a bank you like is filling out a registration form. The documents included in this step may require the user to divulge some personal information. Don't worry, this info is kept 100% confidential and is exclusively used to determine your eligibility. It won't be shared with any third parties without your express permission. You should also be aware that some of the questions in the forms can relate to things like your marital status, your financial situation, and other sensitive subjects.
The second step in the process is verifying your identity. Although it might sound a bit scary, this process is simple. To verify their identity, users will need to provide the bank clerk with a valid form of photo ID. There are several options to choose from here. You can use a passport, driving license, government-issued ID, etc. This is the final step in the registration process! The bank should process your information quickly and have your account ready within a few hours or a few days, depending on the institution.
Now that you have a valid bank account, we can proceed to the part most of you have been waiting for – getting started with Brite itself. This part of the process is easy as pie. To get started, all you have to do is find the Brite option at the merchant of your choice and select it as your preferred payment method. Once you do this, you'll be prompted to enter some basic banking details you've previously set up with your online banking provider. These details are easy to remember, and no, you won't need to sign up for an account to proceed. Once you enter the basic info required, put in the transaction amount, and voila, you've successfully used the service to make a payment!
How to Make Online Casino Deposits With Brite
Since one of Brite's primary concerns is making things as easy as possible for its users, using the service to deposit is something everyone can do intuitively. The payment method doesn't require too much work from the user's end. Essentially, all you need to do before you proceed is register an account with an operator of your choice that supports Brite. Here's how to start the process:
Search for the Brite option in the list of supported casino deposit methods.
Click on the corresponding icon and enter the required banking details.
After entering your banking details, enter the amount you wish to deposit.
Confirm the transaction.
The money should appear in your casino balance soon!
If you happen to run into an issue at any point in the process, you can always reach out to the operator for help. The Customer Care Team will guide you through the steps and try to find a resolution to whatever the issue is.
How to Withdraw With the Service
If you wish to withdraw using Brite, you're in luck. Withdrawing with the service is just as easy as depositing, and players get to experience the same benefits of lightning-quick transactions in this direction too! To get started, you pretty much need to follow all of the same steps listed previously in depositing. Choose Brite as your withdrawal from the list of options, enter the required information, type in your desired withdrawal amount, and confirm the transaction! Once the casino processes everything, you should get your payout in a jiff!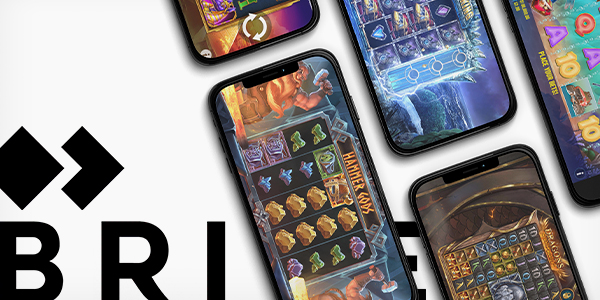 Applicable Fees
Like most services that facilitate transactions, there's good news and bad news about the fees you might experience using Brite. On one end, the service itself doesn't charge any fees. You don't have to worry about the company taking a percentage of your transactions. On the other end, you might be charged a fee from your banking provider. These fees are usually on the smaller side, but it's best to check in with your bank to get a better idea of what to expect. You might also be charged a fee by the casino you're chosen. This is rare, but some operators impose fees for specific payment options.
Accepted and Restricted Countries
As we might have mentioned a few times in this text, Brite operates within Europe. More specifically, it operates within EU countries and the UK. At the moment, the list of regions where the payment method is available includes 21 countries. They include Sweden, Finland, Netherlands, Austria, Belgium, Cyprus, Estonia, France, Germany, Greece, Ireland, Italy, Latvia, Lithuania, Luxembourg, Malta, Portugal, Slovakia, Slovenia, Spain, and the United Kingdom. Instant payouts are covered in all of these countries, while instant payments are currently only available in Sweden, Finland, Estonia, and the Netherlands.
Available Currencies
Since Brite acts as a bridge between banks and users, the accepted currencies for the payment method are practically identical to the ones supported by your banking provider. With the method operating in Europe, the euro and UK pound are generally accepted across most of the supported banks. Most of the native currencies in the countries where Brite is available likely make the list as well. While these countries rarely use other currencies as their primary means of transacting, there are exceptions.
Customer Support and Service
Customer Support with Brite can be a bit tricky. While the Customer Care Team it employs is top-tier, there's only one way you can get in touch with it – filling out a contact form through the service's website. What's worse, you might have to wait a while for the team to get back to you. Usually, this takes at least 24 hours. The good news, the replies you receive are detailed and straight-to-the-point. If your issue is a bit more serious, they might even reach out to you by phone.
Much of the time, the issues you experience are likely out of Brite's control. To get proper assistance with your query, it's better to contact the casino's Customer Support or Customer Support from your banking provider. The quality of help you receive can vary drastically depending on your chosen operator or banking provider, but generally, they should be able to resolve the issue promptly.
Brite payment method fees and facts
Brite is popular in these countries
Estonia, Finland, Netherlands, Sweden
Countries restricted from using Brite

Afghanistan,

Aland Islands,

Albania,

Guernsey,

Algeria,

American Samoa,

Andorra,

Angola,

Anguilla,

Antarctica,

Antigua and Barbuda,

Argentina,

Armenia,

Aruba,

Australia,

Azerbaijan,

Bahamas,

Bahrain,

Bangladesh,

Barbados,

Belarus,

Belize,

Benin,

Bermuda,

Bhutan,

Bolivia,

Bosnia and Herzegovina,

Botswana,

Bouvet Island,

Brazil,

British Indian Ocean Territory,

Brunei,

Bulgaria,

Burkina Faso,

Burundi,

Cambodia,

Cameroon,

Canada,

Cape Verde,

Cayman Islands,

Central African Republic,

Chad,

Chile,

China,

Christmas Island,

Cocos (Keeling) Islands,

Colombia,

Comoros,

Congo,

Congo Democratic Republic,

Cook Islands,

Costa Rica,

Cote d'Ivoire,

Croatia,

Cuba,

Curacao,

Czech Republic,

Denmark,

Djibouti,

Dominica,

Dominican Republic,

Ecuador,

Egypt,

El Salvador,

Equatorial Guinea,

Eritrea,

Ethiopia,

Falkland Islands (Malvinas),

Faroe Islands,

Fiji,

French Guiana,

French Polynesia,

French Southern Territories,

Gabon,

Gambia,

Georgia,

Ghana,

Gibraltar,

Greenland,

Grenada,

Guadeloupe,

Guam,

Guatemala,

Guinea,

Guinea-Bissau,

Guyana,

Haiti,

Heard Island and McDonald Islands,

Honduras,

Hong Kong,

Hungary,

Iceland,

India,

Indonesia,

Iran,

Iraq,

Isle of Man,

Israel,

Jamaica,

Japan,

Jersey,

Jordan,

Kazakhstan,

Kenya,

Kiribati,

Korea, Democratic People's Republic of,

Republic of Korea,

Kuwait,

Kyrgyzstan,

Laos,

Lebanon,

Lesotho,

Liberia,

Libya,

Liechtenstein,

Macau,

Madagascar,

Malawi,

Malaysia,

Maldives,

Mali,

Marshall Islands,

Martinique,

Mauritania,

Mauritius,

Mayotte,

Mexico,

Micronesia, Federated States of,

Moldova,

Monaco,

Mongolia,

Montenegro,

Montserrat,

Morocco,

Mozambique,

Myanmar,

Namibia,

Nauru,

Nepal,

Netherlands Antilles,

New Caledonia,

New Zealand,

Nicaragua,

Niger,

Nigeria,

Niue,

Norfolk Island,

North Macedonia,

Northern Mariana Islands,

Norway,

Oman,

Pakistan,

Palau,

Palestine,

Panama,

Papua New Guinea,

Paraguay,

Peru,

Philippines,

Pitcairn,

Poland,

Puerto Rico,

Qatar,

Reunion,

Romania,

Russia,

Rwanda,

Saint Helena, Ascension and Tristan Da Cunha,

Saint Kitts and Nevis,

Saint Lucia,

Saint Martin,

Saint Pierre and Miquelon,

Saint Vincent and The Grenadines,

Samoa,

San Marino,

Sao Tome and Principe,

Saudi Arabia,

Senegal,

Serbia,

Seychelles,

Sierra Leone,

Singapore,

Solomon Islands,

Somalia,

South Africa,

South Georgia and The South Sandwich Islands,

South Sudan,

Sri Lanka,

Sudan,

Suriname,

Svalbard and Jan Mayen,

Swaziland,

Switzerland,

Syria,

Taiwan,

Tajikistan,

Tanzania,

Thailand,

Timor-Leste,

Togo,

Tokelau,

Tonga,

Trinidad and Tobago,

Tunisia,

Turkey,

Turkmenistan,

Turks and Caicos Islands,

Tuvalu,

Uganda,

Ukraine,

United Arab Emirates,

United States,

United States Minor Outlying Islands,

Uruguay,

Uzbekistan,

Vanuatu,

Vatican,

Venezuela,

Viet Nam,

Virgin Islands, British,

Virgin Islands, U.S.,

Wallis and Futuna,

Western Sahara,

Yemen,

Yugoslavia,

Zambia,

Zimbabwe

Show more
Available currencies
EUR, GBP
Link to terms & conditions
https://www.britepaymentgroup.com/
FAQs
Is Brite a safe banking option?
Yes, Brite is a safe banking option. The service uses the inherent protection from your banking provider, along with additional security steps added by the company.
Where is Brite available?
Brite is currently available in 21 European countries. These include Sweden, Finland, Netherlands, Austria, Belgium, Cyprus, Estonia, France, Germany, Greece, Ireland, Italy, Latvia, Lithuania, Luxembourg, Malta, Portugal, Slovakia, Slovenia, Spain, and the United Kingdom.
Are Brite withdrawals available?
Yes, Brite withdrawals are available, but this can depend on the operator you've chosen to play at. For more information, check out the "How to Withdraw With the Service" section in this text.
Do I have to register an account with the service?
No, you don't need to register an account to use Brite. To use the service, all you need is a valid bank account.
Are there any fees associated with using the service?
No, the service itself doesn't charge any fees. Still, it's worth noting that players may be charged a fee by their banking provider or their chosen online gambling operator.
See all
Overall Ratings
casinodude
1 year ago
Fast method, you get withdrawals in a few minutes! Can be compared with trustly pay n play method, works similar.
Join today and start earning rewards
You will immediately get full access to our online casino forum/chat plus receive our newsletter with news & exclusive bonuses every month.
Join instantly with your social account