Available in multiple designs and denominations, Vanilla Prepaid is becoming increasingly popular in online casinos - all the brands under the Genesis Limited umbrella offer this deposit option. The payment method is tailored to fit the needs of Canadian players, Visa and Mastercard can be used for gambling.
Is it complicated to fund the account using Vanilla Prepaid?
Not at all! To replenish the account, you need to follow a couple of simple steps, and that's where our team steps in. We've created a convenient instruction manual for you, neatly explaining how to make a deposit at Genesis Casino using Vanilla prepaid.
Keep reading!
How to Make A Deposit At An Online Casino
The first thing to do is open the account at Genesis Casino. Do so via our affiliate link, as we prepare some special rewarding campaigns and exclusive promotions for our members.
Here's how the procedure goes: 
1. Log into your Genesis Casino account

2. As Vanilla prepaid/gift card is not listed among the deposit options, find it by selecting either Mastercard debit or Visa debit card options

3. Click "I want a bonus" if you want it and enter a bonus code if you have one

4. Type in the number of your credit card, cardholder name, and expiration date

5. Voila! Your account is funded so you can head straight to the operator's wealthy portfolio and play games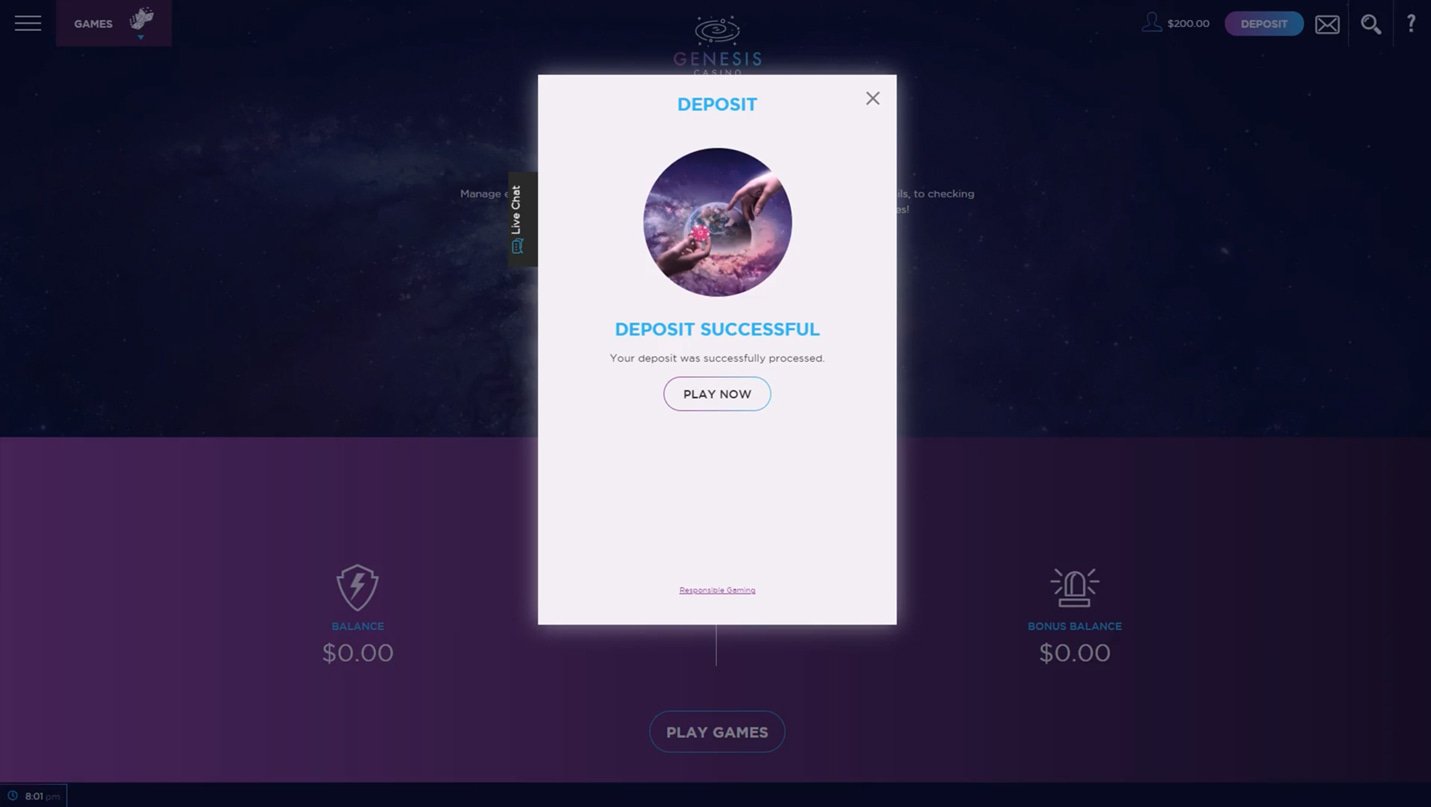 Where Can you Buy Vanilla Prepaid?
You can obtain it at some of the biggest retailers in Canada, such as Walmart, Petro-Canada, 7Eleven, JeanCoutu, Giant Tiger, London Drugs, Best Buy, Corner Store, and many more. What you need to do is activate it at the cashier to be able to use it.
If you don't feel like leaving home no problems, you can purchase it online as well. This is done on the official website, where you can get yourself a gift card or eGift card. All you have to do is select an amount and how you want to get your card. One of the options is to have it mailed (as a physical plastic gift card) or receive it via e-mail (as an eGift card).
Advantages and Disadvantages
As with any other payment method used in online casinos, this one has both good and bad sides. Luckily, the former outnumber the latter ones, which is why this method is gaining popularity in Canada.
What are the pros?
Doesn't require a pin
Even if the card itself expires, the funds on it don't
Possibility to top up the account up to CAD250 with Visa (no credit checks)
Downsides?
There's a small activation fee of CAD 3.95 minimum. Worth stressing out is that the amount of the commission can be bigger, depending on the sum of the money you are filling the card with. Also, you cannot use the gift card at ATMs or for withdrawals- at the time being it's only available for depositing.
Always read Terms and Conditions, gamble responsibly!
Vanilla Prepaid FAQ
Which payment methods can I use to purchase this card?
There are multiple options- Visa, Mastercard, American Express (AmEx) as well as Discover credit cards.
How to check the balance on my card?
This is done by visiting the official website where you will find a dedicated page for balance checking. That's where you enter the card's Security Code, Expiration Date, and Number.
Is Vanilla Prepaid available at Canadian online casinos?
Yes, it seems ot be possible to use a vanilla prepaid cards at online casinos accepting Visa debit or Mastercard. The best way to clear away any doubts is to visit the cashier and see the options, or contact the customer support and ask.
What to do if the card is declined?
There are a couple of reasons why this may happen. It's either because there's not enough money on the card, or the card itself may not be activated. Perhaps the address is not correct, or eventually, it could be a technical issue that has got nothing to do with you.
In what denominations can I purchase a Prepaid Card, are there fee?
Those depend on the credit card this method is connected with. For Mastercard the amounts are $25, $50, $100, $200, while for Visa denominations include $50, $75, $100, $150, $250. As for OneVanilla Mastercard cards, they range from $20 - $500. Fees depend on the amount purchased it ranges between $2.95 up to $5.95.