Gameburger Studios
Gameburger is an American up-and-comer introduced to the European iGaming world by Microgaming who has tasked with reimagining a classic and fan-favorite online slot games.
Almost everybody loves burgers. They're fun, they're tasty and juicy. Could slot games be like that too?
This developer certainly hopes so because they chose the name Gameburger, insinuating their games will be as pleasing and as exciting as a good hamburger.
Because as we all know…
…a good game is a lot like good food. Good games make people happy, just like a good meal.
Slot titles consist of themes, mechanics and special features and bonuses which when you think about it, is a lot like a dish consisting of various ingredients that come together on a plate to represent a pleasing whole.
And so we finally come to the topic at hand…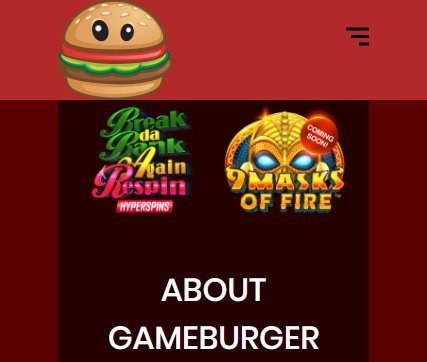 ...a developer called Gameburger.
Why such a name? According to their homepage, it has do with their American origins.
From the horse's mouth:
"Bringing non-US markets premium games with all the trimmings!
Our collective of industry specialists and technology experts relish serving up mouth-watering content in the classic US-style: Big, bold and full of flavor. Made from the best ingredients and a tried-and-true land-based recipe, our vibrant games deliver a range of styles and complexities, enhanced visuals and sounds, and all-new gameplay features and bonus rounds.
Essentially, they are following the same philosophy that leads to those amazing, sumptuous burger meals we see so often on social media. Big, brash, and bold.
Where less isn't more, but more definitely is.
That's probably why…
…the studio's logo is a hamburger with googly eyes. A simple burger is just not enough, and what could communicate better that this is a game burger than a pair of funny eyes?
Introduced by Microgaming
Microgaming is an igaming presence that needs no introduction. They are a giant in the industry with more than 400 games to their name and counting.
Their almost insane release schedule (a game every week) has, of course, led them to seek out outside studios and bring them into the fold.
Many excellent studios have collaborated with the company on unforgettable and fan-favorite games such as Sherlock of London.
Microgaming definitely has the pedigree to where being introduced as a collaborator is a huge deal and likely a portent of good things to come for studios that have the luck to be selected.
Not to mention…
…the giant has an excellent distribution network and thus studios who work with them get their games in front of a huge audience of eager punters who might just accept their release as their new favorite title.
And all of this is exactly what happened to the American studio. They are by no means beginners as they have a lot of land-based experience but they were relatively unknown in Europe.
That's about to change as Microgaming has officially announced the collaboration and not just that.
They have also given the studio the task to reimagine one of the most iconic and popular games in the entire portfolio.
That game is Break da Bank Again and it's known for its high volatility and wild multipliers.
Break da Bank Again for the Second Time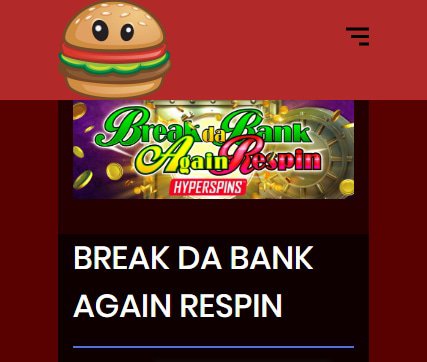 It's true that isn't the first time Break da Bank was reimagined and rereleased. When a game is so hot it's no wonder its publisher will try to milk it as much as they can.
The time has come again to revamp the classic and it falls on the shoulders of this American studio to make something that's excellent even better.
They didn't tinker with the original formula too much as there are still:
Multiplier wilds.
Even higher volatility than before.
Colorful bank-themed symbols like money stacks, checks, safes, diamonds, and gold bars.
Extra spins.
However, they did add just one teensy change to the proceedings and it's a doozy.
It's called…
…respin!
Have you ever played a game and missed a winning combination by just one symbol on one reel? What would you have given to respin just that one reel and try to get off with a hit?
Wonder no more, as that's exactly what Break da Bank Again Respin lets punters do.
No longer will you have to wonder what would have happened only if. The Respin mechanic lets players take another spin on any reel they want (but only one reel at a time) in exchange for a price calculated based on the current bet.
Of course, only wins formed that contain that reel will be counted.
When it comes to technical features…
…the game is, of course, totally mobile-friendly and done in HTML5 meaning it can be played from any modern device, whether mobile or stationary.
The game engine is fast and responsive (very important for mobile play) and it has all the modern options punters expect such as autoplay with advanced options, Quickspin to cut down animation time, a richly detailed paytable and a detailed explanation of the rules.
A Taste of America
It's totally in the style of an American studio to take a game and add such a big and bombastic feature to it that changes the game fundamentally while totally maintaining everything that made it great in the first place.
It's a tough act to follow but the developer is not done. They're keeping their upcoming releases a bit hush-hush, but we know there's more coming.
Their website lists an upcoming title called 9 Masks of Fire with a seemingly island/tribal theme.
Even though the studio does not have many online slots yet, they do have vast experience in the land-based sphere which will no doubt translate well, as after all online games are just the younger sibling of the older physical machines.
And with an introduction from Microgaming, which for the igaming world is like getting an introduction from the Queen of England, there's a lot of reasons to keep an eye on this studio.
Getting Down to Brass Tacks
Gameburger Studios is one of the world's most commonly used online software providers. No shocker there but did you know that there is 715 featuring these games listed here on LCB? In fact, the general consensus among you after 53704 votes, is that these operators have earned an average rating of 3.3 out of 5 making it one of the most preferred in the industry. Another 59 votes from our members on the 9 slot we've reviewed have resulted in a 2.09 average rating.
Related Articles
Almost everybody loves burgers. They're fun, they're tasty and juicy. Could slot games be like that too? This developer certainly hopes so because they chose the name Gameburger , insinuating their games will be as pleasing and as exciting as a good hamburger. Because as we all know… …a good game is a lot like good food. Good games make people happy, just like a good meal. Slot titles...
Read more
To save you time, we are only displaying casinos that are accepting players from Virginia.
If we have jumped the gun, you can remove that filter by clicking here.
50 Spins bonus code: LCB50BEST
Latest Gameburger Studios Related News
All news
Join today and start earning rewards
You will immediately get full access to our online casino forum/chat plus receive our newsletter with news & exclusive bonuses every month.
Join instantly with your social account