How Did Dash Get Its Start? Dash is a popular currency in today's crypto space. It's an open-source altcoin forked from the first-ever cryptocurrency, Bitcoin. Dash is also a decentralized autonomous organization, operated by several of its users. The cryptocurrency might have launched in 2014, but it's made quite a name for itself. Unfortunately, it's not all for the right reasons. Dash started as Xcoin, created by Evan Duffield. In the beginning, most people avoided the coin as they...
Read more
How Did Dash Get Its Start?
Dash is a popular currency in today's crypto space. It's an open-source altcoin forked from the first-ever cryptocurrency, Bitcoin. Dash is also a decentralized autonomous organization, operated by several of its users. The cryptocurrency might have launched in 2014, but it's made quite a name for itself. Unfortunately, it's not all for the right reasons. Dash started as Xcoin, created by Evan Duffield. In the beginning, most people avoided the coin as they believed it was being used as a pump and dump scheme.
To avoid negative attention, the coin changed its name to Darkcoin. Unfortunately, it was tied to black market dealing and received tons of negative press from traditional media and online outlets. Not long after, the cryptocurrency rebranded again into what we know today as Dash and made efforts to remove itself from the dark web. From 2016 on, the coin isn't available in any of the better-known darknet markets. While some of the apprehension about the coin has gone away, many are still wary of using it.
How Do I Use Dash in Online Casinos?
Despite the negative press, it garnered, Dash is still a popular Bitcoin fork with many users. Unfortunately, some online casinos aren't on board with the coin because of its history, so it's not as widely available as some might think. The good news is, you can look forward to top-tier quality from the casinos that do support it. Many of them don't only accept the cryptocurrency as a deposit and withdrawal method, but sweeten the deal by adding some special perks! On top of that, the method itself is pretty easy to use for all kinds of online transactions.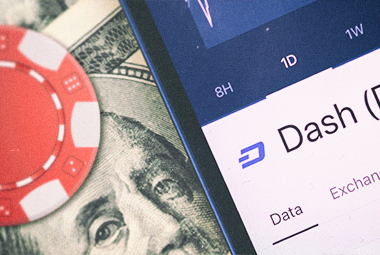 The first thing you need to do to start your Dash online gambling journey is to obtain a few coins. To do this, you can visit one of the many respectable crypto exchanges that offer it as an option. Some of these include Binance, Altcoin Trader, ACX, and BQT. Once you set up an account with these platforms, you can proceed to exchange fiat money for a corresponding amount of Dash. The whole ordeal should take no more than a few minutes!
When you're with the first step, you can continue to the online casino of your choice and get to the fun part. To deposit or withdraw, you'll need to visit the cashier tab on the website and find the Dash option. Click it, enter the corresponding deposit or withdrawal amount, enter the required banking details, and everything should be sorted! While we doubt you'll run into trouble during the process, you can always contact the operator's Customer Support if an issue does arise.
Can I Legally Gamble with Dash Online?
The legality of cryptocurrency and crypto gambling is a hot topic in pretty much every country worldwide. Of course, most of these countries have different opinions on the topic, and their laws and regulations reflect that! If you're looking to start a crypto gambling venture, it's best to research these regulations on a country-to-country basis. Some places might ban the use of cryptocurrencies altogether, while others try to integrate them into everyday life. Below, we'll list a few examples of how some countries handle the subject.
In the US, online gambling generally isn't prohibited. Players are free to own cryptocurrencies like Dash and use them for online gambling purposes. Of course, there's a catch! Since the US is divided into states, different ones play by different rules. There may be some small differences in online gambling regulations that could get players into trouble!
The UK is an excellent example of top-notch gambling regulations. The country's licensing body takes its job seriously, thoroughly vetting every operator applying for a UK gambling license. While the requirements for getting and maintaining a gambling license in the country might be strict, they're even stricter for casinos that support cryptocurrencies! To be granted a license, they must disclose fund sources, among other things. It might seem a bit harsh, but this approach is a great way to keep players safe.
To best showcase opposite approaches to crypto and crypto gambling, taking a look at El Salvador and South Korea is more than enough. On one end, El Salvador is one of the most crypto-friendly places in the world! The country is very accepting of cryptocurrencies, and it even made Bitcoin legal tender in 2021. On the other end, we have South Korea. Unlike El Salvador, gambling is prohibited in South Korea. The country might have strict anti-crypto legislation, but that doesn't stop most crypto fans from obtaining cryptocurrencies.
What Pros and Cons Does Dash Have for Online Gambling?
In hindsight, there's nothing that separates Dash from most other cryptocurrencies. Since it is a Bitcoin fork, the token carries the majority of the pros and cons its predecessor offers. Of course, these are nothing to scoff at! The coin grants users excellent perks in the online casino space, and even a few special ones in specific venues.
One of the things most people know about crypto is its anonymity. Since all you need to use cryptocurrencies like Dash is a crypto wallet, no one can access your personal information. These wallets operate with an assigned number, so malicious third parties don't have anything to go by! As you can probably imagine, this gives players much better protection from hackers and scammers that commit identity fraud.
On the topic of scams, the second pro of using Dash and similar cryptocurrencies is their transparency. All transactions you make are registered to a crypto ledger. Since the ledger is open to the public, you can view it at any time! With this information at your side, you can discern which crypto casinos are fair, and which to avoid. Sure, it might be somewhat tedious work, but it's well worth the trouble.
Some of the other perks players can expect from using crypto for online gambling include quick transactions and a user-friendly platform! Unlike most other payment options, crypto deposits and withdrawals are nearly instant! While this can also depend on the casino itself, the processing times are generally much shorter for crypto transactions. Using crypto for online payment is a breeze. The entire banking system can be accessed through a mobile device, with the only requirement being a stable internet connection.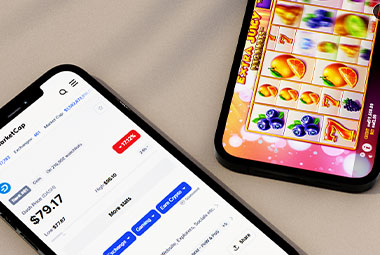 The special perks of using Dash as your primary payment in specific online casinos are a rare find. If you're lucky enough to run into an operator like this, you'll likely be awarded bonuses like Free Spins or Cashback for transacting with the cryptocurrency! We should note that no matter how good the bonus may seem, you should always check the bonus terms. While they're often pretty lax, some can make the bonus not as worthwhile.
We've covered most of the pros of using crypto for online gambling, but the cons can be just as important. One con that's specific to Dash is its inability to shake its past. Many operators still associate it with unlawful activities, so they avoid offering support for it on their websites. To some extent, this applies to most crypto coins, but Dash seems to have a bigger target on its back.
Another con that's similar to the previous one is the scams that exist in the crypto space. You might run into these even when you aren't gambling online, so you should be extra vigilant when purchasing crypto and dealing with it in general. The best way to combat this con is by learning as much as you can about cryptocurrencies before investing in them. If you go in with the correct information, these scams are easy to spot.
There's one last part of crypto left to discuss, and that's volatility. Most crypto coins are highly volatile. On the one hand, this can be a good thing. If you invest smart and have some luck on your side, you could potentially earn massive returns! On the other hand, bad investments can lead to huge losses! All crypto comes with risks, so make sure you're aware of them before you decide to dip your toes into the world of cryptocurrencies.
Can I Play All Casino Games with Dash?
Cryptocurrencies have been sweeping the world lately, but many are still wary of them. They're still pretty new technology, and some companies aren't willing to take the risk. Many of these companies belong to the iGaming industry. Their games aren't available to crypto users, so you're sure to miss out on some popular titles. Of course, there are just as many game developers that do offer crypto support! Sure, you might be limited to an extent, but you still have access to high-quality games!
Some popular casino software providers with crypto support include Habanero, Endorphina, BetSoft, Vivo Gaming, Mr Slotty, and Spinomenal. You can never go wrong with these studios! If you're interested in a few game suggestions, you should try fun titles like Guardians of Valhalla, Asgardian Dice, and Crypto Matrix!
Highest Community Rated Online Casinos
Join today and start earning rewards
You will immediately get full access to our online casino forum/chat plus receive our newsletter with news & exclusive bonuses every month.
Join instantly with your social account