Skip To The List of Casinos
Is Singapore Dollar Gambling Legal?
We have unfortunate news for Singaporean casino fans. Singapore has strict anti-gambling laws that have been in effect since 2014. Online gambling is illegal, except for some locally-operated lotteries overseen by the government. You can learn more about the specifics of these laws on the government's official web pages, but they're pretty straightforward. What's more unfortunate is the potential state of online gambling in the future. Despite neighboring regions loosening their laws about the activity, Singapore has drawn a hard line against it.
Players should keep in mind that they have no protection when gambling online with foreign operators. The situation is the opposite. The activity is outlawed, and those caught gambling online illegally will face hefty fines. Additionally, the government has created blacklists to prevent citizens from reaching foreign gambling sites. The only safety you're guaranteed is when participating in the approved lotteries. If you run into any issues here, you can reach out to the proper authorities to come to a resolution.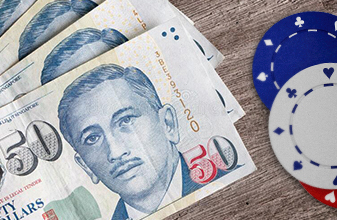 How to Deposit with Singapore Dollar
Online gambling might be a fun activity, but the Singaporean government doesn't think so. Since players face harsh restrictions and punishments for all things online gambling, most people in the region tend to avoid the activity. Of course, some feel the risk is worth it, so they find ways around the gambling ban and play in various offshore online casinos the government hasn't caught wind of yet. Here are some of the few methods they use to make deposits:
History of the Singapore Dollar
The Singapore dollar is Singapore's official currency. It's currently issued by the Monetary Authority of Singapore, and it's been going through many positive changes lately. Mainly, outside of its first residence, it's been accepted as customary tender in Brunei, thanks to a Currency Interchangeability Agreement between the two regions. On top of this, the Singapore dollar has hit 13th place as the most traded currency worldwide. By all accounts, its popularity is seemingly on the rise.
For the history buffs, the Singapore dollar derives from the Spanish-American silver dollar that made its way to Asia around the 16th century. This coin was around for quite a bit, inspiring the Straits dollar in 1845. Naturally, the name came from the settlement Singapore was a part of. Still, this iteration was short-lived and was replaced by several other local currencies, until the forging of the first Singapore dollar in 1967. These days, the modern Singapore dollar boasts 17 iterations! Ten of these are used regularly, while the others are discontinued but still hold a legal tender.
Swipe left or right to see more
Join today and start earning rewards
You will immediately get full access to our online casino forum/chat plus receive our newsletter with news & exclusive bonuses every month.
Join instantly with your social account