Back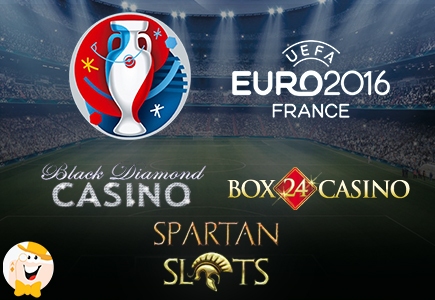 Are you a football fan who wanted badly to visit UEFA Euro 2016 but won't be able to? Well, do not despair, we have some great news! You don't have to miss the championship after all, because Black Diamond, Spartan Slots and Box 24 casinos want to take you to France - all expenses covered!

One lucky gambler will be given the opportunity to join a new tournament hosted by these casinos this month, where the prize is a trip for two to the Euro 2016 final in Paris. Contestants are to collect points for the duration of the tourney - the winner is the player with the highest number of points at the moment the tourney ends.

If you want the Final Tickets and all expenses covered, including flights, airport transfers and hotel stay, here's what you need to do:

First, visit any of the three gambling sites to make a deposit of $100 minimum
Every bet on any and all games you play is then converted into tournament points - $1 bet is 1 tournament point
After the tournament ends, the player with the highest number of points will be declared a winner
Make sure to submit accurate contact information and subscribe to commercial communications, because the Casino is going to notify you once the tourney ends via phone, chat or e-mail

Good Luck!
Tournaments, Promos & Bonuses
Back to articles