Back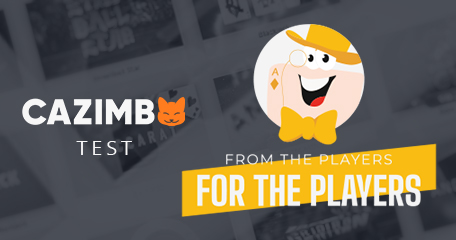 A KYC Oversight Delays Bitcoin Payment of $381.71 in Bitcoin for 4 Days
As time goes by and the number of tested casinos starts to rise at an exponential rate, we can't help but notice the effect our project has made on the player community and the iGaming itself.
During the last two years, we analyzed more than 125+ online casinos to give you a broader picture of online gaming from an unbiased point of view.
Cazimbo Casino belongs to the order of massive online sportsbooks from 2021, featuring a humongous library of sports and betting products, uplifted by high odds for the best online betting experience at any moment.
Since it's part of the ongoing trend where gaming sites host a gigantic portfolio to attract all types of players, we wanted to see if size really matters, and give you an in-depth review of this popular betting brand.
To help us out, we asked our tester, RedApple, to take over, and go through all five steps: registration, deposit, gameplay, KYC, and withdrawal.
We can't say his experience was flawless, considering it took 11 days to receive the withdrawal. It seems that KYC was a major problem here, even though our player made a deposit in Bitcoin on the same day when he sent his documents for verification.
We start with a short summary first, but to learn more about our player's endeavors, make sure to read the entire report:
Tester of the casino: RedApple
Date of registering: MON, February 27th, 2023
Deposit: €200 in Bitcoin via Coinbase on MON, Feb 27th, 2023
KYC: Documents sent on MON, Feb 27th, account verified on THU, March 9th, 2023
Withdrawal request: 365 EUR in Bitcoin via Coinbase, MON Feb 27th,
Withdrawal received: $381.71 in Bitcoin via Coinbase on FRI, March 10th, 2023
By looking at the recap, it's hard to notice any trouble at all. But if you compare the gap between the registration date and payout confirmation, it becomes clear that something is going on. Let's inquire more.
Registration
Our tester made an account on Monday, February 27th, 2023. The sign-up procedure has five steps where players must provide their email and password, country of residence, currency, and other personal details.
She refused the welcome bonus and started entering his user data.
It didn't take more than 3 minutes for our player to complete it and skip to the next phase – depositing.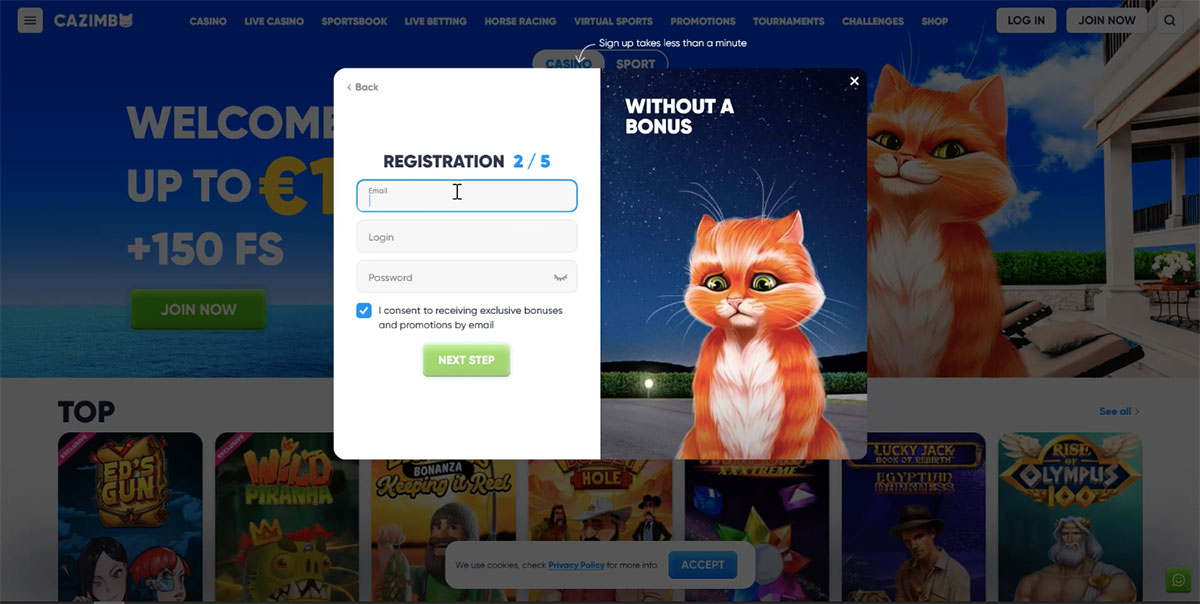 Depositing and KYC
Once he had a working account at Cazimbo Casino, RedApple was asked to make a deposit via one of the offered payment methods. There are several different ways to top up your account, but he chose Bitcoin and waited a couple of minutes for the €200.00 transaction to finish.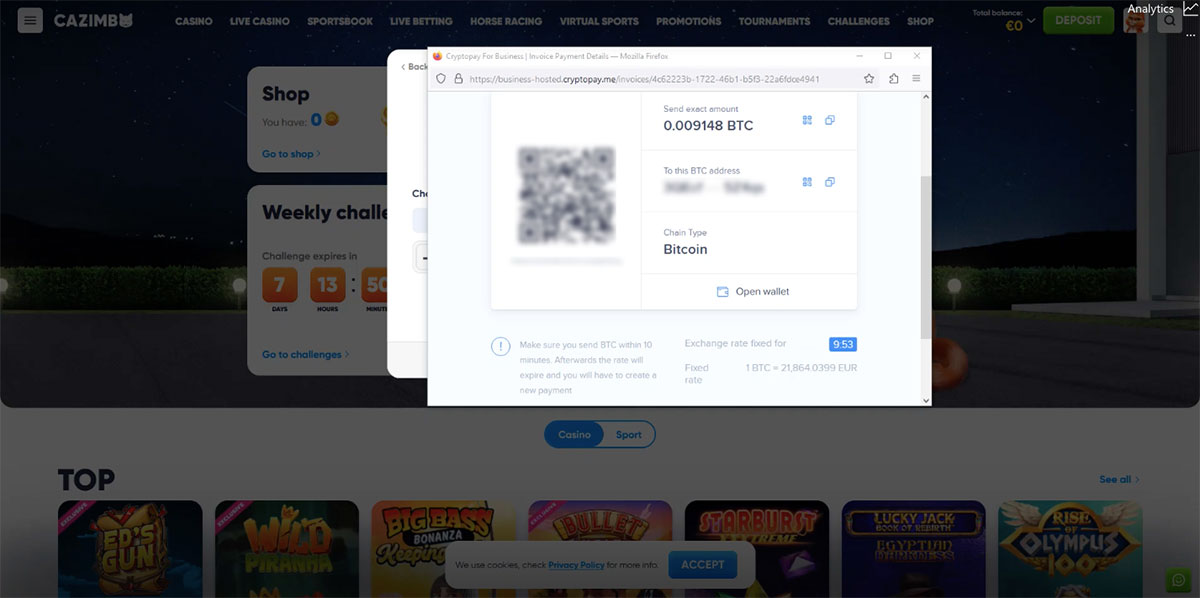 Our player used this opportunity to send her passport, a selfie with his holding the passport, and a utility bill to verify identity on February 27th, 2023. He didn't receive any response and thought the account had been successfully verified.
We can mention here that the minimum and maximum deposit amount is defined by the casino.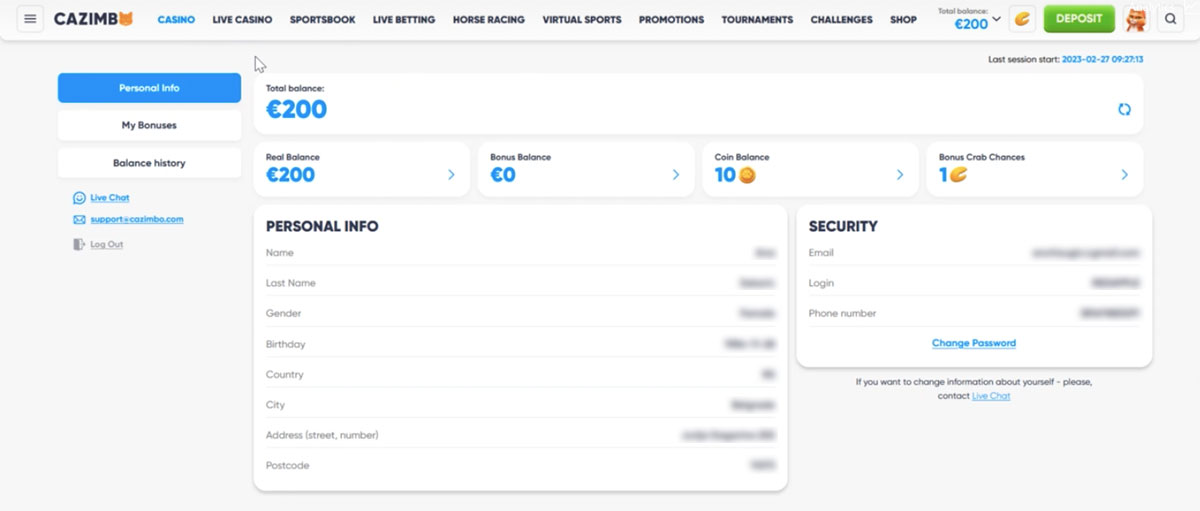 Gameplay
When it comes to gaming, we will only name our tester's picks and results. The mandatory rollover of straight deposits here is 1x, so he didn't have to put any extra efforts in order to cash out.
At least, that's what he thought.
With €200 in his balance, RedApple made an interesting choice of slots, so here's the entire list. Next to each game is average bet size, results, and the remaining balance:
Lady Merlin MultiMax (Boomerang Studios), €0.80 stake, very small wins, stopped playing at €189.48 due to a connection problem
Buffalo Trail (BF Games), €0.80 stake, small wins, stopped playing at €220.40
Rotten (Hacksaw Gaming), €1.00 stake, biggest win €150.00, stopped playing at around €374.90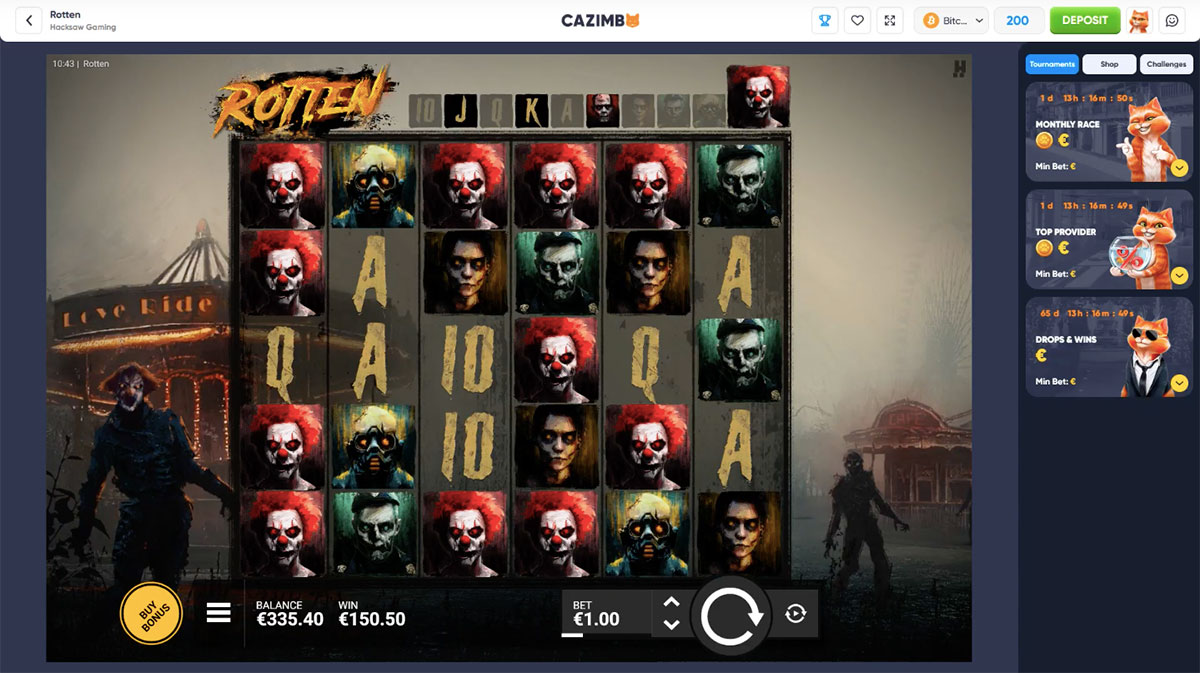 Mammoth Peak (Playson), €1.00 stake, biggest win €208.25, stopped playing at €365.71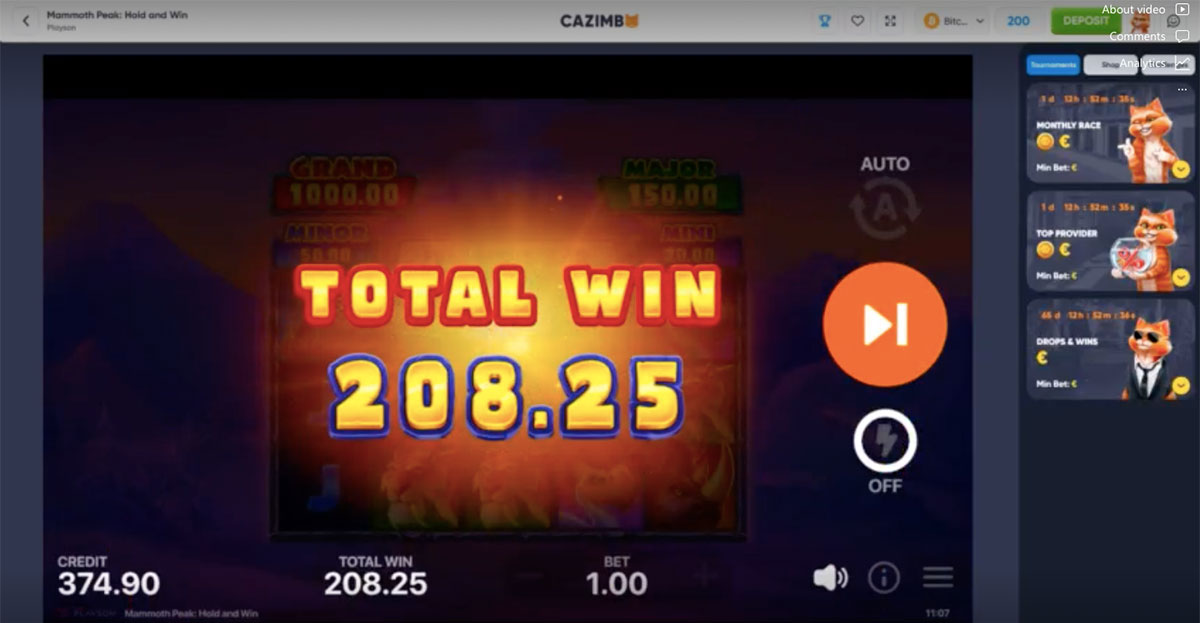 Our tester was more than ready to make the withdrawal and complete his test after these two major wins. Let's see how the cashout looked like.
Withdrawal
Now, the most intriguing part of this test. It was February 27th, when our tester tried to withdraw the remaining balance from his account or €365.00.
But, the first signs of trouble appeared on March 3rd, when our player was notified that his account still needs to be verified. By March 6th, he was asked to send a new selfie photo of himself with passport in his hands against the background of Cazimbo Casino site.
After a small delay, he sent the image on March 8th, again, and his account was fully verified by the next day.
On March 9th, RedApple was richer by €365 in total, which he received via Coinbase back to his Bitcoin wallet. It turned out that the operator somehow forgot about the KYC procedure and extended the cashout process for a couple of days, adding much to our player's huge disbelief.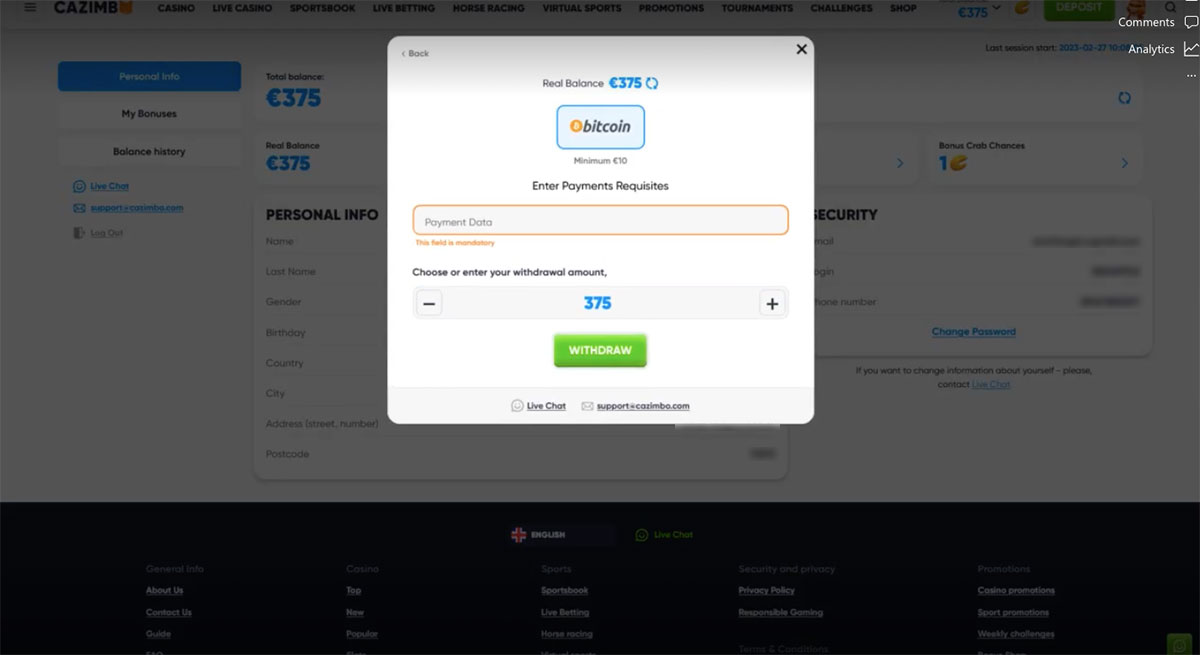 While we're on the subject, Cazimbo Casino has a table under the Terms and Conditions with minimum and maximum withdrawal amounts. Depending on the loyalty level, players are allowed bigger daily and monthly limits, ranging from 500 / 7,000 to 1,500 / 20,000.
Conclusion
That's the whole story. Cazimbo Casino seems like the real deal, only if it weren't for that awkward moment with the repeated KYC.
We hope you're satisfied with the outcome of this test and look forward to seeing more players participating within our great "From the Players, for the Players" project.
Feel free to comment, stay tuned and we will come back with more in-depth analysis soon.
"It seems that KYC was a major problem here"
From the Players for the Players
Back to articles