Back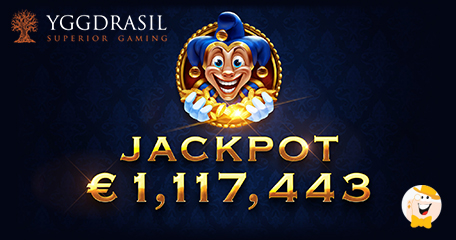 Saturday 25th of November brought quite a night fever into the life of a certain 32-year old hailing from Norway. The Bettson punter was playing Yggdrasil's video slot, Empire Fortune, on his smartphone just as he usually does – but little did he know his life would soon take an amazing turn.
The game that boasts a very lucrative progressive jackpot has just reached over €1 million – and the Norwegian punter was lucky enough to land a jackpot totaling €1,117,443! This July, a record-breaking €5.2 million jackpot was paid out on Empire Fortune, so it took almost half a year for a progressive jackpot pool fund to reach the 1 million. The progressive jackpot pool on the title is shared with Joker Millions, another popular slot from the brand.
Representatives of both companies were delighted to hear the news. Yggdrasil CEO, Fredrik Elmqvist, commented: "Our jackpot pools have been very generous of late and it's great to see one of our players winning a life-changing sum of money on Empire Fortune. Our progressive jackpots have now paid out almost €10m in their last three drops, but with their popularity, I've no doubt there'll be paying out big wins again soon."
Betsson's Director of Games, Andy Broughton Braithwaite, added: "Yggdrasil's games are perfectly tailored towards our players who love the combination of life changing Jackpots and innovative gameplay."
It is interesting to note that all of Yggdrasil's progressive jackpots this year were won on mobile devices – clearly, they are quite popular with players that prefer accessing their games on smartphones and tablets.
We at LCB congratulate the lucky winner!
"a very lucrative progressive jackpot has just reached over €1 million"
General Gambling News
Back to articles