Back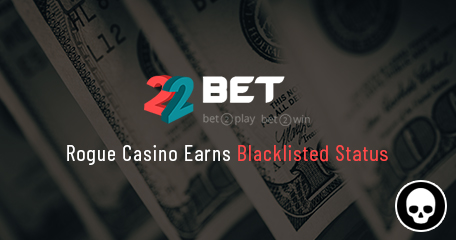 What is the single most frustrating thing players have to deal with, when it comes to online casinos? It's not hard to guess, but if you've been fortunate enough to never have to face this issue at a gaming site before, we'll tell you...
Slow withdrawals, or even worse - denied withdrawals!
This is precisely the reason why the LCB Warning sign has recently been added to 22Bet Casino. Even though the site presented as a trustworthy venue with straightforward rules, small print and evasive tactics to avoid payments proved too much to bear for some players.
Several disadvantaged customers, after having lost their patience waiting for due earnings, made it a point to complain through official LCB channels - Direct Casino Support board.
22Bet does have a representative registered on the portal, however...
...his efforts are fervently concentrated on blatant attempts to justify the site's blunders.
These involve, among other things:
Accepting real-cash deposits and bets from players residing in restricted countries
Failure to provide evidence to back up damaging claims against players
Unresponsive support
Disrespectful interactions with players...
...and even more gaffes, all there for everyone to witness in the support thread, where discussions quickly escalated into angry arguments between involved parties.
We received two complaints, one in early October and the other in November, both about the SAME issue: denied winnings due to alleged irregular play, and subsequent account termination. Mind you, no real proof of such actions on the part of these players has ever been offered by the site!
''Request Failed''
Here's an example to illustrate the problems one of our members had, while trying to withdraw his winnings. His request was denied several times, stating the failure was on ''his side of the payment system''. And this was after his identity was successfully verified.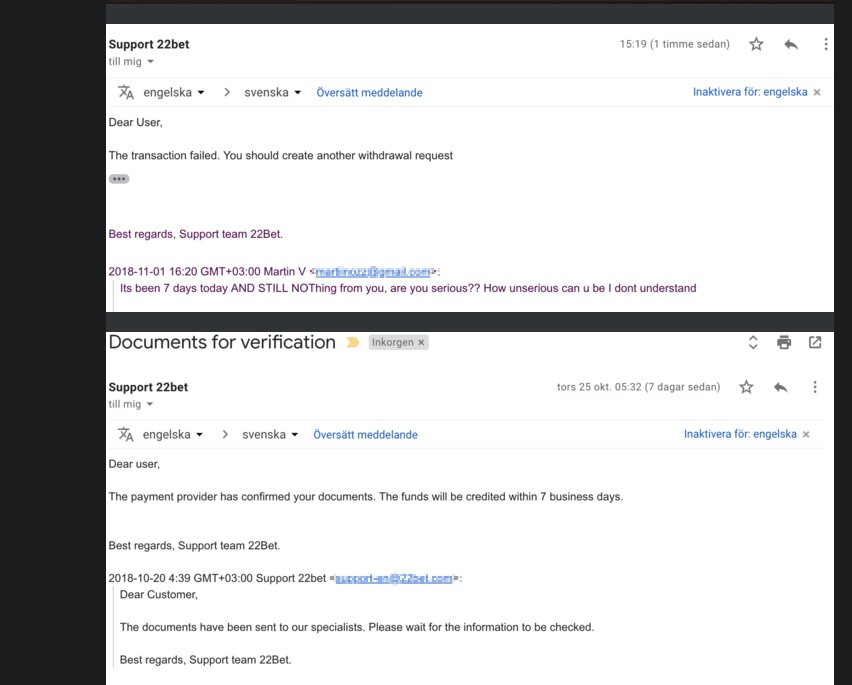 LCB staff in charge of the board attempted to reach the casino and rep multiple times, however, they never bothered to respond to the inquiry.
Eventually, the rep DID post in the thread, but that was the last we heard from the site and player, and the complaint remains unresolved.
Country Restrictions
Another complainant reported that 22Bet refused a payment due to abusive behavior: opening multiple accounts - which is always a valid reason to permanently ban a player.
However:
Since the brand couldn't provide any evidence to prove this serious accusation, we stand on the side of the player, who is innocent until proven guilty.
Furthermore...
''The simple facts of the matter are that I have only ever had and used one account with 22Bet.com, and that is the account I won the £20,737.74 on fair and square, so I need to be paid my winnings in full.''
...he is based in the UK - one of the restricted countries, stated in small print in the Terms and Conditions of the brand. Despite this fact, he was able to register and play for real cash, with over 750 bets made over the course of 6 weeks, without a single issue!
''I accessed their site in England with no VPN or anything required, England was on the country of residence list on their registration page which I selected, GBP was on their account currency list which I selected, I put in all of my correct address details for my English address where I live, name and everything I put in the registration was correct, my registration was accepted with no problem and they knew from the second I registered with them that I'm a UK customer, I deposited with EcoPayz which 22Bet.com have available in GBP currency which is a currency that only UK customers use, the deposits went through with no problem, I bet with them for about 6 weeks, and in that time they accepted my registration, they accepted deposits from me, they accepted over 750 bets from me, they settled all of my bets and added my winnings to my account''
22Bet Casino T&C's 2.48:
''Users from the following countries will not be allowed to register on our website: United Kingdom, USA, Belarus, Latvia, Cyprus, China, France, Israel. This list is updated regularly. If your country is included, you will be notified accordingly.''
Until...
...he actually won and made a withdrawal request. This is when the brand began twisting the facts and resorting to insults to avoid the payout.
It is worth mentioning here that the site lacks geolocation technology, which could have easily prevented issues such as this from ever occurring. Easy to implement and use, it verifies a player's location to make sure only those allowed by rules can register and wager real money.
Eventually, after several posts that offered no help or clear explanation whatsoever, the rep had this to say:
''From my end I did all I can to help the player to find a solution, but if he/she rather throw bullsh*t at brand instead of getting real help, stalking and accusing our affiliates etc etc''
"If you want to hear more we will send LCB. admin a proof of abuse and breaching the rules."
On our part, we never received any proof, or any other information worth considering. The player himself never received his due money either.
In this particular case, both the player and casino are to be blamed, at least to some extent, for the problems they are now facing. Our UK-based member should have read the T&Cs, no matter how long or convoluted they are, and the operator absolutely should NOT have accepted his registration and deposits.
On another note
Distorting facts, outright lying, being caught in a lie, insulting when exposed, and falsely accusing customers of abuse they did not commit, is a behavior we rarely get to see any official representative display so bluntly - on a public forum, no less.
We regret to see another casino go down the rabbit hole of predatory behavior, but it seems that sums as large as £20,000 are simply too difficult to relinquish, even though it would be the right thing to do.
"the operator absolutely should NOT have accepted his registration and deposits"
Casino Warnings & Rogue Reports
Back to articles