Back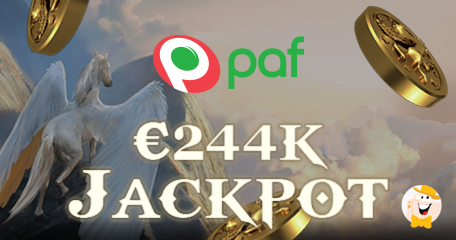 LCB is happy to report of yet another life-changing jackpot that occurred just before midnight on New Year's Eve – and this is a story of how things can turn around in a matter of seconds, if you're patient and lucky enough.
Paf Casino is where this New Year magic has happened and changed one incredibly fortunate punter's entire course of a year. Jackpots this big have, of course, happened before at this online casino, but the timing of this one is what makes it extra awesome. Just moments before the clock struck midnight, announcing the beginning of 2018, the anonymous player was playing NetEnt's Divine Fortune slot – a game notorious for its cashing out of progressive jackpots.
A mere €2 bet was enough to make the player's fateful evening the one he/she'll never forget – hitting the spin button produced a winning combo worth €244,760.99! The stunned and exhilarated player could not be reached for a comment, but we can understand that, given the sheer excitement of this event, they want to keep a low profile for now and we will keep you updated on any statements. We at LCB congratulate the lucky winner!
Interestingly, 2017 was quite the year at the site– it achieved another milestone: the 10th win that cashed out over €1 million. What's even more curious, the top two jackpots cashed out at this casino were both Guinness World Record Holders! The largest jackpot in the casino's history was the one won on Mega Fortune in January 2013 – it totaled an astonishing €17.8 million, won with a bet of €0.25.
The second-largest jackpot was hit only two months before that, in November 2012 – Arabian Nights slot yielded an impressive win of €8.6 million. Mega Fortune holds spots number 3 and 4 with jackpots of €6.8 and €5.3 million won in 2012 and 2011, respectively. In total, €56,969,215.50 in jackpots has been won at Paf Casino so far.
"game notorious for its cashing out of progressive jackpots"
General Gambling News
Back to articles