Back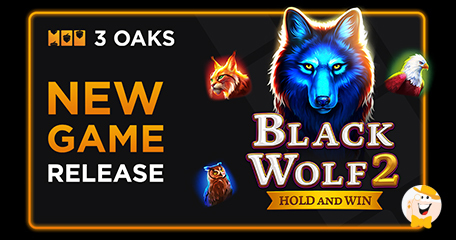 In the ever-evolving world of online gaming, a new star has emerged on the horizon – 3 Oaks Gaming. The iGaming supplier of industry-leading online casino content has been making waves with its unique and engaging slot games. With an ability to deliver top-notch entertainment to players around the globe, it has quickly become a force to be reckoned with in the industry.
Hold and Win - A Gamechanger in Slot Gaming
Building on its previous success, 3 Oaks Gaming is proud to introduce its latest masterpiece, Black Wolf 2: Hold and Win. This game is not just a sequel, it's a thrilling adventure into a nighttime wilderness illuminated by the moon where players have the chance to discover incredible treasures and experience gaming like never before!
At the heart of Black Wolf 2 lies the Fortune Slide feature. When you enter the Bonus Game, this exciting mechanic takes center stage. Keep an eye out for the Mystery symbol - when it appears on the grid, it magically converts into the first prize in the line. This can lead to massive rewards, including the highly coveted Jackpot and Boost symbols.
A Prize Worth the Hunt
The Grand Jackpot in Black Wolf 2 has received an exciting upgrade. Now, it's worth a jaw-dropping 2,000 times your initial bet. But claiming this magnificent prize won't be easy, you'll need to fill all the reels with a combination of symbols!
''An enhanced Grand Jackpot is worth 2,000x a player's bet and can be won by filling all the reels with a variety of symbols''
The Boost symbol adds an additional layer of excitement to your gameplay. When it lands in the mix with a Mystery Symbol, it changes into either a high-value Bonus Symbol or one of the other three jackpots available throughout the game!
This Hold and Win title introduces the innovative Bonus Accum mechanic. As you collect Bonus, Mystery, and Boost symbols during the base game and Bonus Spins, you'll be bound closer to unlocking the classic Bonus Game!
Sebastian Damian, Managing Director at 3 Oaks Gaming, commened: "Black Wolf proved a real success for us when it was originally released at the end of 2021 so players should be excited with the launch of this latest version, with upgraded features and unrivaled gameplay. Whenever we create a sequel to a popular original, we look at ways to subtly boost features and the Fortune Slide mechanic is always a hit, bolstering the player journey and we are confident that this slot will take the market by storm."
Source:
''Embark on a chilling adventure in 3 Oaks Gaming's Black Wolf 2: Hold and Win'', 3oaks.com, September 28, 2023.
Casino Games
Back to articles