Back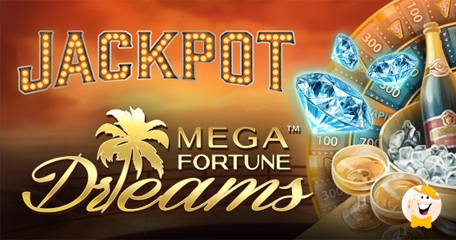 There is a really great Latin saying that often proves to be true: nomen est omen – meaning, "the name is a sign." Well, that certain names can indicate big things we already know and will take for granted after today's story in which a slot called Mega Fortune Dreams made someone's mega dreams a reality.
On March 7th, one extremely lucky player from Sweden, a regular punter at Unibet Casino, was taking their chances at NetEnt's triple progressive jackpot game Mega Fortune Dreams. The game of 5-reel, 3-row, 20-payline variety proved to be a life-changing choice for this player who soon witnessed a message on a screen that most of us fantasize seeing: a total jackpot of €4,084,430 has been won, effectively turning this player's life upside down for the better!
This is some start for NetEnt and the jackpots they're paying out, since earlier this year, in January, a €2.5 million jackpot was hit on Mega Fortune.
While we couldn't reach the lucky player for a comment (presumably, still in a state of positive shock), NetEnt's Chief Product Officer, Henrik Fagerlund, wasted no time with congratulating the winner: "At NetEnt, this is what we do: thrilling entertainment. We're delighted that Mega Fortune Dreams™ has created yet another multi-millionaire. The game is a real favourite and we hope 2018 continues to be a great year for more and more lucky players!"
We send the fondest congratulatory messages to the winner, as well. Any ideas what you would do with that amount of money won on a slot game? Feel free to share your ideas in comments below…
Source:
"NetEnt's Mega Fortune Dreams™ changes another life with €4m windfall", netent.com, March 13, 2018.
"a slot called Mega Fortune Dreams made someone's mega dreams a reality"
General Gambling News
Back to articles