Back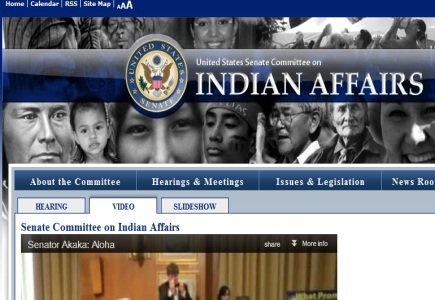 Hearing of Senate Indian Affairs Committee held

The much anticipated hearing of Senate Indian Affairs Committee on gambling issues related to tribal operators resulted in witnesses expressing preference of federal legalization over the state-by-state one, mostly due to the belief that this way tribes will get a piece of the action without having their revenue taxed and their sovereignty compromised.

The committee heard Mohegan tribe chairman, Bruce "Two Dogs" Bozsum, who said: "Tribes should be extremely hesitant to entrust their economic futures to the tender mercies of the 50 states, many of whom are still in financial crises and looking for new sources of revenue." He said that his tribe had devoted considerable time and resources to preparing a proposal on internet gambling regulations.

"These regulations now stand ready to be implemented, and will meet or exceed the toughest regulations found anywhere in the world, including the new standards recently established in Nevada."

It was added by another witness, Glen Gobin, secretary of the Tulalip Tribal Council, that he previously testified against legalizing online gambling, but that seeing the states preparing to start their own online gambling, he changed his mind, as "tribes must have equal footing to participate… and plans to move forward as gambling evolves because the revenue pays for many of the tribe's government services."

As a lobbyist for the Poker Players Alliance, a former Congressman Jon Porter said tribes should start getting ready for online gambling "because it has to happen."

A similar position was expressed earlier this week by the committee's chairman, Daniel Akaka, who told the National Indian Gaming Association's Legislative Summit: "We in Congress - and especially on this committee - also have a responsibility to ensure that tribal views and priorities are part of any legislation that could impact tribal gaming."
General Gambling News
Gambling Law & Society News
Back to articles