Back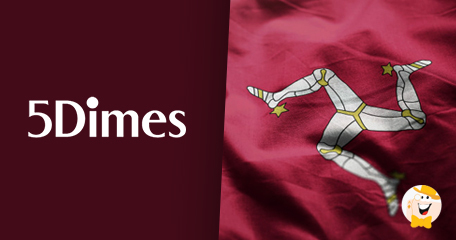 Three months after the announcement about jumping to legal status in the US, an online sportsbook and gaming brand 5Dimes has successfully launched its betting business in the Isle of Man.
As reported, the island's Gambling Supervision Commission issued 5Dimes a license this month. The online gaming certificate now allows controversial brand to establish "a comprehensive international operation" in the Isle of Man and conduct legal, regulated gambling activities in full compliance across multiple jurisdictions.
The Convalescent
For those who remember, 5Dimes sportsbook and casino announced earlier in September 2020 that it will be suspending service to customers located in the United States. The operator urged all US players to withdraw their funds by September 25th, 2020 to avoid any inconvenience:
"Unfortunately, we'll be temporarily closed by the USA market starting 9/30th, however, after a few weeks, we'll be back to the US market and people there will be able to open accounts with us again."
Although the reason for suspension has remained a secret, the operator agreed to cash out $47 million to the feds as a precondition to launch in New Jersey and license its offshore sportsbook and casino. Tony's widow and legal current owner, Laura Varela, has tried to convince millions of players to get back since the $47 million settlement with the U.S. government, connected to money-laundering and tax evasion of her husband.
Laura Varela, member of 5Dimes Sportsbook's Board of Directors is currently leading the launch in the Isle of Man. She commented briefly:
"This licensure is an exciting milestone for the 5Dimes brand. The Isle of Man is a Tier-1 jurisdiction, known for its advanced approach to gambling and e-gaming legislation and its exceptional reputation in the international gaming community."
"The Isle of Man sets high standards for its gaming operators and players, and we look forward to upholding the same level of principles and innovation with the launch of 5Dimes," added Varela.
In addition, the sportsbook will establish a management and operations team based in the Isle of Man to support key functions such as compliance, finance and operations.
Major Undertaking
According to Varela, this massive undertaking in another jurisdiction is a first step towards relaunching the 5Dimes brand on the global scene. The plan is, of course, to go live in all major, legalized jurisdictions around the world. She said that the company is super excited to welcome back many loyal customers and it looks forward to delivering a top-of-the-line gaming experience while keeping both eyes set on future expansion opportunities.
The brand suffered a major blow in October 2018 when its owner, William Sean Creighton, otherwise known as 5Dimes Tony, was found dead in Costa Rica. After a thorough investigation, three suspects for kidnapping and murder of Tony were extradited to Costa Rica by the Spanish police.
Established in San Jose, Costa Rica, where sports wagering is legal, by the way, 5Dimes became a true leader in online sports betting, setting the gold standard for casino and live in-play betting.
Source:
"5Dimes Launches Online Sports Betting and Casino Products in Isle of Man", europeangaming.eu, February 16, 2021.
"successfully launched its betting business in the Isle of Man"
Gambling Law & Society News
Back to articles