Back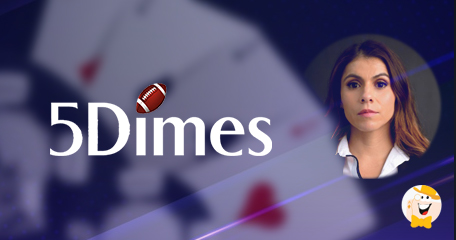 After a recent suspension of services for customers located in the United States and a $47 million agreement with the feds, 5Dimes has finally announced a comeback to New Jersey by seeking a license to legalize its offshore sportsbook and casino.
Not long ago, the operator had urged all US-based players to withdraw their funds by September 25th, 2020 and "avoid any inconvenience," as all access to the sportsbook was to be temporarily closed. However, the casino's spokeperson in this matter, Russell, remained quite assuring at the time that after a few weeks, 5Dimes will be back on the market, allowing its loyal and regular customers to reopen their accounts once again.
The Great Comeback
It may be difficult to fathom, but it has been exactly two years since the disappearance of William Sean Creighton, the owner, known as 5Dimes Tony. His widow and legal business-owner, Laura Varela, added it's been a year since the authorities identified Tony's remains, following a "botched kidnapping," a million-dollar Bitcoin ransom and 12 arrests in two countries.
"I feel as if I am living my life through someone else," said Varela, a mother of two children.
Meanwhile, Varela had agreed to pay a $47 million settlement debt to the U.S. government, as FBI agents and federal prosecutors in Philadelphia exposed severe money-laundering and tax evasion of her husband and his Costa Rica-based, sports betting company.
"The Department of Justice understood. I felt their sympathy throughout this long process," said Varela.
"I am very, very happy and very excited the agreement reflects the fact that I was never involved in any of the wrongdoing."
As a result, Varela is now trying to get back millions of US players with the help of gambling-industry lawyers in Philadelphia and Washington. Their task, of course, is to legalize the controversial sports-betting company in New Jersey by applying for license with the DGE, the Division of Gaming Enforcement in the state. After registering, 5Dimes is planning to move into other states as well.
According to research, New Jersey has become an early leader in the US online sports-betting market alongside Pennsylvania, since Atlantic City casinos unfortunately lost a lot of visitors in the previous period.
There are approximately 18 registered online pro and college sports betting pool operators in New Jersey, whereby each has partnered with licensed casinos or racetracks. These competitors also include publicly-traded daily fantasy sports providers from New York, DraftKings and FanDuel.
Billions in Bets
Before the settlement, 5Dimes alone handled billions in bets each year, which could easily enlarge New Jersey's industry gross. As stated by iGaming experts, New Jersey operators are also making records in legal internet sports bets this year, totaling $3 billion so far, earning the Garden State more than $200 million in taxes.
Even though 5Dimes was accused for use of Amazon gift accounts, false names and credit card processors to illegally pass winnings to US gamblers, the regretful operator wants to rejoin that list and make a comeback to its key market.
Varela retained the "core" of her husband's 270 employees, who are still free under Costa Rica law to take bets from other countries. It remains to see whether New Jersey will approve the application in the upcoming period, as lawyers intensify the pursuit of license to once again help 5D jump to legal status.
"It's a huge if," said Michael Pollock, a former New Jersey Casino Control Commission spokesman.
Source:
"After founder's murder and $47M pact with the feds, widow seeks to license offshore sports-betting giant in N.J.", inquirer.com, October 28th, 2020.
"a $47 million agreement with the feds"
Gambling Law & Society News
Back to articles