Back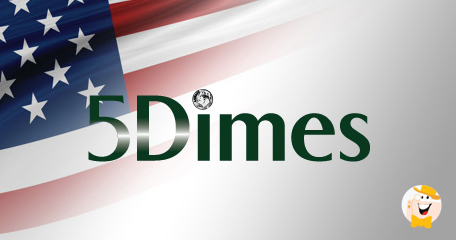 BREAKING NEWS!
5Dimes sportsbook and casino has just announced that it will be suspending service to customers located in the United States. The operator and we here at LCB are urging all US players to withdraw their funds by September 25th, 2020 to avoid any inconvenience.
In case the players continue to wager and/or fail to withdraw their balance before the stated timeline, the funds will be transferred to the claims administrator who will then attempt to return the money to the affected parties.
Our account managers tried to get in contact with 5Dimes to confirm the validity of this information, and one of its support agents, Russell, told us the following:
"Unfortunately, we'll be temporarily closed by the USA market starting 9/30th, however, after a few weeks, we'll be back to the US market and people there will be able to open accounts with us again."
Additionally, our US associates attempted to register an account with the casino, but as expected, the registration form does not list the United States among accepted countries.
Reason for Suspension Unclear
The reason for this suspension of US accounts has to do with relaunching the company into "a better one," said 5Dimes. On top of that, the brand is forced to only temporarily suspend US players. Regardless, we hereby urge you to hurry up and withdraw your funds to avoid any potential problems. Our team will keep you updated on any new turn of events, so tune in regularly as fresh information might come up any minute.
According to our forum members, when a casino decides to "suspend service" in a certain jurisdiction, it usually inflicts a licensing issue or makes no sense at all. The best decision right now is to simply request a withdrawal of all your funds and wait to see what happens next.
Even our longtime colleague, The Wizard of Odds, aka Michael Shackleford, posted a comment regarding the announcement since he logged in with 5Dimes this morning to check the current election odds. Here is what the operator said in FAQ:
"We are only suspending service to customers located in the United States. If you are located in the United States and have not withdrawn your balance before September 25th, your funds will be transferred to a claims administrator who will attempt to return your balance to you. If you are located outside the United States, we will continue to offer our services."
Another Money Laundering Attempt?
A few years back, 5Dimes was involved in a potential money laundering investigation. It was reported by Costa Rican media site, Nacion.com, back in March 2016, that the sportsbook's manager, Marisol Carvajal Cordero, was connected to companies whose accounts were closed due to an inability to verify the source of funds.
However, in December that same year, the Costa Rican authorities confirmed that 5Dimes will not be investigated, allowing it to continue sports betting services in the country without any penalization.
Unfortunately, the police of Costa Rica recovered the body of US expat and sportsbook owner, William Sean Creighton, also known as "5Dimes Tony" on September 21st, 2019 after a yearlong investigation that involved kidnapping, ransom a car chase and murder.
Source:
"Immediate Action Required from All U.S Customers", 5dimes.eu, September 15th, 2020.
"all US players to withdraw their funds by September 25th"
Gambling Law & Society News
Back to articles