Back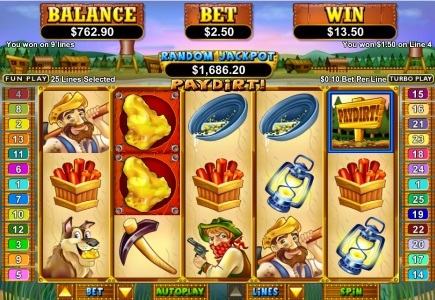 South Africa's, Springbok Casino, is well-equipped with hundreds of exciting slots and table games, in addition to a growing collection of mobile games. With unique and entertaining features to boot, it is no surprise that regular player, Carol Z, just recently welcomed a massive win! While playing Pay Dirt, a game available both online and via mobile devices, she accumulated R168, 225 after just one lucky spin.

While that fateful spin earned Carol quite a prize, it was only one portion of a major winning streak totaling out at a whopping R346,850.82 win, in which she accumulated while playing several games back in January, including Strike it Lucky. She began with a R5,275 bet and won R168,225 on one spin alone.

As tribute to this player win, the site has gone ahead and made Pay Dirt this month's Game of the Month. As a result, members will have access to a free roll slots tournament with a guaranteed prize pool of R10,000 all month long, as well as casino bonuses and free spins towards the game.

The monthly promotion for Pay Dirt will consist of 100% Casino Bonus on up to R3000, which can be redeemed by using the coupon code: PAY3000. In addition, 25 Free Spins will be awarded to players using the coupon code: PAYSPINS (upon making a deposit).

In an effort to spread the wealth, casino manager Daniel van Wyk says, "Lots of players believe that when a game is hot just keep playing it. So we made Carol's game our Game of the Month. If she can hit pay dirt on Pay Dirt then maybe someone else can as well!"

Pay Dirt will continue as Game of the Month until March 31st.
Casino Games
Back to articles