Back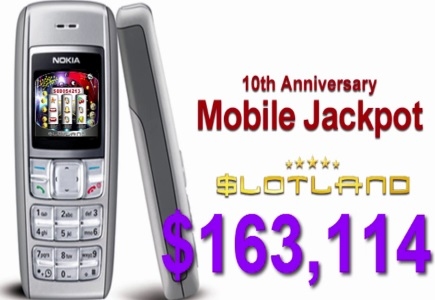 Mobile gaming has come a long way over the years. While it started off a bit rocky, nowadays, the kinks have been worked out, and players can easily play from anywhere at any time with the use of their mobile devices. Additionally, mobile gamers can win just as easily and just as big as those who play from a computer.

Slotland was among one of the first online casinos to introduce mobile gaming to their collection. Their assortment of 34 real money, online slots cannot be found anywhere else and are all compatible with smartphones. Ten years after the launch of their mobile casino, it's time to celebrate the overall progress of mobile gaming, by taking some time to remember their first-ever mobile jackpot winner. On March 12th, 2005, one of their players scored a record-breaking, $163,114 progressive jackpot while playing one of their first mobile slot games, Lucky Stars, just after launching the mobile casino platform.

The lucky winner remembers the win like it was yesterday, stating, "I am a gadget freak! I love all sorts of electronic items, and so of course I had a nice mobile phone with all the extras. When I first joined Slotland there was only one mobile game, Lucky Stars. I had a few good wins on it and I was able to cash out $200 on one of my first $100 deposits, so I kept coming back."

It was as if the moment was an act of fate, recalls the player, adding, "That Sunday, my wife took the kids to church and I told her I wanted to stay home. I fiddled around for an hour or so, cleaning up and stuff, before I decided I better get some playing time in before they returned. I started with Golden 8. After about an hour or so of play, with little change in my bankroll, I felt it was time for Lucky Stars. I already had two of my three stars lit up. It wasn't more than 15 minutes before I lit up the third star and I couldn't believe MY lucky stars when the bonus spin produced THREE BARS across the fourth pay line! Just like that, I had over $163,000 in my account!" While plans were made for much of the cash, $5,000 deservedly went toward the player's gadget addiction.

In light of the moment, Slotland manager, Michael Hilary, recalls the early days of mobile gaming: "When I think how excited we were to play slots on those little tiny screens… Imagine what we'll be playing in another ten years!"

An exclusive Mobile Casino Bonus is up for grabs until the end of March, to celebrate this recent milestone. The deal is comprised of $15 free, when using the bonus code MOBILEMAGIC, for players to put toward mobile gaming.


Casino Games
Casino Software
Back to articles