Back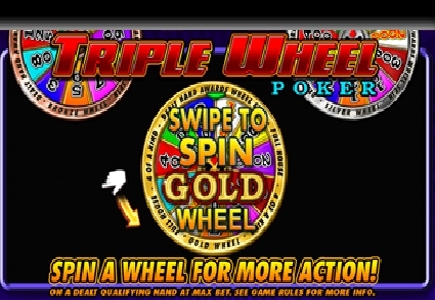 IGT delivers some of the best Video games in the world and the new Triple Wheel Poker is no exception to excellence. The software has raised the bar on thrills and exciting action that extends well beyond a Royal Flush.

Like a lot of the new games released, players are spoiled with the "extras" offered. Straight poker with no bonuses has its classic moments but the crème da la crème has to include a gimmick!

Triple Wheel is a one of a kind and first for three integrated Bonus wheels. Available at select land based Casinos players will instantly be intrigued by the three wheels displayed overhead.

Each wheel has its own trigger winning hand to activate a spin:

· Bronze Wheel – spin activated by a three-of-kind

· Silver Wheel – spin activated by straight or flush

· Gold Wheel – spin activated by full house or four-of-a-kind

The bigger the hand the sweeter the prize value. It is important to note that the winning hand must be dealt and will not count for a spin if won on a draw.

Players have a potential to win big bucks with up to $10,000 in cash up for grabs in addition to their winning poker hand.

The game itself is the familiar favorite and classic version featuring triple play, five play and ten play hands.

It is a brand new spin on poker that is destined to be a top player choice.


Casino Games
Casino Software
Back to articles