Back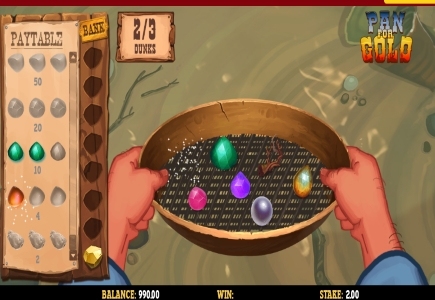 HTML5 game development company, CORE Gaming has launched a new instant win scratch card game, "Pan for Gold", featuring the latest innovations in mobile motion technology.
The Wild West themed scratch card transports players back to the time of the gold rush. Live on Sky Vegas, the game comes with a £25,000 maximum jackpot.
Each scratch card is available for £2 each and prompts players to select one of six spots on the gold rush map. You'll be given three opportunities to sift through to find gold and gems. This isn't like most scratch cards as it's much more interactive with players doing the panning themselves. In fact, Pan for Gold is the first HTML5 game of its kind. When playing from your desktop, you click and drag to pan and mobile users will shake or swipe their device.
Kev Short, CORE Gaming's Head of Production, said: "This game has truly been a team effort.
"The initial thought process of using the device to enhance the player experience of a game, was developed as part of CORE's ongoing research and development program designed to keep them at the forefront of mobile gaming technology."
To win you must match three items with payouts that range from £2 for turquoise jewels to £25,000 for pearls.
Golden nuggets are collected in a separate pot and are retained should any further scratch cards be bought, giving players an incentive to keep enjoying the game.
Lucky gold-diggers that obtain eight nuggets enter the Bank bonus feature, where they can weigh their haul and win huge prizes up to £25,000.
Short also said, "Using all our in-house expertise, the development team has done an outstanding job to deliver this creative and ultimately fun gaming experience."
Play Pan for Gold for free
here.
Casino Games
Back to articles